 Today's Buzz is by Will Hampton (LinkedIn and Twitter)
What I'm Watching: Chernobyl
What I'm Reading: 12 Rules for Life by Jordan B. Peterson
What I'm listening to: Shallow from the A Star is Born soundtrack. Must have listened to it a dozen times the day after watching the movie. Haunting.
---
I think we understand the problem of social media/email/texting overload all too well at this point in our lives, right?
No? OK, I'll go first:
My name is Will, and I'm a digital-media-aholic.
Friend, Step One in recovery is acknowledging the problem. (Denial not being a river in Egypt is the old joke.) On this particular problem, though, I haven't seen much effective advice on solutions to the problem. Until, that is, earlier this month at the Texas Association of Municipal Information Officers annual conference.
At most conferences I attend, there's that one session where I think: I just got my money's worth for the entire conference in that one presentation. This time, it was Dr. Ashley English's keynote titled Digital Detox.
Dr. English teaches at TCU's Bob Schieffer College of Communication as well as the Certified Public Communicator program and conducts research on social media. She knows her stuff.
Dr. English highlighted the all-too-real problems associated with excessive use:
These problems are exacerbated if you're the one managing social media channels for your organization. And here's where it gets really tricky: In our shop, we've found that being uber responsive to commenters regardless of time of day or day of week goes a long way to letting them know we care. (I shared the importance of showing how much you care in a previous Morning Buzz post.) Even the folks who disagree with you often respect that you've responded to them in a timely manner.
Here are Dr. English's strategies for a successful detox.
Establish boundaries at work. This chart from Sprout Social offers a helpful time breakdown for social media managers.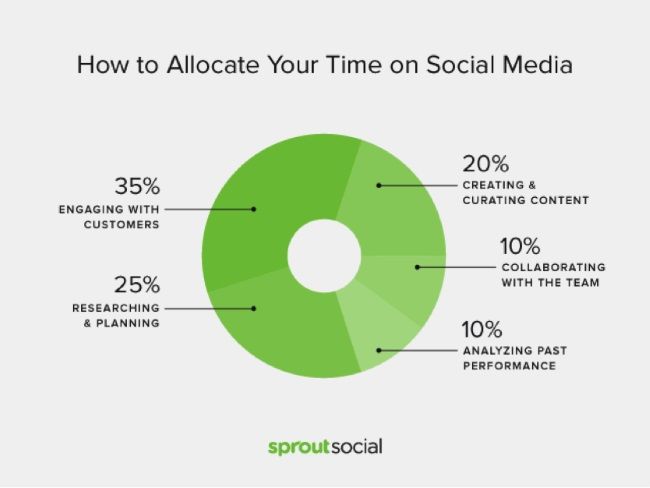 Dr. English recommends auditing your time at work. Seriously, get a timer out – you've got one on your phone – and track the amount of time spent on email, reading comments, responding to comments, etc.
Create social media policies. Hopefully, your organization already has a basic social media policy. But I doubt it includes workload and boundaries. I know ours doesn't. (But we're working on it!) In a real emergency we should be responding 24 hours a day because lives are at stake. But an update to a noise ordinance, while important, isn't an emergency. Most of the time it's OK to wait until tomorrow to respond to comments that come in after 5 p.m.
Consider working in shifts. Easier said than done in small shops, I know. But if you've got a hot-button issue you're dealing with, this can be a really effective strategy to keep your social media folks from burning out.
Set boundaries outside of work! I know we're passionate about government service – that's why you're part of ELGL and reading this right now – and it's extremelygratifying to make a difference in our communities. But take care of yourself. You need those evenings and weekends off to stay healthy.
It's no exaggeration to say this is a real health issue. Deal with it as such. Stress is horrible for your health. Per WebMD, stress seems to worsen or increase the risk of conditions like obesity, heart disease, Alzheimer's disease, diabetes, depression, gastrointestinal problems and asthma.
Dr. English ended her presentation with a couple of examples of old cigarette ads where doctors recommend "healthy" cigarettes.
How could we have ever been so clueless? Easy. Everyone was doing it, and there were huge financial implications for maintaining the status quo.
So put down your phone. Monitor the time you spend on digital content. Set some boundaries, and let the detox – and healing – begin. The prayer below can help.