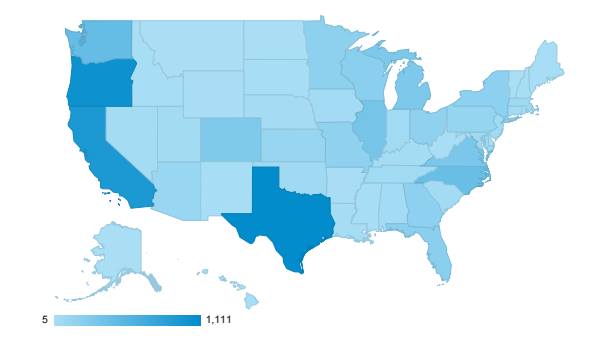 Mike Ekey, City of Raymore, MO, is our analytics guru. Each month he breaks down our website data. A few takeaways this month: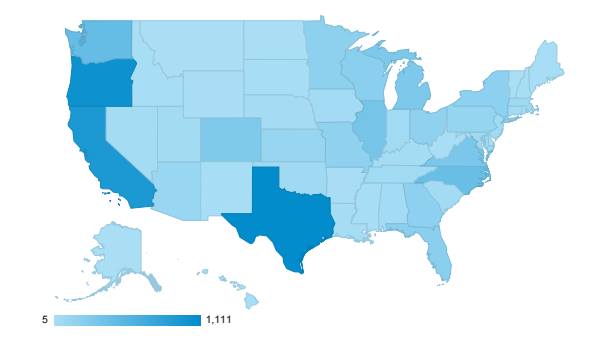 The above maps shows the states where our website visitors are coming from.
Jan. 2016 was the first time in the past year Facebook sent more traffic than Twitter.
Random…five people found our website via Reddit; 20 people found it via Pinterest.
Busiest day of the month for the website was January 13.
Most Viewed Articles in January
Similar to a movie receiving an Oscar's bump, the top 10 articles in 2015 received a bumped throughout January. You'll notice three of these articles were on the top 10 list in 2015.
#13Percent Club: Seeking Members
#LocalGovSolutions: Mapping Technology Enhances Public Safety
White House Social Media Strategies You Can Use
Four Faces of a Senior Management Analyst
Roll Call
Our membership grew in January from renewing members and new members. The team of five (Ben McCready, Brian Southey, Ben DeClub, Emily Morrison, and Stacy Schweikhart) launched a retention campaign which showed immediate results. Here's a link where you can join ELGL – Free/Students, $30/Individuals, $230/Organizations.
Here's a list of new members from January.
California
Anne Ambrose, City of Palmdale
Danielle Noble, City of Santa Monica
Karen Diemer, City of Arcata
Madison Thesing, University of South California
Marianne Tonjes, CodeSP, Huntington Beach, CA
Paige Alvarez, UC-Berkeley
Rick Cole, City of Santa Monica
Midwest
Benjamin Davidson, City of Middleton, WI
Benjamin John, Village of Elm Grove, WI
Caitlin Stene, Village of Waunakee, WI
Casey Griffiths, Village of Elm Grove, WI
Donelle Goerlitz, Brooklyn, MI
Eleanor Yoon, City of Troy, MI
Erik Clarke, Ohio State University
Greta Bolhuis, Eastern Michigan University
Jonathan Williams-Kinsel, City of Woodbury, MN
Lisa MacKinnon, County of Dane, WI
Mary Garness, City of Ashland, WI
Max McConnell, Dayton, OH
Melissa Timm, City of Eagan, MN
Nicholas Gaudi, Open Illinois
Paul Stewart, Johnson County, KS
Rober McCarthy, Columbus, OH
Sam Harris, City of Auburn Hills, MI
Susan Sherman, City of Olathe, KS
Wally Wysopal, City of Fridley, MN
Melody Mileur, Williams County, ND
Northeast
Christina Rothman-Iliff, Princeton, NJ (Access Princeton)
Curby Colvin, US Army – Washington, DC
Jay Breneman, Erie County, PA Councilor
John Fournier, City of Pittsburgh, PA
Katherine Takai, Washington, DC
Mathew Horn, City of Geneva, NY
Northwest
Cortney Cox, City of Tualatin, OR
Elliott Tran, University of Oregon
Emily Kent, Tualatin Hills Park and Recreation District
Jenna Boyd, Seattle, WA
Julia Kanicki, Camas, WA
Kristi Wilson, City of Hillsboro, OR
Laura Walker, Salem, OR
Madeline Forbis, Tigard, OR
Melinda Anderson, City of Tualatin, OR
Michael Egging, Tualatin Hills Park and Recreation District
Morgan Harris, Socrata – Seattle, WA
Paul Simmons, City of Olympia, WA
Robin Hostick, City of Eugene, OR
Southeast
Amelia Merchant, City of Roanoke, VA
Henry Boyd, East Carolina University
Joseph Mininni, Wave Transit – Wilmington, NC
Kyle Young, Highland Heights, KY
Luke Floyd, Boardsync – Georgia
Megan Garrett, UNC MPA
Mike Shockley, City of Roanoke, VA
Robin Keller, Guilford County, NC
Samuel Roman, City of Roanoke, VA
Southwest
Amy Good, City of Pflugerville, TX
Arnela Ombasic, Bixby, OK
Carlie Dorshaw-Moe, City of Colleyville, TX
Charles Hooker, City of Pflugerville, TX
Chris Riffle, City of Altus, OK
Cynthia Northrop, Northrop Communication – Dallas, TX
Jamie Atkinson, City of Austin, TX
Karen Thompson, City of Pflugerville TX
Kristin Navarro, City of Fort Worth, TX
Ilyanna Kadich, Round Rock, TX,
Sheila Wiora, City of Pflugerville, TX
Susan Barkman, University of Colorado, Staff
Yesenia Garza, City of Friendswood, TX
Chandra Washinton, UT-Dallas