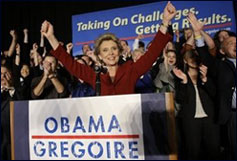 Christine Gregoire: Tale of Two Terms
Blog Post #5:
When I first found out that Governor Gregoire was going to be one of the keynote speakers at #ELGL15, I was very excited. Chris Gregoire gave Emerging Local Government Leaders what had to be the grand slam moment of #ELGL13 when she laid into the U.S. Congress, who at the time had been deadlocked on decision making for some time which forced a government shutdown. It was a raw and powerful go at just how childish our elected leaders were being at the time.
I am confident attendees of #ELGL15 will get a similar, true moment from Gregoire so prepare yourselves for greatness.
These past few weeks I have had the opportunity to read and reflect on Governor Gregoire's book; attempting a counter balance of Ethan Cirmo's well-written, enthusiastic portraits of Governor Barbara Roberts. A Tale of Two Terms was never light on the policy nor the opportunities to see how a successful governor had approached her decision making while in office. And while it does lack the autobiographical elements that would give you a better view of Christine Gregoire the person, one feeling coated every one of her reflections in every chapter; Chris Gregoire is deeply appreciative of the people around her.
Gregoire closes out her book with an entire chapter about Supporting Public Employees. She stresses the importance and sacrifices of some of Washington's finest public employees she had the pleasure of interacting with over her 40 years of service. Gregoire saw the call of President Kennedy in these hard-working individuals and admits that her greatest fear is that call being lost on generations to come.
"Public Service is a career that doesn't make you rich financially, but it leaves you rich with memories of giving back and making life better for others." -Christine Gregoire