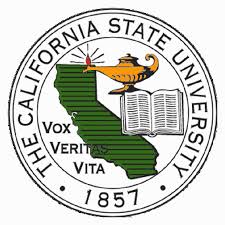 This is another installment of an ELGL original content series titled "Josh's Job Search 2.0" by Josh Halladay. Halladay is sharing career advice that he is receiving in informational interviews. For more career resources, attend The Employment Lowdown with Jessica Williams, Mac's List and Prichard Communications on November 13.
Vitals
Systems Budget Analyst, CSU
Education: Cornell College, B.A., Latin and Spanish Studies; University of Southern California, M.P.A.; California State University, Long Beach, Doctoral Candidate, Education
Connect: LinkedIn
Work at CSU: Cal State Job Listings
Background Check on Bradley
If Bradley had to choose one word to describe the unifying theme of his professional accomplishments and aspirations, it has been and will continue to be 'service.'  As a system budget analyst for the Chancellor's Office, he is responsible for providing financial support service to campus financial officers and to the public. He oversees the $44 million systemwide lottery fund and coordinates systemwide fee policy and implementation among other project and program management duties.  With two years of service to the CSU under his belt, Bradley brings an optimistic spirit and history of innovation and collaboration from his previous jobs.
Prior to his current position he spent seven years working for a variety of local government agencies in areas such as policy analysis and implementation, urban and capital planning, design and development.  In his spare time (what's that?) he periodically serves as adjunct faculty for National University, preparing the next generation of public leaders in the subject areas of, Urban Planning/Redevelopment, Public Administration, Education Administration, and Urban Affairs.  He earned his BA in Latin American Studies and Spanish from Cornell College, Masters in Public Administration from USC, and is currently halfway through his first year in the Ed.D. program at CSU, Long Beach.
Management Analyst, City of Tualatin
Education: Willamette University, B.A.; Kansas State University, M.P.A.
Connect: LinkedIn
Connect with City of Tualatin: Twitter and World Wide Web
Work at City of Tualatin: Job Listings
Background Check on Ben
Ben works as a Management Analyst with the City of Tualatin where he coordinates, develops, and implements special projects relating to community development priorities.  In addition, Ben fulfills many of the government affairs duties through representing the City of Tualatin on various local, regional, and statewide committees.  Ben has a Master of Public Administration degree from the University of Kansas and graduated Magna Cum Laude from Willamette University.
The Informational Interviews
I had the pleasure of speaking with two up and coming professionals this past week, both offering great advice.  Bradley Olin, a fellow Trojan, contacted me after reading my last article, an interview with Ina Zucker and spent a good deal of time helping me perfect my resume, cover letter, and finding places I might be interested in applying, after I interviewed him.  I contacted Ben Bryant after I ran into him at a happy hour and Ina recommended I interview him.  The topics of both conversations drifted toward getting that first job and getting a job in a difficult market.  Likewise, I will focus this article on those topics.
Bradley, having had one of his positions reduced due to budget cuts, understands the difficulty of the market.  He knows that public sector jobs for persons with little experience can be hard to land.  Often times, governments look for a candidate with experience in each of a position's responsibilities, rather than someone who needs more time to grow.  To manage the market realities, Bradley recommended expanding my job search to the private sector.  While at USC, he worked at a communications firm, specializing in government relations.  The nature of his position allowed him to gain valuable skills that he could transfer to a public sector position, as well as the ability to network with professionals in governments.  He noted that private sector organizations devote more job openings to individuals with potential that they can develop.   The ones for public sector career hopefuls to target are those that interact with the public sector.
Ben began his career in the Oregon public sector with a dual internship for Tualatin and Wilsonville.  The City of Tualatin offered him a full time job after his internship ended and he has been there since.  Ben gave me the best advice I have received on how to turn the interviews I have been conducting into job opportunities.  His advice is simple: propose your own job.
This certainly doesn't mean proposing to the Assistant City Manager who I will meet with in the coming week that she hire me as a social media watcher and beer drinker I.  But by doing my research by looking at the council goals on her city's website, learning the progress taken towards these goals, and learning her portfolio, I will be able to discuss these specific projects with her, find out the city's needs, compare them to my strengths, and inform her that I could be an asset. This plan likely will not result in a full time job, but if I managed to successfully do this with a pair of cities (or even just the one), I could likely earn a salary that I could get by on for a while, and get my foot in the door.
 Other advice I received:
Along the lines of identifying organizational needs, due research into the hiring manager, organizational culture, and desired skills and craft one's resume and cover letter as appropriate.
Pace one's self for a long job search.  In the Portland Metro area, Kent Wyatt estimates that the average search time a public sector job for someone with an advanced degree is about six months.  Prepare for at least six months on the search.
Look for someone you want to work for and network with them.
When interviewing, go in with the approach that you know all the answers to the questions, because…you do.  They're about you.  Just be honest and relax.
If you have time, hand-deliver resumes/applications.  It puts a name to a face and shows how much you want the job.
If you want more public speaking experience, join toastmasters.  You will become comfortable with public speaking the more you do it and toastmasters provides the opportunities.
Question for the Road:
Do you have an interesting method for getting a job?  Perhaps an interesting story?  Please share in the comments section or via email at [email protected].