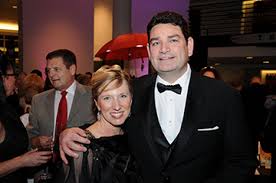 This is another installment of an ELGL original content series titled "Josh's Job Search 2.0" by Josh Halladay. Halladay is sharing career advice that he is receiving in informational interviews.
Vitals
Randy Ealy
Chief Administrative Officer, City of Beaverton
Education: Willamette University, B.S. Economics; Portland State University, M.P.A.
Connect with The City of Beaverton: Twitter, Facebook, and the World Wide Web
Work at Beaverton: Jobs
Background Check
Randy has worked in Beaverton since March 2009. Prior to Beaverton, Randy served as City Manager for the City of Estacada from 2000 to 2009. His achievements include the adoption of a new City Charter and the creation of the Estacada Urban Renewal District to revitalize the City's downtown commercial core in 2007. He has helped retain and expand local businesses through the development of the Estacada Industrial Park and the recent implementation of the Estacada Enterprise Zone. Ealy also managed updates to the water, transportation, parks and storm water master plans and advanced the adoption of a "1% for Art" program which sets  aside one percent of the construction value of public projects for a City art project each year.
Ealy served on the Board of Directors of the League of Oregon Cities and was president of the Oregon City and County Managers Association in 2005. He holds a Master's degree in Public Administration from Portland State University and a Bachelor's degree from Willamette University. Randy is currently serving on the ELGL Advisory Board.
The Interview
There comes a time in a job search, when you have been at it a while (ugh), where the advice you receive during informational interviews starts to sound familiar.  After even more time searching (double ugh) familiar advice becomes the norm and originality is unique.  This occurrence does not reflect the knowledge of the professionals, who kindly give me their time, but rather demonstrates that there are best practices when it comes to looking for a job in a particular industry.  In the public sector I have found that it includes networking and setting yourself apart with experience (internships).
I had the pleasure of meeting with Randy Ealy, the Chief Administrative Officer for the City of Beaverton and former president of the OCCMA.  Randy took the job with Beaverton after he served as the city manager of Estacada for about eight years and stepped down with praise from the electeds.
The information that most interested me from the conversation was how Randy got his start in local government.  Randy graduated from Portland State University with his MPA and immediately began as Wheeler's City Manager when he was only in his mid twenties.
How did he land a position at the top of his field before his career began?  Randy attributes it to his determination and his consideration of a coastal town.  Upon further inquiring, he explained that starting out in these smaller, somewhat removed cities is a great way to get work experience.  I called my fiancé on the way out of the office and asked if she would be open to living on the coast for a few years (she said yes…again).
Clearly the coastal cities still have their choice between a number of qualified candidates.  There are also fewer openings because of the size of the cities, however, many are considered stepping stones into larger positions which creates a higher turnover rate. Wheeler continues to give candidates new to local government opportunities as they have chosen Jeff Aprati and Geoff Wullschlager to manage the City, both who were recent graduates of the PSU MPA program.  It should be noted that Aprati had experience in finance before he entered the PSU MPA program, though it was not in the public sector.
If one is career oriented and prioritizes achievement over location then taking a good hard look at the coastal cities could return some benefit.  Plus an incumbent will get their hands into more aspects of city government.  There is certainly good reason to extend one's search out West.
Supplemental Reading
Estacada city manager takes Beaverton job
Willamette University Profiles the Leslie Knopes of ELGL
Conference Sneak Peek III: In the Trenches: Learning from Practical Experiences in Oregon Economic Development
ELGL in the Lake Oswego Review
Capitol interns gain insight into service, political careers
Wheeler's new city manager can't wait to settle in