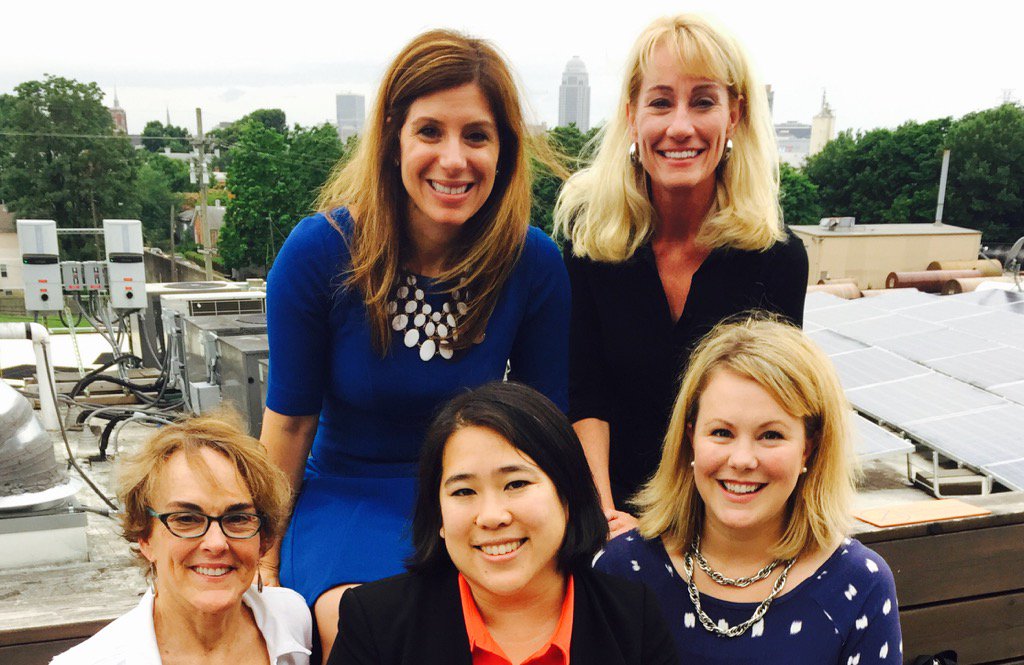 This running blog post will chronicle Kirsten Wyatt's upcoming trip to Louisville, Kentucky for the Governing Magazine Summit on Government Performance and Innovation conference. Follow along here, on Twitter using #GovLive or on Snapchat at @ELGL50 to learn more about the trip and the lessons learned from the Governing Magazine team.
Thursday, June 16, 3:40 p.m.
It's time to say goodbye to Louisville, and to the Governing Magazine Summit on Government Performance and Innovation conference! The day ended with a "fireside chat" with Mayor Fischer and former AOL Chairman Steve Case.
It was an inspiring discussion, largely because Fischer and Case both willingly recognize that much of the economic gain in technology during the "second wave" of technology entrepreneurship has been limited to white men. Both leaders called for more equity as it relates to the innovation economy.
My flight out of Louisville is already an hour delayed, and I'm flying through Houston before I touch down in Portland. It's already late afternoon and I have a long day of travel in front of me.
Not feeling very lucky right now, but an airport beer and fast, free wifi is making things a little easier to handle.
A few more observations at the close of the Summit:
It was really cool to celebrate the release of Brian Elms' "Peak Performance" book at the conference. Brian is the Director of Peak Academy and Analytics at City and County of Denver. In this role, he trains and coaches employees at all levels to improve the way government works.
From the Peak Academy website: "Through innovation, employees do more with less and enhance the Denver city experience."
Here's a picture of a happy Brian with his new book. ELGL will work to arrange a webinar with Brian to talk about his book, the Peak Academy, and some of the things we can all learn from Denver.
Lastly, it is important to recognize the exemplary work of Tricia Dugan and her team for putting together such a well run conference. Especially as the ELGL team gets into the thick of organizing #ELGL16 pop up conferences, it's important to recognize the great work of the people who do so much to put together high quality training opportunities.
Here's a random picture from our Snapchat account at last night's bourbon tasting venue. Not only do kitties love innovation and bourbon, but they also love people like Tricia who manage high quality local government learning events.
---
Thursday, June 16, 9:30 a.m.
It's day two of the Summit on Government Performance and Innovation! Some notes and takeaways after a late night last night (which may or or may not involved a bourbon tasting):
Yesterday was busy and exciting, with a lot of inspiration and excitement from local governments across the country. Generally speaking, the people attending this conference work on "i-teams" that focus on innovation and performance measurement. Many of these i-teams are funded by Bloomberg Philanthropies. Similar to other segments of the local government profession (think: finance directors or city managers), this conference is their chance to come together, learn from each other, and get updates on each other's work. It's a very cool dynamic.
The pecha kucha style of presenting was really fun. My panel was filled with awesome people who came ready to RUMBLE on the 20-slides, 20-seconds-each format. I'll get copies of the presentation and post them online here.
I don't have a ton of pictures from yesterday, but you can use this link to see the facility where the conference sponsors hosted a social event and bourbon tasting.
Here's a picture of me with the amazing Julia Burrows and Tricia Dugan from Governing, and Theresa Reno-Weber from City of Louisville, KY and Mayor Lisa Wong from City of Fitchberg, MA.
Some other takeaways from the social event: I learned about the work of the Drucker Institute (motto: "what will you do on Monday that's different?"), talked to Soofa about their unique start-up (they make benches with solar panels so you can charge your devices in public spaces), learned out the innovation work of Jersey City, and chatted with Mick Renneisen, the Deputy Mayor of Bloomington, IN about his interesting career move from parks to the mayor's office (basically, he was a Ron Swanson and became a Chris Traeger).
And, I had dinner with Zach Markovits with What Works Cities (and tomorrow's GovLove Live! guest) and Julie Steenson and Sarah Martin-Anderson from the innovation team from Kansas City, MO where we discussed everything under the sun, including:

KCStat and coordinating an ELGL webinar on the program;
Our love of dogs;
Our love of Rick Usher and Kimiko Gilmore;
Whether or not we'd run for elected office.
---
Wednesday, June 15, 2016 – 1:51 p.m.

---
Wednesday, June 15, 2016
Up and at 'em in lovely Louisville! Woke up early and headed out for a self guided walking tour of downtown Louisville, but not before getting myself a little scared about the fact that my hotel might be haunted (not that I noticed, I slept like I was dead).
Most notably in downtown Louisville are classy tributes to Muhammad Ali; Louisville is the home of the Ali Center, which also hosted his recent memorial service where more than 100,000 lined the streets of Louisville in celebration of his life and legacy. I love the motto of the Ali Center: "be great, do great things." A nice reminder to start today.
I'm also really impressed with the amount of public art in downtown Louisville – check out more on our Snapchat account at @ELGL50. There's also a TON of downtown redevelopment occurring. My cab driver even commented on a few projects on the way in to the airport, mentioning that there's been some public opposition, but the desire and need to redevelop has allowed some more controversial projects to commence anyway.
The downtown core is really walkable, with access to the convention center, Yum! Center, and Louisville Slugger stadium accessible from the downtown hotels. I am STILL singing "A Pizza Hut, a Pizza Hut – Kentucky Fried Chicken and a Pizza Hut!" after walking around near the Yum! Center.
Gettin' Snappy!
Here are the Snaps from yesterday – lots more from this morning's walk, including all of the cool public art from the downtown area!
---
Tuesday, June 14, 2016
Wrapping up a long day of travel to the Summit on Government Performance and Innovation! Some key takeaways:
I'm really impressed with Theresa Reno-Weber – she's the Chief of Performance & Technology for Louisville Metro Government. Tomorrow, she's talking about activating clear and strategic long-term goals with residents. Follow her on LinkedIn and Twitter.
I also can't wait to see how the Governing audience reacts to Oswaldo Mestre Jr. ("call me Oz") presentation on getting residents involved with local government. Follow him on LinkedIn or through the City of Buffalo, NY.
Glenn Harris and I share a deep love of Julie Nelson (you'll remember her from this ELGL webinar). He's also speaking tomorrow. Follow Glenn on Twitter and LinkedIn.
And Daro Mott loves local gov data and analytics as much as ELGL members – we can all learn a lot from his work now, and previously with Louisville! Learn more about his work with Cuyahoga County, OH here and here.
Other Kentucky takeaways:

The phrase "gettin' lucky in Kentucky" is widely used around here. Why? Such a horrible phrase.
Lots of talk and knowledge about bourbon.
I have Pappy tastes and a Busch Lite budget (follow us on Snapchat at @ELGL50 for more pictures).

Tomorrow's plans: drink a lot of coffee and do some bloggin' for ELGL in the morning, and then #govlive lightning rounds and Governing socializing in the afternoon.
---
Tuesday, June 14, 2016
Rise and grind! Up and at 'em at 2:30 this morning for a day of travel from PDX to DEN to SDF. An important reminder about the Summit on Government Performance and Innovation conference – it's free for government employees to attend. One of the many reasons ELGL is so supportive of Governing Institute learning opportunities is because there are almost no impediments to attendance. Affordability of training is one of ELGL's goals, and so we're really happy to affiliate with these events. Please bookmark this page and follow @gov_institute so you can be notified with Governing Institute forums come to a location near you.
---
Sunday, June 12, 2016
We typically don't start chronicling ELGL trips until we're headed to the airport, but the very unique format of this conference's presentation has required me to start preparing much earlier than normal. I'm excited to be part of the "Lightening Talks" (full description pasted below).
The format required me to submit 20 Power Point slides, which will be set on a timer for 20 seconds each. Extemporaneous musings are definitely not appropriate in this format (which you have probably seen – it's called the pecha kucha style of presenting).
And so I'm mainly been preparing for this presentation by memorizing my talking points, and haven't done much reading up on Louisville and sights I want to see and places I want to visit. If you have any suggestions for me – tweet at me or send me an email.
Here's the overview of the Lightening Talks session – I'm really excited to see how this turns out!
Lightning Talks – Ingredients and Key Elements of High-Performing Governments
After years of examining the work of local government and seeing firsthand the successes that come with effective performance in public sector, we'll hear from a cast of governing all-stars who have excelled in these key areas. A high-performing local government that isequipt to innovate and prepared to tackle the future is dynamically planned, broadly partnered, resident-involved, race informed, smartly resourced, employee-engaged and data-driven. The following lightning talks will highlight these seven elements of a high performing government:
Dynamically Planned
Activating clear and strategic long-term goals with residents and then transparently work that plan for real progress.
Speaker: Theresa Reno-Weber, Chief of Performance & Technology, Louisville Metro Government (@RenoWeber)
Broadly Partnered
Breaking down silos inside of government and collaborating with partners in other sectors; key for solving complex social problems.
Speaker: Tawanna Black, Executive Director, Northside Funders Group (@NorthsideFndrs)
Resident-Involved
Revitalizing engagement practices for especially hard-to-engage populations for better policy and service delivery.
Speaker: Oswaldo Mestre, Jr., Director of Citizen Services & Chief Service Officer, City of Buffalo, New York
Race-Informed
Bringing a racial equity lens to all the work of government and addressing disparities through good policy and practices.
Speaker: Glenn Harris, President, Center for Social Inclusion (CSI), New York, New York (@theCSI)
Smartly Resourced
Strategically deploying resources, financial and otherwise, toward the best and biggest outcomes.
Speaker: Rick Cole, City Manager, City of Santa Monica, California (@SaMoCole)
Employee-Engaged
Engaging every human resource and making them drivers of innovation and continuous improvement.
Speaker: Kirsten Wyatt, Executive Director, Engaging Local Government Leaders (ELGL) (@ELGL50)
Data-Driven
Bringing the power of data, analytics and performance measurement to getting dramatically better results.
Speaker: Daro Mott, MPA, MUP, PMP, Chief Innovation Officer, Cuyahoga County, Ohio (@daromott)
Facilitator:
Jim Meskimen, Master Impressionist and Communication Coach