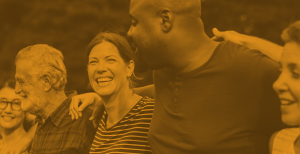 This guest post is from Amanda Nagl of Bang the Table
---
Change management theory and organizational adoption strategies vary in the number of steps, key takeaways

and must-do's that are attached to success.   A simple search shows a range of five to sixteen components that researchers believe are necessary to ensure organizational adoption. Analyzing these with a lens toward the adoption of an online community engagement practice within a local government allows a narrowing of those items.   Three key components that must be actively pursued to make comprehensive community engagement practice "sticky" at an organization: clear problem identification, a committed core team with executive permission, and structures for reporting and rewards.
Clear problem identification is the cornerstone of any research paper; the first step in the curriculum we've developed for creating a comprehensive community engagement strategy; the most important step in defining organizational change.  If you are unable to state the issues and challenges that are leading to the online space and to an increased desire for community input, the rest will be extraordinarily challenging. Gaining understanding and buy-in for "why" change is needed is critical when asking people to change the way they think, work, act and feel about current process and outcomes.  Every change process will encounter rough patches that require a rallying cry, or reminder as to why the initiative was started in the first place. Revisiting a clearly established reason is the easiest and best way to move forward over the hurdle. Simon Sinek describes this concept as the cornerstone to overall organizational success in his best-seller, Start with Why–a great read on the value of clarity in purpose.  
A committed core team is critical to success and beats the alternative of a single cheerleader, every time.  The team will offer support to one another when it is needed and will allow multiple vantage points to be considered when alternatives are weighed; ultimately leading to the best decision for the majority over the tendency one may have to support only what they know.   The state of community engagement professionals in the United States is simply that they are new in definition though not in practice; meaning for most, it is at most 25% of their overall job function and performance evaluation criterion. Competing roles, tasks and values leads to diluted direction and shifting priorities.  Building a team with a shared vision means that there are more hands to help when the load gets heavy. It also provides a pathway for organizational adoption by including a representative from otherwise hard to reach work groups.
The added component of executive blessing or at a minimum, consent, will assure that the group is working in concert with the leadership team.  It provides the core team an opportunity to increase favor by making connections to the overall direction of the organization. In the case of local government, it can be even easier to gain favor from elected officials for new engagement strategies and techniques–an almost continuous request from their constituents.  Utilizing this common interest and direction is typically advantageous but can cause friction if it is not aligned with executive direction. Bringing all these elements together into a strategic council objective or goal left to the team to implement can increase the allocation of resources and set the organization up for success in the final element.  
Analyzing the results from early adopters or focus groups and sharing those results, as well as lessons learned, go a long way in creating validity for new ideas and can serve as a secondary launching point for the remainder of the organization.  Just like anything else, recognizing and rewarding the new behavior through already established methods can provide added incentives. Daniel Pink says in his book, Drive, that financial incentives are not always the best approach.  For those doing community engagement work, assuming they are already fairly compensated, it is likely much more valuable to reward through approved projects and public recognition.  
The success we have seen with Let's Talk Parker exceeded our expectations. Getting the organizational change management right was critical to  Finding the key people within the organization who would take off and run with it was huge. Also spending a lot of time in the beginning extolling the benefits of the system and the benefits of community engagement in general was a significant factor. I believe in online community engagement and that comes across. I think it helped with our rate of adoption for the system. Spending time in the beginning explaining why it was important proved to be effective. It boils down to applying the basic change management principles we all learned in graduate school. That stuff works. Go figure!
-Dannette Robberson, Assistant to the Town Manager, MPA
To hear more about Dannette's experience at the Town of Parker and the specific steps she and the organization have taken, join her and Amanda Nagl, US Practice Lead at Bang the Table, as they take a deep dive into the process they followed.  Register for the March 20 webinar.