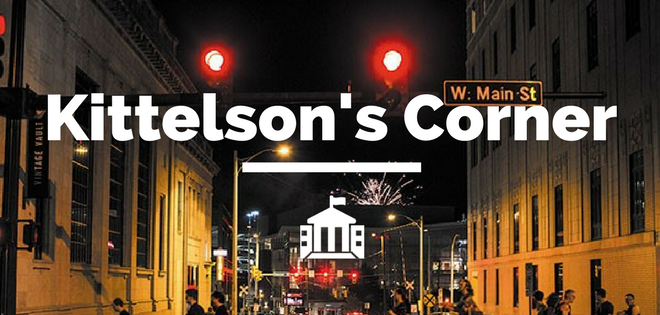 This is Kittelson's Corner my weekly musings on things I think are interesting or important, especially in local government nerd-dom. This week I listened to Revisionist History, watched Master of None, read about the alt-right and recorded an awesome GovLove interview.
Alright, let's go…
---
What I Read
Mayor Bill Bell Has Overseen a Bull City Renaissance. So Why Has Durham's Poverty Rate Gone Up on His Watch?
Despite the long headline this is a really interesting read. The article takes a close look at how the growth in Durham, NC has been unequal, that despite a downtown revival and tons of growth there are places in the city where poverty has increased.
I think this is a problem that cities across the country are struggling with, how do we spread the growth that cities' downtowns are experiencing to all residents? I don't know that there's a good answer yet. I empathize with one of Mayor Bell's quotes in this article, "we were trying to rebrand ourselves, trying to deal with a downtown that was literally broken." That was the biggest issue at the time and its success has caused another issue, gentrification.
Take a read and let me know if you see some of the same issues in the city you work for.
---
This article was fascinating. I've been guilty of thinking that the "alt-right" isn't serious because of the absurdity of the memes and imagery. But this article takes a look at the rise of the KKK after the Civil War and found that the same sort of humor and absurdity.
"[The Klan] used humor to shake loose people's refusal to talk about inequality, playfully illustrating what they thought should be reality. They creatively destabilized norms to shake people loose of comfortable pieties."
Essentially the costumes, strange titles and alliteration were self-consciously ridiculous. And by using that humor they were able to inject their racist views in the mainstream. Definitely a lesson we should remember as white nationalism and the "alt-right" continue to be a part of our modern political discourse.
---
Governor Abbott's Beef with Tree Ordinances Has Its Roots in a Pecan Tree He Destroyed to Build a New Home
I love this story, it's got some of my favorite things like local tree ordinances and petty state legislators. Essentially the Governor of Texas wanted to regulate whether cities could have tree ordinances because he didn't like that he couldn't cut down two heritage trees in a remodel project on his house. Definitely gave me a good laugh this week.
---
What I Listened To
Revisionist History: "A Good Walk Spoiled"
Everybody's favorite philosopher is back with another season of Revisionist History! And the first episode was awesome. Malcolm Gladwell explored why it is that Los Angeles, CA doesn't have many public parks, but has several glorious private golf courses. He finds out that because of some tax laws passed over the last 50 years the public has been subsidizing these golf courses despite not having access to them, take a listen.
---
The Elephant in the Room
This week's GovLove episode I interviewed Giovania Tiarachristie, who is a neighborhood planner at the City of New York, NY. We talked about her research on diversity in the planning profession. For her Master's thesis she surveyed, interviewed and did focus groups with planners from across the New York metro area and employers both in the public and private sectors. What she found was startling and definitely worth reading.
She identified 5 barriers to recruiting planners of color and 5 barriers to retaining planners of color. And I believe that those same barriers exist in any region, in any field of local government. Giovania makes a great point that it is particularly important that planners, who's choices impact the resources and opportunities available to people, reflect and understand the residents they serve. But I also think it's important that local government staff from all departments have that same representation, because the choices a water department or parks department make also impact the lived experience of the people they serve.
We also discussed:
Why "not seeing race" isn't an answer to solving your diversity problem
How the experience of diversity can be more valuable than an ivy league education
What micro aggressions are
Why Giovania doesn't watch Parks & Rec
How white colleagues can help their co-workers of color
Take a listen to this interview and reflect on what we can be doing as local government employers to ensure we better understand and reflect the people we serve.
---
Tweet of the Week
Our dear Kent Wyatt was sick this week, he had a terrible case of the sniffles, and it even sidelined him from his normal Twitter production. Our friends at DC Water were so worried about him they vandalized a water tower.
Looks like we messed up a perfectly good water tower for nothing. pic.twitter.com/39k8vQXg83

— DC Water (@dcwater) June 16, 2017
---
Wait! One More Thing…
Another view on the rebirth of Durham (sorry for the Durham heavy theme this week). The local NPR station did a really good story on how the Durham Performing Arts Center played a key role in driving the revitalization of downtown Durham.
DPAC And Durham – The Rebirth Of A Southern City