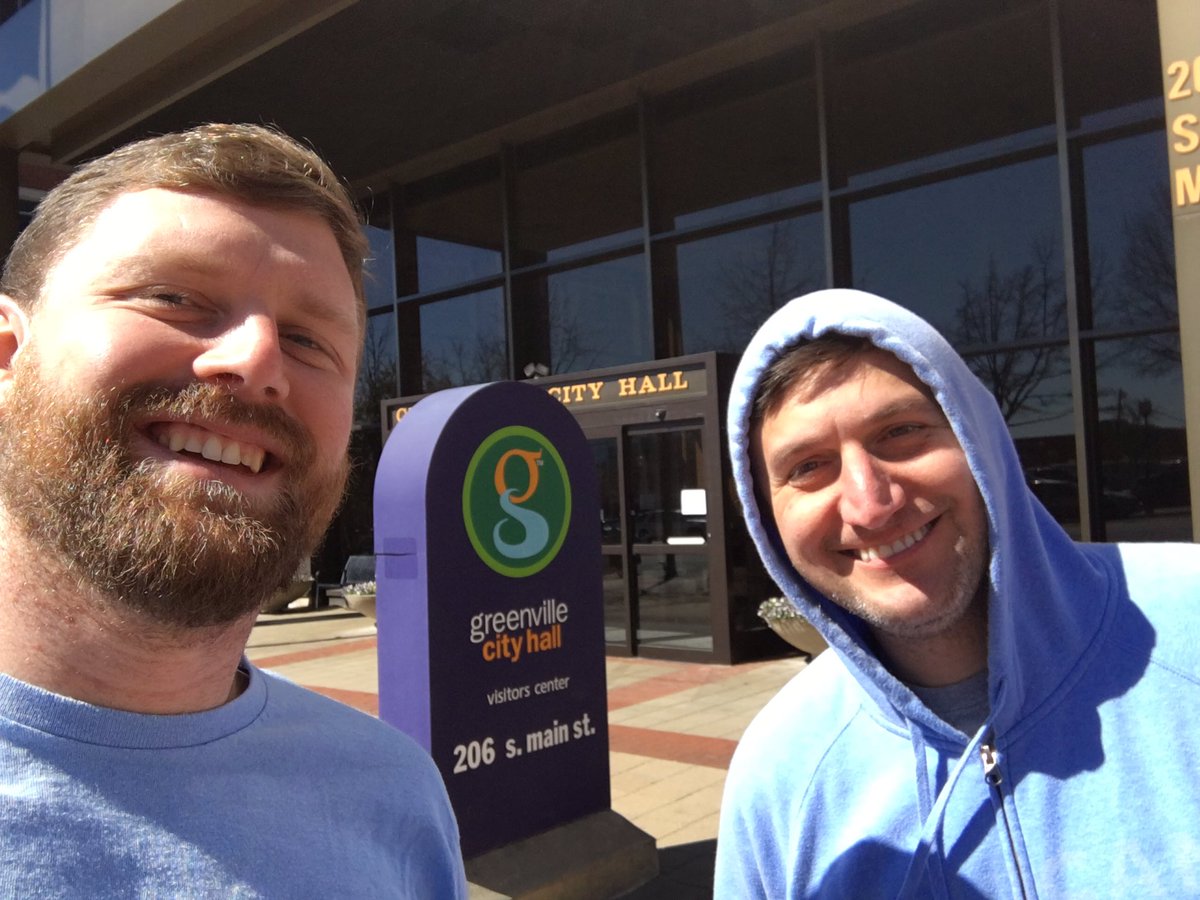 Welcome back to Kittelson's Corner my weekly musings on things I think are interesting or important, especially in local government nerd-dom.
This week I was in Greenville, SC with ELGL Co-Founder and hoodie enthusiast, Kent Wyatt. I also wish I could sit in a big rig like our POTUS and recorded a GovLove episode with the leader of North Carolina's largest county.
Alright, let's go.
---
What I Read
How your local, state and federal government officials feel about Beyoncé
This is the best local government article I've read all year. Guilford County and City of Greensboro reporter (and friend of the pod) Kate Queram asked every elected official and city/county administrator she covers to get their take on Beyonce. The responses are amazing, from the Sheriff punting and saying he prefers Patsy Cline to Assistant City Manager Chris Wilson proclaiming "Single Ladies" to be his favorite song. Definitely worth the read and if you follow Kate on Twitter she also tricked the News & Record into making the article breaking news, even if it was brief.
Also, how did no one pick Formation!?! After that song came out I pretty much forgot about every other Beyonce song in existence. I think she blew my mind with that Super Bowl halftime performance and after it I listened to Formation on repeat for probably a month straight, much to the chagrin of my coworkers.
Inside the GOP's Health Care Debacle
As regular readers of Kittelson's Corner have probably surmised, I'm not the biggest fan of the current party in power at the Federal level. Watching the President and fellow Republicans try to find a way to repeal and replace the Affordable Care Act has been fascinating. They ran against the legislation for four elections now, have been opposed to it for 7 years and yet don't have an alternative. It's amazing. This article recaps all the twists and turns of the last few weeks, from where Speaker Paul Ryan went wrong in building support for the bill to the President saying, "Forget about the little shit." (Which has to be one of the all time most callous things a public servant has said since the "little shit" is health care for millions of people.) It's definitely worth the read and will get you caught up if you stepped away from the news for awhile and missed this very entertaining chapter of history.
My History Of Driving While Black
So MSNBC host (and awesome Twitter follow) Chris Hayes has a new book out that I really want to read where his thesis is essentially that segments of  America live in communities that are treated like a colony, while the rest of us live with no knowledge of their experience. I bring this up because this article on driving while black has this amazing moment at the end where the author, Bryan Washington, describes trying to explain to his white friends how being pulled over and harassed by police is a regular part of his life. The amazement of his friends that this could happen and his almost exasperation at their ignorance shows how we do live separately in many ways. I think we should all read these types of stories and expose ourselves to other segments of society so we can make informed decisions and comments on issues that impact the "colony" as Hayes would say.
---
What I Listened To
Music: More Life by Drake
This isn't a very hipster pick from me but Drake's new album is actually pretty good. It has this like international flavor in the beat selection and the rhythm will get stuck in your head. Definitely worth throwing on in the background while you review some budget submissions. Favorite tracks: Portland (yes it's about Portland, OR) and Ice Melts.
Podcasts
RadioLab: Shots Fired
This was an extremely heavy and emotional episode, but it was so so good. RadioLab sent a reporter down to dig into the stories behind the stats of police shootings. What they found was a community of family members of police violence that all support and help one another. It's amazing. Fair warning, have a Kleenex handy.
.

.
GovLove: Dena Diorio, Mecklenburg County, NC
Not to pat myself on the back too hard, but I recorded two great interviews this week for GovLove. The first was with Dena Diorio, the County Manager of Mecklenburg County, NC. She is the first woman to hold that position and we had a great chat about her career path, working with elected officials, the importance of communication and more. Take a listen and be on the lookout for that other interview next Friday.
.

.
Missing Richard Simmons
Since I introduced you all to this podcast I feel like I need to share my take on how it ended. It's pretty straightforward, ending these true life mystery podcasts are hard (case in point, Serial) and they did as good of a job as they could. The point of Missing Richard Simmons was to figure out why he's stepped out of the public eye after a lifetime of being in it. They didn't unequivocally figure that out but it was an entertaining series nonetheless. Also, I think the goal of the creator was never to cause Simmons any more stress and I think the publicity of the podcast started to, so he didn't want to keep going. Take a listen to the last episode:
---
Greenville, SC
Last Saturday I got to go to Greenville, SC and naturally I took a City Hall Selfie with Kent Wyatt. But we also checked out Falls Park in the heart of downtown. It is an awesome park, it's got a beautiful creek running through it, trails and this cool pedestrian bridge. Plus thanks to some awesome signage I learned about its history, which is fascinating. The area was long the heart of downtown and the beginning of the city, but for years the area sat under a highway style overpass hidden from view. In 2002 they removed the bridge and opened the park back up to the public. Here's a link to learn more: Falls Park History.
Big fan of this Falls Park in downtown @CityGreenville pic.twitter.com/Y7WvelGpaE

— Ben Kittelson (@benkittelson56) March 19, 2017
---
Tweet of the Week
Abbey Road – Chapel Hill mashup!?! Love it. And since Kirsten Wyatt is coming to NC next week expect us to recreate this picture.
SHARE: How are you #GettingAround #ChapelHill? (Photo: Jonathan Drake for the Town of ChapelHill) #CHTC @CHDPartnership @visitchapelhill pic.twitter.com/Md2YM755jN

— Town of Chapel Hill (@chapelhillgov) March 21, 2017
---
Wait! One more thing…
Codeswitch: Frederick Douglass Park, Nashville, TN
This is a short listen, involved parks, a citizen advisory board and NIMBYism. What more could you want out of a podcast?