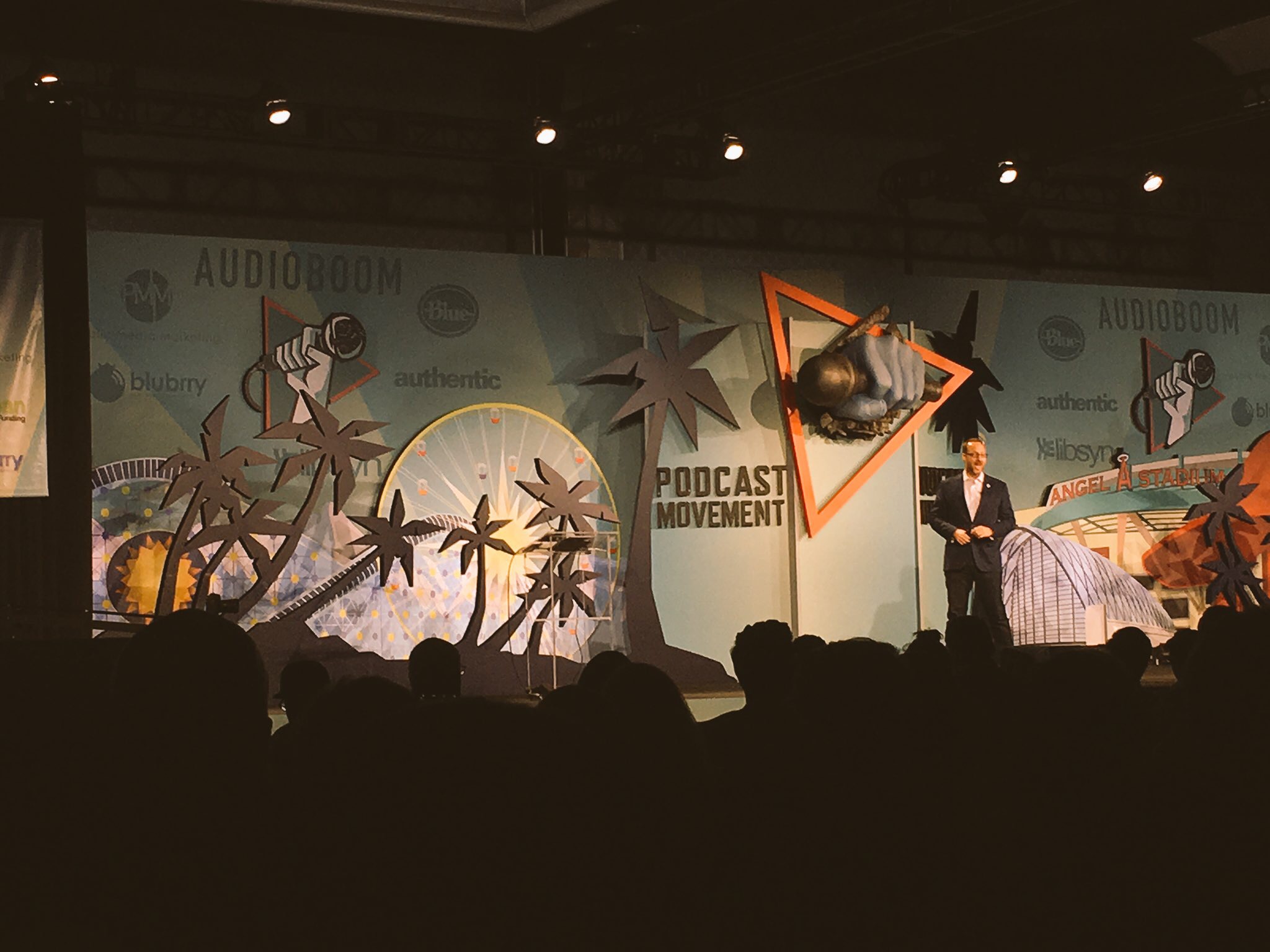 This is Kittelson's Corner my weekly musings on things I think are interesting or important, especially in local government nerd-dom. This week I'm going to the Podcast Movement Conference in sunny southern California. I'll be learning how to improve GovLove and representing local government nerds everywhere. As is tradition I'll be live-blogging my adventures and Tweeting what I learn.
Alright, let's go…
---
August 25 – 1:29 pm PT
I'm back at the airport! The 2017 Podcast Movement Conference is in the books. I feel like I'm swimming around in acronyms for microphones, names for a million different podcast hosting or recording softwares, and a bunch of new resources I never knew about. It was definitely a successful trip to Los Angeles and I think after I figure out how to swim and implement what I've learned it will result in a better GovLove Podcast hitting your eardrums.
Improving Sound Quality
So I went to a number of sessions on this topic because it's hard to know what to listen to, sometimes you get conflicting advice (i.e. iPhone headphone mics can't both have terrible and decent sound or recording on Skype can't be both a terrible and relatively decent idea). This morning I went to two more sessions one on the equipment side and one on the different system options for a show like GovLove with remote guests and co-hosts.
Overall takeaway: Garbage in, garbage out. You can have the fanciest software and the most patient producer (which I am not) but if the quality of the recording is bad there's not much you can do. Both sessions this morning advised getting your room set up so it's not a big room with flat surfaces all around (sounds like my office, whoops). They also had advice on mics and filters and software that I won't bore you with. But again my main takeaway is that we're going to have to rethink our system for recording GovLove episodes. I'll be playing around with some ideas and lessons learned to figure out if that means, better software, more recordings or what, but I bet you'll notice it as a listener.
Lore Podcast
I ended my conference experience with a great keynote from Aaron Mahnke, the man behind Lore. And by ended I mean I was running out of the conference hotel to catch my Lyft to the airport as he was saying, "So I'd like to end with…" Lore is one of my favorite podcasts, but it almost didn't get made. Mahnke is a writer by passion and trade, but was struggling to make a living off of it and as a bonus to his email listserve he recorded some of his favorite stories and a friend said, "Hey, just turn this into a podcast." Now he makes a living off of it and has a TV show in the works. Pretty crazy. (Side note, GovLove the TV show would be awesome – how do I get in touch with Netflix?)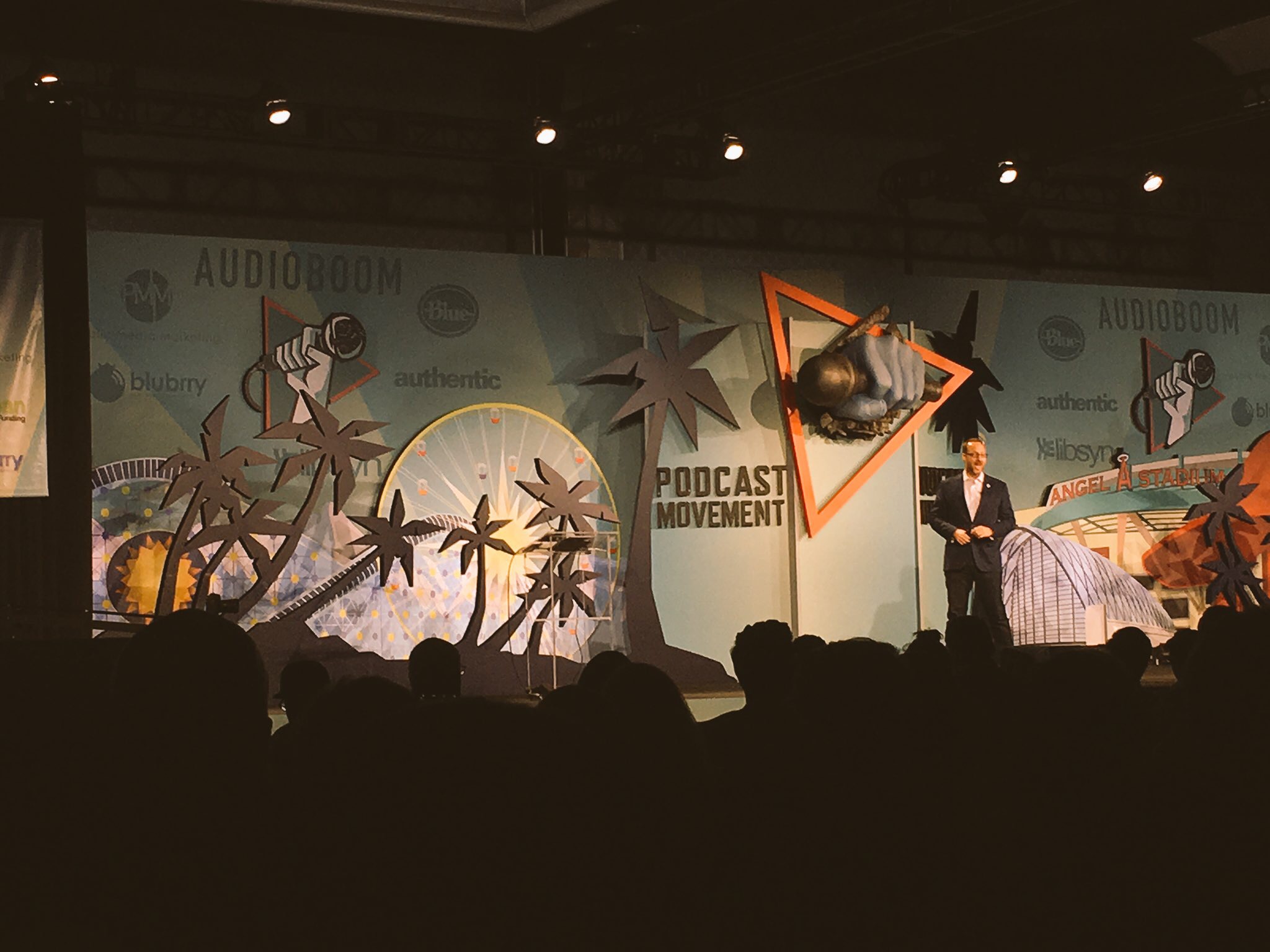 He had five values for podcasters that I really liked, but these could probably be applied to lots of things:
Be Consistent – Consistent on quality, schedule, and topic. Our skills as public administrators have helped make GovLove really consistent, but there's always room to improve.
Be Prepared – You need to have a plan for each episode, podcasts are a journey that the host takes the guest on. Even interview format shows like GovLove are a journey to get to know the guest. And it takes prep work to make that successful.
Be Respectful – Podcasts are free, but in reality listeners are paying with their time. They are choosing to spend their time with your show so be respectful of it. Listeners came for a reason, give them what they came for.
Be Original – Don't just copy good ideas that you've heard or seen. Take what you like and craft it to be unique for your skills and focus area.
Be Focused – Make the best thing that you can make, then go after the other stuff. His advice was to craft the best podcast you can make before going after extra stuff like ads.
---
August 25 – 8:45 am PT
Day 3 of Podcast Movement is just about to get started! We have two more sessions this morning and then we end the day with a keynote from, Aaron Mahnke who is the person behind the Lore podcast. Lore is one of my favorite podcasts, its a show about the creepy real world ghost stories out there in the world. I definitely recommend listening while running in the dark, it will make you run faster.
Impromptu ELGL Meetup
Yesterday the conference programming ended at about 3:00 pm and I didn't know what to do with the rest of my day. So I messaged all-star ELGL members Joey Garcia and Daniel Soto. These two SoCal natives showed me a great time at the last minute, Joey led a tour around Santa Ana and Daniel gave me the lowdown on all the local government issues in the area from affordable housing and homelessness to sanctuary city status and downtown development.


We went to Playground in downtown Santa Ana for dinner, it was amazing. And then we went to this great brewery in Anaheim called Noble Ale Works. Delicious, hoppy beer and a fun location in an industrial part of Anaheim. Thanks so much Joey and Daniel for meeting up!
---
August 24 – 4:29 pm PT
A very techy afternoon
There were only two sessions this afternoon but I learned so much in both so they definitely made up for the lighter schedule. Both were much more technical so my tweeting slowed down and I don't want to bore you all, so I'll be brief on the summaries too, but it was good afternoon.
Fixing Bad Sound
After lunch I went to the "Interactive Stage" to learn about how to deal with a bad recording from Ben Johnson and Clare Toeniskoetter the people behind the Codebreaker podcast. You may find this hard to believe but sometimes when I get the recording for a GovLove episode, it does not sound great… Sometimes Kent hangs up on himself, one of Kirsten's guests might sound like they are yelling through a wind tunnel or John is talking to someone in a foreign country and the sound just isn't as good.
But there are work arounds beyond my rudimentary skills of turning the volume up or down. The two speakers for this session used Nicolas Cage to talk about how to get around bad sound quality. From using the built in Voice Recorder app on your iPhone to editing a segment with narration to hide the bad sound quality. They also recommended some new software that I'm going to check out.


Podcasting Myths Debunked
That wasn't the actual name of this session but it's how I'll remember it. Rob Walch the VP of Podcaster Relations at Libsyn, a hosting service, debunked pretty much every myth I had or ever heard about podcasting. He also shared stats and talked about the best days to post podcasts, how SoundCloud sucks as a host and much more. Also after an hour long presentation he stayed and answered questions for literally another hour it was impressive.
One think I thought was interesting is that the next jump in podcast listening will come when Android develops and installs a native podcast app on their devices. Right now 84% of all listens come from iTunes, or apps that skim from iTunes. That's amazing. And that's despite the fact that Android phones have about 80% marketshare in smart phones. Knocking down the barrier of needing to download another app to listen to podcasts on Android would really expand the market.

---
August 24 – 12:58 pm PT
Why public radio excels at podcasting
This might have been my favorite session of the conference so far. I'm sure if you opened up your podcast app of choice you'd find plenty of podcasts from public radio. Either episodes of radio segments like 1A or shows that are created by a a local NPR affiliate entirely for the podcast platform (think 2 Dope Queens, RadioLab or CodeSwitch). In addition anytime you search the top 100 podcasts in iTunes it is littered with these podcasts. So I thought it would be interesting to go to this session.
Two executives in public radio shared their views, approaches and lessons from moving into the podcast industry. First up was Dean Cappello from WNYC who talked about everything from organizational structure and talent to heart and urgency. I thought it was interesting that under his leadership WNYC reorganized and created WNYC Studios which is the arm of the business that creates and manages podcasts. His point was that even though there are similarities, podcasts are a much different animal.


I think my favorite of his talk was the description of the approach of WNYC. Key for them is Heart, Smarts and Urgency. What he means by those is that their content is personal and intimate, it will teach listeners something and that it feels in the moment.
The second speaker for this session was Tamar Charney, who is the managing editor of NPR One. NPR One is this relatively new platform for delivering audio content from all of the NPR affiliates and partner podcasts. The app also gives them a ton of data on how people interact with podcasts, what will get them to listen and more. Important for her was the point that the artwork and title of a podcast really matters. They are what new potential listeners see first and can either draw them in or cause them to scroll by.

My favorite part from her talk was how NPR One is measuring success, listening and love. So the amount of time that the audience is devoting to content and how much the audience is engaging with or sharing the content. I really want to find ways to measure this for GovLove now.
Are we ready for podcast sponsorships?
The other session I went to this morning was on sponsorships with Jessica Kaupferman the founder of j/k media, an agency focused on podcast advertising and sponsorships. This one was much more focused on independent podcasts who are either making pitches to potential sponsors themselves or pitches to small ad agencies like hers to handle the work. This session was really good and I took a lot of good information away from it, but I don't think it will be too interesting for you dear reader. I will definitely be using the info and hopefully bring in some revenue to support GovLove and ELGL.

---
August 24 – 9:43 am PT
Day 2 of Podcast Movement
It's the morning of Day 2 here at the Podcast Movement Conference and I'm ready for another full day of learning about the podcast industry. Right now I'm sitting in a session with the founder of Public Media Marketing, a firm that sells adds on podcasts like This American Life and Serial. Including that famous MailChimp ad from season 1 of Serial.


To be honest his presentation is geared more towards a salesperson or sales team, understandably, but hopefully there's some takeaways for us at GovLove as we try to get some ads to support our show.
I am fully fueled for the day thanks to literally the best Huevos Rancheros I've ever had. There's a small Hispanic bakery and restaurant near my AirBnB and it was amazing. If you are ever in Garden Grove you should definitely go to Dorada Bakery.


Which brings me to last night. Thanks to a great recommendation from one of my Lyft drivers I went to Golden Road Brewery and it was awesome. The location near me is right next to the the Anaheim Angels stadium so there were a bunch of people hanging out before the game started last night and there was a good food truck outside. I also haven't had a good West Coast IPA like theirs in a long time, definitely would recommend.

---
August 23 – 6:17 pm PT
Undisclosed, So Many Stats & Hardcore History
There was a nice back-to-back-to-back lineup to finish a packed day of learning. To start off the keynotes the people behind the Undisclosed Podcast talked about their podcast and the work of balancing it with a full time job. You may recognize Undisclosed from the Adnan Syed case, they took up the mantle of pursuing justice for Adnan after the first season of Serial but now they do true crime and justice stories of all kinds.


After the Undisclosed crew wrapped up we heard from Edison Research, a firm that does studies into how people are listening to podcasts and other audio formats. My fingers weren't going fast enough to keep up with all the stats they were sharing but check out how fast the amount of people that have heard of podcasts has grown below. One of the takeaways for me was that once a person starts listening to podcasts it becomes a big part of their audio "diet." So the goal of podcasters should be getting more people interested in the format.


The last speaker of the nigh was a heavyweight in the podcasting industry. Dan Carlin, the host of Hardcore History, discussed his path to 20 million listens as well as why he loves podcasting. My favorite quote from his talk was that, "Podcasting is a democratic media revolution." What he means is that there are no longer gate keepers to content. If you are talented you can get a following and make a name for yourself, which we at ELGL and GovLove can definitely relate to. (Also check out Hardcore History, it's definitely worth the listen – a long listen but Dan Carlin is a great storyteller.)

---
August 23 – 3:49 pm PT
Design Thinking & Government Podcasting
After lunch I was rewarded with a design thinking podcast session, which is a sign that I can't escape the phrase "design thinking" it really is the trendiest catchphrase. Kerri Hoffman, the CEO of PRX, talked about how they use design thinking to come up with new content ideas. She led us through a couple of empathy exercises, like sharing what we have in our wallets and designing something personal for our neighbor. It was a fun exercise but I wish she had spent more time on examples of how they practically use it in pitching or accepting ideas.

The second session I went to this afternoon was right up GovLove's alley. Fred Dews from the Brookings Institute, and host of the Cafeteria Podcast, shared some research he'd done into Government and Non-Profit podcasts. He did the leg work of sorting through and listening to hundreds of podcasts and found some interesting trends. About 23% of the podcasts in the space release episodes at least once a week like GovLove and most active podcasts were created within the last 3 years.


I was on the edge of my seat hoping he would shout out GovLove because we have appeared on the top rankings in iTunes for the Government & Organizations category but alas I think he excluded us because ELGL is a professional association not a pure non-profit or government entity. Don't worry I'll make a pitch to get GovLove on his list, but he did share some fun podcasts that I want to highlight.
Ann Arbor Stories
This is a podcast from the Ann Arbor District Library that comes out every other Thursday. They tell stories from Ann Arbor's present and past. Here's their latest episode on train crashes from the city's history.
.

Crazy Good Turns
This is a podcast about, "people who do amazing things for others." They talk to non-profits and tell inspiring stories. Here's their latest episode on a camp for kids with cancer.
.

.
Sidedoor Podcast
This podcast is from the Smithsonian Institute and sneaks listeners through Smithsonian's side door to search for stories that can't be found anywhere else. Here's their latest episode on a natural way to clean water.
.

.
---
August 23 – 1:06 pm PT
Morning Sessions
The morning sessions are over and I just crushed a sandwich during our lunch break. This morning I listened to two interesting speakers on taking your podcast to the next level.
The Nod
The hosts of one of Gimlet Media's latest podcasts, The Nod, presented on how they took a show they were doing independently and pitched it to a "network." Instead of going it alone and doing all the work to create, edit and market their podcast they were able to join Gimlet and get assistance to improve their podcast. The hosts, Brittany Luse and Eric Eddings, were interesting and had some good tips for people just starting up a podcast or wanting to join up with a network.

Some of my takeaways:
They outlined three broad podcast types: Conversational, Interview and Narrative. GovLove is definitely an interview style, I do think it would be fun to do some narrative episodes, but those are the most time consuming.
Live shows were helpful in engaging their listeners. Would anyone go to a GovLove live show? That would be both terrifying and fun.
Merch! Selling merchandise was a way to engage with diehard fans and give them a revenue stream. I'm also the only person at this conference without a T-shirt featuring their podcast.
Audience Growth & Monetization
One thing I'm really interested in learning about while I'm here are ways to increase the number of listeners for GovLove. We think the content is awesome, but we'd love to get it in front of more of our members and localgov enthusiasts. The second session I west to was supposed to be on this but ended up covering things we already do pretty well.

The speaker recommended you create valuable, consistent and purposeful content. We're definitely doing the first two well, but we could be better at creating purposeful content and connecting our episodes to the mission of ELGL and GovLove.

August 23 – 7:42 am PT
I'm getting excited for the Podcast Movement conference to start while caffeinating up. After my late flight last night here's hoping they've got coffee all day at the conference. I walked to the 7 Leaves Cafe in Garden Grove and just hummed that Sublime song to myself.

I took this trip to Garden Grove #PM17 pic.twitter.com/HXRVps7vrp

— Ben Kittelson (@benkittelson56) August 23, 2017

Also, fun fact if you choose to walk to a coffee shop in Garden Grove you will be the only pedestrian. I'm getting my morning planned so stay tuned for my takeaways from the sessions later today. In the mean time here's a book review to tide you over.
Book Review – White Rage by Carol Anderson
I finished this book on the plane last night and definitely needed to sit with it for awhile. After the white rage on full display in Charlottesville earlier this month Carol Anderson's book has appeared on a number of lists to understand this moment in history, I checked it out from the library and was blown away. I think the traditional American myth we tell ourselves is that progress is inevitable, with each passing decade our society gets more equal, more welcoming, closer to our ideals. But that is not necessarily the case and White Rage details exactly how that happens.
Anderson describes the reactionary politics that have occurred with each gain achieved by African-Americans. From the black codes after the fall of Reconstruction to the voter suppression laws enacted after the election of our first black President, she gives the reader a better understanding of the pain and slow pace of civil rights work in this country. Everyone should read this book, not because it provides some insight into Trump's America but because it shows Trump isn't much of an outlier in our history.

---
August 22 – 9:12 pm PT

Shirley, I'm very serious. It is way past my bedtime and I'm currently at the Phoenix airport. My plane to Los Angeles is delayed by over an hour so to pass the time I ate a burrito, not recommended. To get the live blog of #PM17 started I've got a mini-Kittelson's Corner for you.
---
What I Read
Commemorating North Carolina's anti-Confederate heritage, too
In the wake of Charlottesville and a renewed debate about confederate monuments the historian and excellent author, Timothy B. Tyson, wrote about another side of the Civil War that we don't celebrate or even learn about. The South, and especially North Carolina, was hardly unified in its secession efforts. Tyson points out that parts of North Carolina refused to accept the confederate government and officials complained that Eastern North Carolina was "infested with Tories and disloyal persons." But we don't celebrate this history.
---
"We Just Feel Like We Don't Belong Here Anymore"
I think we hear a lot from conservative, white rural residents of the country but this article takes a look at the minority community in rural Tennessee. The experience they have had since Trump's election has been much different than the story that we normally hear.

---
What I Listened To
Waxahatchee – Out in the Storm
This album is so beautiful. I've been listening to it on repeat for the last three days. Waxahatchee is an indie rock band led by Katie Crutchfield. Her songwriting and voice are so great on this album. I hadn't heard of her before but I'm so glad I downloaded it. Take a listen.
.

.
Code Switch Podcast – Charlottesville
One of my favorite podcasts covered the aftermath in Charlottesville as only they could. This episode inspired me to check out a book from the library that I will share more about tomorrow morning. It's also worth checking out It's Been A Minute with Sam Sanders, their episode from last Monday was awesome.
.

---
Podcast Movement Conference
So why in the world am I waiting for a plane to Los Angeles, California for some random podcasting conference? Good question dear reader. About this time last year ELGL had been managing GovLove full time for about 8 months and it was going pretty well (not Malcolm-Gladwell-was-a-guest well, but we were killing it).
However, I'm going to let the Kittelson's Corner readers in on a little secret, even though we've brought you 146 premium GovLove episodes, we don't really know anything about podcasting. I mean don't get me wrong I'm a big fan of podcasts, as you can tell from the random ones that I share each week, and Google searches will reveal enough to be competent in almost anything, but for the most part we've been winging it.


To hopefully figure out what we don't know we thought it'd be good to go do some learning, which led me to Podcast Movement. This is definitely one of the biggest podcasting conferences out there and it has a ton of content. I think what caught my eye when researching was that there are five different tracks for learning about podcasting:


Unlike your local NPR station or the latest podcast from the Ringer, here at ELGL there's not a team behind all these topics for GovLove. We have about 4 people regularly recording interviews, me editing and posting episodes, and no one doing the other stuff.
So I'm excited to learn what's out there. How can we be better at interviewing and storytelling? Is there better software or equipment that GovLove could be using? Can we get SeatGeek or MeUndies to sponsor us? And maybe most important, how do we get more people listening to GovLove?
All of this should lead to a better product for our ELGL members and GovLove fans.