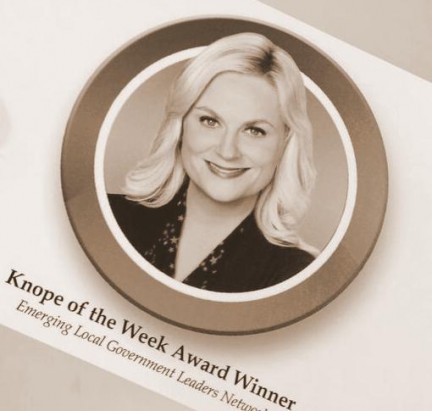 ELGL's Communication Tools, Including Knope of the Week, Highlighted by American City/County Magazine
What is the Knope of the Week? It's ELGL's way of recognizing an individual or group of individuals who have excelled in promoting the public sector. Recipients may come from the public or private sector and are nominated by ELGL members. Recipients receive an incredible amount of recognition and prizes that we are not at liberty to disclose. The storied history of the award dates back to 2012.
This week we recognize the panelists from the "Perspectives on Public Safety" forum.
Clackamas County Undersheriff Dave Kirby
Lake Oswego Police Chief Johnson
Milwaukie Police Chief Jordan
[youtube http://www.youtube.com/watch?v=n2e3T8AOv6Y&w=420&h=315]
David M. Kirby was appointed Undersheriff by Sheriff Roberts on Oct. 1, 2007. Undersheriff Kirby brings a wealth of experience to the CCSO Undersheriff position: He is DPSST-certified in both basic police and corrections. He also holds certificates in both corrections and law enforcement at the advanced, supervisory, and management levels. He has 13 years experience in the field, with two years' service as Commander of the Washington County Jail. He has worked as a deputy as well as a supervisor in narcotics, investigations, and patrol. Prior to joining CCSO, he held the position of Commander of the Washington County Sheriff's Office Investigation Division. 
Lake Oswego Police Chief Don Johnson began his law enforcement career in 1979 in Sunnyvale, and more than 21 years he rose to the rank of captain. In 2000 he became police chief of Los Altos, Calif. Five years later he returned to Sunnyvale as director of public safety. He previously served as the Police Chief for the City of Los Altos, California. Chief Johnson has a Masters degree and a Bachelor of Science degree in Criminal Justice Administration from San Jose State University.
Formerly the FBI's top guy in Oregon, Bob Jordan is now Milwaukie's police chief. Jordan was assigned to the Oregon FBI post in August 2003 after a stint as chief of the FBI's Office of Professional Responsibility. Jordan was an assistant district attorney in Philadelphia before joining the FBI in 1980. He served in the Boston, Newark, N.J., and San Diego field offices and worked on successful high-profile public corruption investigations. In 2000, he was named chief of the bureau's integrity in government and civil rights unit.
Knope-Worthy Contributions
For starters, we increased our library of Police movies and television shows during the lightning round at the Perspectives on Public Service forum. Hawaii 5.0, Beverly Hills Cop, Lethal Weapon, Turner and Hooch, Law and Order, Magnum P.I, and Prime Suspect were all mentioned.
All three of the panelists are leaders in their respective departments and all three reached their positions through different career paths. While they work for different organizations, their careers are now intertwined due to the regionalization of crime and recent events such as the Clackamas Town Center shooting.
Onto what we learned:
Milwaukie Police Chief Jordan
Favorite Police movie: Heat with Robert DeNiro
Three most common crimes in Milwaukie: car break-ins, residential burglary, and sex crimes.
Despite what his bio may say, he is not retired.
80% of the job is communications.
Chief Jordan highlighted a shooting incident in June 2009 that demonstrated the importance of communications. See: Milwaukie man attempted suicide before fatal police shooting.
He stresses techniques developed by Covey: be proactive and begin with the end in mind.
Two keys to a successful police force:
Training for handling mental health related incidents
Training for situational awareness in using lethal force.
Lake Oswego Police Chief Johnson
Favorite Police show: Law and Order
Three most common crimes in Lake Oswego: theft,  financial abuse, and mischievous acts by youth.
Considers Phil Rose, former Los Altos city manager as a mentor.
He maintains contact with Alex McIntyre, former Lake Oswego city manager
Los Altos city manager Phil Rose instilled the importance of not viewing the Police Department as an individual unit but as a part of a team with other city departments.
He believes city should  focus on accomplishing core services regardless of the department.
For example, the more citizens who use the Library or participate in recreation programs, the less likely they are to need Police services. These are preventive programs that can lessen the load on Police.
The Chief learned a valuable lesson from one of his former bosses who asked that he build a bathroom at a local park. The point of the assignment was meant to take him out of his comfort zone and encourage interaction among departments.
Simply put, the Chief enjoys being a public servant.
Relationships are everything.
Peet's Coffee is a frequent stop for the Chief, but you will never see him there by himself. He stops there and other local spots in order to increase visibility.
Chief Johnson stressed the importance of an educated workforce, proficient in finance.
Ex: Jordan Wheeler and David Donaldson are incredibly skilled and make the Police's job easier.
It's impossible to overstate the importance of relationships and networking.
One of his favorite quotes, "everything looks different on Thursday" meaning take time to think through decisions.
Career advice: don't mention your former employer by name when you start a new job. You want to avoid people thinking that you are going to take a cookie-cutter approach by implementing the same ideas but in a different organization. In other words, no one "cares the way you used to do it".
In starting a new project or job, tear everything apart and seek new solutions.
Finally, relationships, relationships, relationships.
Clackamas County Undersheriff Kirby
Favorite Police show: Reno 911 and COPs
Three most common crimes in Clackamas County: petty theft, narcotics, and sex crimes.
He grew up in Enterprise, Oregon.
He views public safety as an interactive game of people watching.
He admittedly rear ended a police car in his young days.
The Undersheriff became fascinated by law enforcement from interaction with them in his younger days.
Throwing crap apples toward police vehicles was one way he interacted with the local police force.
Gold braces or a "grills" formerly adorned the Undersheriff's mouth.
Running a jail feels like being Jeff Probst, host of Survivor, because you are constantly monitoring alliances and being misled.
He puts on a "taxpayer hat" in his work to ground himself in what is important for the community.
Communications was not his early strong suit. His mom reinforced this when he went off to college and was rarely heard from. His mom would send him letters where all he needed to do was fill in the blank. Ex: My week was _________. Classes are _______.
Career advice: read the obituaries in the newspaper, it gives you an idea of what people say when someone passes. It hopefully will motivate you to care more about how people view you.
Other Topics
Challenges in dealing with elected officials and/or management.
It's time consuming to educate a new commission.
It's important to communicate to elected officials the tools needed to maintain a safe community.
Regional taskforces are vital but often the first to go in tough budget times. Ex: Portland Joint Terrorism Taskforce.
It is impossible to deal with crime and crime prevention without involving outside agencies. Ex: Clackamas Town Center shooting, Lake Oswego and Milwaukie officers were involved in response.
Electeds or managers are only as interested as you make them in your work.
Ethical dilemmas
Milwaukie Chief stressed the need to be internally motivated to do the right thing despite whether it is popular.
Jordan said, "do the right thing, at the right time, for the right reason"
LO Chief mentioned that minor misconduct often leads to major misconduct. Address issues at the early stages.
You must draw a line in the sand when it comes to ethical dilemmas.
LO Chief stated that a culture must be created where the correct ethical decision is encouraged.
Undersheriff summed it up, "you lie, you die"
Although there are good and bad lies and then something in between.
Cultural Change
Jordan believes in the need to focus on what you can change.
Tight budgets are a constraint because they often hamper the ability to hire the right people who are more likely to make the right decision.
Little things add up.
If you don't learn history, you are bound to repeat it, Winston Churchill
Show community pride involvement. Ex: Milwaukie bike giveaway.
Supplemental Reading
 [youtube http://www.youtube.com/watch?v=GA_vFxi5Z_0&w=420&h=315]
Previous Winner
Center for Priority Based Budgeting, Chris and Erik Fabian, Jon Johnson, and Don Hudson
[youtube http://www.youtube.com/watch?v=GazE8PAL-DE&w=420&h=315]