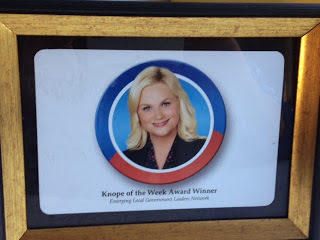 Panelist. Mentor. Gov Bud for Life.
Heather Geyer (LinkedIn and Twitter), City of Wheat Ridge, CO, is the Knope of the Week. Heather was one of ELGL's first members from Colorado and has said "yes" everytime that we've asked her to write an article, serve on a panel, or simply talk to other local government professionals. We need more Heather's in local government who say 'yes' instead of 'I'm too busy.'
Share your experience with Heather in the comments section below.
---
Word of the Street
"Smart, savvy, and reliably on point, Heather Geyer is a leader for government women in Colorado and elsewhere. We appreciate the work she does to keep us connected!"
— Torie Brazitis, City of Lone Tree, CO
"Instead of Knope of the Week I nominate Heather for Knope of the Year. How many people have a boss that dresses up like a carrot and sumo wrestler to promote employee wellness, Princess Ana for the City's Trunk or Treat, and Glinda the Good Witch for a Halloween open enrollment fair? To say that Heather is dedicated to public service is an understatement. She is passionate about making her community a better place and having fun along the way. Heather is one of the hardest workers you will ever meet; she is a budget guru, public information maven, city logo enforcer, #13 Percent champion, employee supporter, Starbucks junkie, and management leader. Her favorite movies are Hallmark movies and her favorite musicians are Garth Brooks and Kelly Clarkson, this lady is one in a million. I consider myself lucky to have her as a mentor to inspire me, encourage me, and most of all, nerd out with me about local government. Gov Buds for Life!"
— Carly Lorentz, City of Wheat Ridge, CO
"Heather is not only a great personal friend, but she is a great peer and mentor. She is extremely knowledgeable and thoughtful in her everyday personal life and career, she provides the calm in any storm, works extremely hard, and has an amazing attitude. Any local government would be lucky to have someone of her caliber."
— Angela Cline, City of Lakewood, CO
"In 30 years of working in local government, Heather is truly one of the best in the business.  I respect her knowledge, value her experience, appreciate her values and am impressed by her dedication to serving her community.  I am proud to know her and have learned so much from our work together over the last few years.  No one is more deserving of this recognition than my colleague Heather."
— Jon Johnson, Center for Priority Based Budgeting
"Heather is a leader nationally, not just in Colorado. She is viewed by many as a mentor who is truly committed to advancing local government. At the CPBB Conference, Heather spoke with a passion about improving diversity and inclusion for her younger relatives. Her passion is something that I carry with me when I speak or write about the #13Percent initiative. Fun Fact: if you need a Halloween costume, Heather can hook you up."
–Kent Wyatt, ELGL Co-Founder & City of Tigard, OR
"Heather is vital to the success of Colorado Women Leading Government (CWLG).  Her career and dedication to the profession are a great example of what women can do in Colorado!"
— Denise Taylor on behalf of CCCMA
---
Supplemental Reading