[youtube http://www.youtube.com/watch?v=UqSxWPkblR4&w=560&h=315]
What is the Knope of the Week? It is ELGL's way of recognizing an individual or group of individuals who have excelled in promoting the public sector. Recipients may come from the public or private sector and are nominated by ELGL members. Recipients receive an incredible amount of recognition and prizes that we are not at liberty to disclose. The storied history of the award dates back to 2012.
Vitals
Name: Jessica Williams
Current Position: Editor, Mac's List
Email: [email protected]
Education: Wake Forest University, BA, Communications and University of Oregon, Master's, Strategic Communications
Previous Employment: Senior Administrative Assistant, Northwest Women's Clinic; Tasting Room Manager, Bishop Creek Wine Cellars; Co-Captain, Alastor; and Account Executive, Cox Enterprises
Stay Connected: LinkedIn, and  Twitter
Mac Prichard
Current Position: President at Prichard Communications
Email: [email protected]
Education: University of Iowa, BA, Political Science and Harvard University Kennedy School of Government, MPA, Public Administration
Previous Employment: Publisher, Mac's List; Communications Director, Reclaiming Futures; Communications Officer, Oregon Department of Human Services; Speechwriter, Office of Governor John Kitzhaber; and Deputy Legislative Director, Office of Governor John Kitzhaber
Stay Connected: LinkedIn and Twitter
Background Check
Mac's List is published by Prichard Communications, a Portland based PR agency that works with philanthropies, non-profits and public agencies. Mac's List newsletter is published by Prichard Communications every Tuesday and distributed to more than 11,800 subscribers.
Mac Prichard owns and operates Prichard Communications, a full-service public relations agency based in Portland, Oregon that works with philanthropies, non-profits and public agencies across the country. He is also the publisher of Mac's List, which Oregon professionals find rewarding, interesting jobs and Oregon employers find the best possible candidates.
Jessica Williams is the editor and sales director at Mac's List. As a young professional in Portland, she publishes a weekly post offering up tips and ideas relevant to local jobseekers. Jessica has a background in sales, client relations, and community management. She is skilled at planning and executing long-term strategies using content marketing and relationship development to support sustainable business growth.
Connect with Mac's List: Facebook, LinkedIn, Twitter, and Web
Connect with Prichard Communications: Facebook and Web
Knope-Worthy Contributions
Most of us are frequent visitors to Mac's List but not all of us know about the drivers behind Mac's List. Many of us are indebted to this week's Knopes of the Week, Jessica Williams and Mac Prichard since many of us have found our current job on Mac's List, many of us have found the perfect job candidate through a Mac's List advertisement, and many of us have benefited from the Mac's List features on workplace related topics such as 4 Tips for a Successful Phone Interview or What to do BEFORE You Send Your Resume to a Portland Employer.
So, Mac and Jessica, through Mac's List, have helped us as individuals but what have they done for ELGL. Well, what they have done for ELGL would make Leslie Knope blush.  Mac and Jessica have done everything and anything that ELGL has needed help with.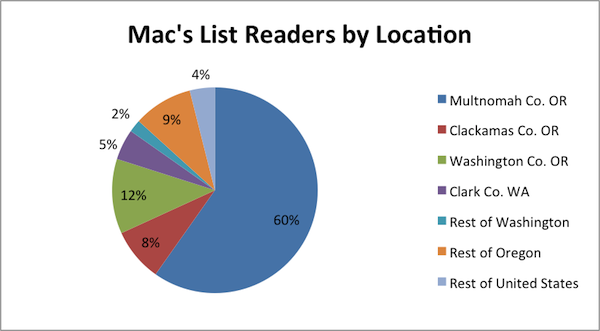 We first met Mac when we asked him to take part in our On the Public Record feature. In the feature, Mac discussed his work on the "Big Dig" in Boston, his work building the Mac's List community, and his work in helping then Portland City Commissioner Earl Blumenauer with the mid-county sewer project back in 1992.
While developing the profile on Mac, we met Jessica and learned about her work at Mac's List. Since then, we have called upon her on several occasions to meet with ELGL members who were looking for new employment opportunities or who were moving to Portland and needed a better understanding of the job market. You might be familiar with Jessica's work from one of her Mac's List articles that have appeared in the Morning Buzz.
Recently, ELGL found its way into a  Mac's List article, "How to Get an Oregon Government Job: 4 Lessons Learned." The article kindly mentioned,
Emerging Local Government Leaders' excellent website has a careers section and good information about Oregon's public sector.
At the end of the article, you will find a number of insightful reader comments and a number of replies from Mac. We recommend you pay special attention to the story recounted by ELGL member Chris Workman. Chris recounts the lesson his father taught him that has stuck with him and reminded him to double-check and triple-check his resume. We encourage other ELGL members to add their advice on finding a government job in Oregon. Remember: pay it forward.
Fortunately, you haven't heard the last from Mac and Jessica. Mac has agreed to serve as a panelist in the inaugural ELGL Conference in October at the Kennedy School. Details coming soon.
Here's to a long and productive relationship between ELGL and Mac's List.
Supplemental Reading
Last Week's Knope of the Week
Oregonian Reporters Heather Steeves and Molly Harbarger