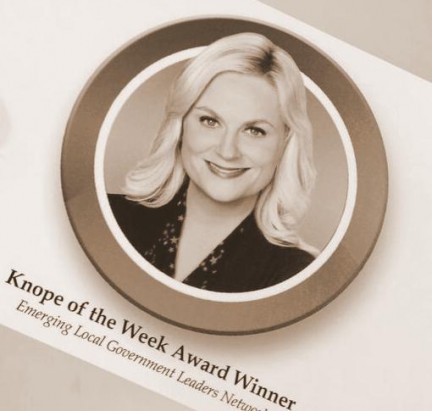 What is the Knope of the Week? It's ELGL's way of recognizing an individual or group of individuals who have excelled in promoting the public sector. Recipients may come from the public or private sector and are nominated by ELGL members. Recipients receive an incredible amount of recognition and prizes that we are not at liberty to disclose. The storied history of the award dates back to 2012.
Current Position: City of Sherwood, City Manager
Previous Experience: City Administrator, Fairview, Oregon; Senior Program Manager, City of Beaverton; Division Manager, Clark County, WA; and Planning & Development Manager, Town of Marlborough, CT
Education: University of Cincinnati, BUP, Urban Planning and Boston University – School of Management, MBA, Public & Nonprofit Management
Connect: LinkedIn
Credentialed City Manager with over 25 years of local government experience in New England and the Pacific Northwest.
 Knope-Worthy Contributions
Sherwood city manager, League of Oregon Cities board member, Oregon City/County Management Association board member, and ELGL organizer are just a few of the ways that Joe has impacted the local government community. In 2021, you'll have another reason to appreciate Joe's work ethic. He successfully lead the effort to bring the ICMA Conference to Portlandia in 2021. He espouses his commitment to the next generation of local government leaders through efforts such as pairing up with the City of West Linn to gave a recent MPA graduate practical experience.
We now turn it over to some of the people that Joe has influenced in his career to describe his Knope-worthy characteristics.
Cindy Dolezel, Beaverton Sustainability Manager
It was an honor to work for Joe. He was a true professional that inspired and led with action, precision, and competency.
Jessica Harper, Gresham Assistant to the Mayor:
Joe has been a great mentor to me and really took me under his wing when I interned for him at the City of Fairview. He is enthusiastic about bringing "emerging leaders" into local government and makes an effort not only to get to know them but also to introduce them to other local government contacts.  I'm very thankful for Joe's mentorship and support of my professional development over the years.
David Snider, Sandy Economic Development Manager:
Joe has been a mentor of mine since I was a graduate student at Portland State University.  He has always been very generous with his time and with sharing his experiences in local government, and has yet to steer me wrong with his advice.  I would nominate him for "Knope of the Year" if there is such a thing.
Kent Wyatt, Tigard Senior Management Analyst:
Joe has been an ELGL supporter from day one from encouraging other city managers to get involved to organizing forums with Bill Wyatt, Port of Portland and Erik Kvarsten, City of Gresham. His efforts have allowed ELGL to grow into the organization that it it today. Beyond ELGL, I marvel at highly respected Joe is among his peers in the public and private sector. His impact on the Portland region is remarkable. 
Kirsten Wyatt, West Linn Assistant City Manager:
Joe Gall is the consummate professional.  He is a reminder to all of that that no matter "how busy" we may be – there's always time to do more to help the profession.  His service to the League of Oregon Cities; the Oregon City County Managers Association; the ICMA Conference Planning Committee; and of course, ELGL is a positive reminder that you can be a top-notch City Manager and provide service and support to your peers.
Ashley Graff, West Linn/Sherwood Public Affairs:
In addition to his leadership roles in professional organizations, Joe has a demonstrated interest in mentoring the next generation. He took me on as an intern and has been generous with his time and wisdom. I feel lucky to learn from him and to work with his team.
Zoe Monahan, Jerome, ID Community Development Director:
Joe Gall is not only dedicated to the City Manager profession; he is also dedicated to the next generation of managers.  I had the opportunity to meet with Joe for an information interview when he was the City Manager of Fairview. He was very welcoming and willing to share his local government experiences. He provided many tips and including fantastic advice including; "be patient".  This is helpful advice for any professional. 
I was thrilled to have the opportunity to work with him in Sherwood. He is a strong leader, an asset to the City of Sherwood and an ICMA Credentialed Manager.  I appreciate his willingness to listen, give advice and share his experiences.  
It is for these reasons that Joe Gall is recognized as the Knope of the Week. Many thanks to Joe for his continuing efforts, and we look forward to toasting him at the ICMA Conference in 2021. How has Joe impact you?  Tell us in the comments section below.
Supplemental Reading