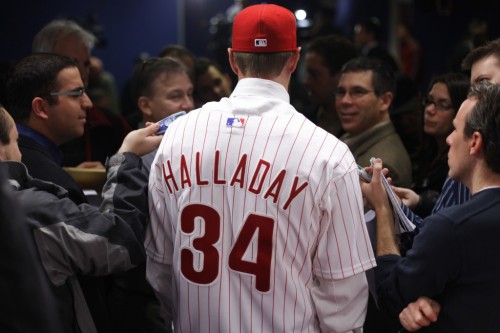 [youtube http://www.youtube.com/watch?v=P5sgX9gH8hc&w=560&h=315]
After a long holiday break including a brief jump off the fiscal cliff, the Knope of the Week is rested and ready to anoint the standouts in the local government arena for 2013. This year recipients will not only the incredible fame and glory associated with the award, but they will be recognized with a token of appreciation that will only be known by the recipients.
Before we move forward, take a look back at the 52 recipients from 2012. Each recipient will tell you that life has changed dramatically with the recognition, similar to a lottery winner minus the money and notoriety. ELGL proudly notes that before awarding a Knope of the Week we test the potential recipient for performance enhancing drugs. We also proudly note that those individuals have no idea that they've ever been tested.
Now onto the beginning of a new year, the 8th recipient for 2013 is …
Josh Halladay
Americorps VISTA at United Way of Northern Nevada and the Sierra
USC Sol Price School of Public Policy, Student
An on-campus or online MPA? A decision humans have struggled with since the beginning of time. Well, struggle no more, ELGL blogger Josh Halladay is sharing his distance learning experience at the USC Sol Price School through the feature "An MPA from My APT."  As online programs grow more and more popular, Josh's experiences will resonate with our ELGL members and followers who seek an advanced degree from the comfort of their home.
Part II: Networking Your Butt Off
So what's the deal with Josh? Does he just really like the computer? Why does he have a Brett Favre fathead in his room? Here's the down low, Josh grew up in Oregon.  He became involved in the politics in high school, interning for the Sam Adams Campaign for Mayor and continued by working in the Legislature, for a community organizer, and returned to Mayor most recently with the Charlie Hales Campaign.  He's also a die-hard Minnesota Vikings fan and loves to talk football.
Now that we have given the 4-1-1 on Josh, ELGL hopes and prays that Josh is not "catfishing" us.
Related articles: United Way Brings AmeriCorps Volunteers to Build Capacity and JOSH HALLADAY '08: Mayoral campaign of Sam Adams.
Previous Recipient: Tiffany Couch, Acuity Group