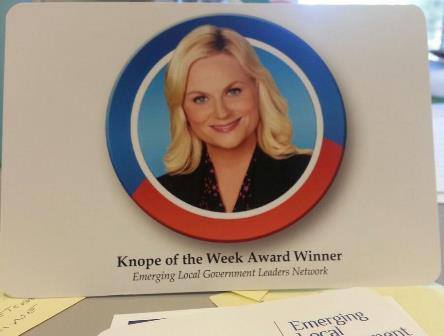 The Knope of the Week recognizes sustained excellence in local government. It's the Heisman Trophy, Noble Peace Prize, James Beard Award all rolled into one. Many have vied for the honor over the years, but only a few winners have emerged. President Obama, Bono, and Cam Newton — none of them can list Knope of the Week recipient on their resume.
This week Pat Martel, ICMA President and City of Daly City, CA city manager, joins the Knope of the Week winners circle. ELGL recognizes Pat for the sense of urgency that she has displayed as ICMA President. Her urgency centers around motivating the local government profession to embrace change and to seek a diverse workforce. If you follow Pat on Twitter, you may wonder if she sleeps. She's made appearances at #ELGL15, student chapters at Auburn and UAB, and traveled internationally for ICMA.
To understand Pat's philosophy, take a listen to the recent GovLove episode. She is encouraging, yet realistic, about the challenges facing the profession. She reveals how you can stand out if you're applying for a job in Daly City. She also discusses her original plan of becoming a political reporter. ELGL is glad that Pat had a change of plans and now is one of the faces of everything that is good about local government.
Share your experience in working with Pat by including them in the comments section below or by emailing Kent Wyatt – [email protected].
Word of the Street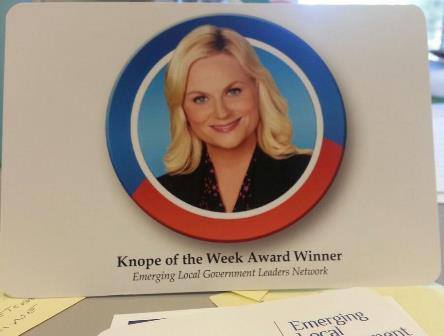 Caroline Serrato, Captain, Town of Hillsborough, CA
I was really excited to work with Pat Martel for a few months during a management exchange program and although my time with Daly City was short, it was an amazing experience and I learned a great deal from Pat.  The experience that stands out for me the most was when Daly City was evaluating candidates for the new position of Sustainability Coordinator.  She welcomed each candidate with a bright and warm greeting.  She carefully explained the process to each candidate and after the interview was over, she asked if they had questions.  She answered each questioned patiently and thoughtfully.  She did this although she had a packed schedule as the new President of ICMA.  Although we could only hire one applicant, I know each person left feeling that they were heard, supported and understood.  Pat is truly an ambassador for what we do and provides an inspiring and engaging face to local government.
Phil Smith Hanes, County Administrator, Ellis County, KS
What's great about Pat (well, I'm sure there are many things, but I'll focus on this one) is her dedication to future generations of the profession. I remember a presentation Pat gave more than a decade ago when I was an analyst. She was so willing to share her personal experience – not just the great projects and big achievements, but the bumps along the way – that her inspiration has stuck with me. Pat is truly deserving of the Knope of the Week (and much more; has ELGL ever considered a Knope of the Year?).
Julie Underwood, Assistant City Manager, City of Daly City, CA
Pat is fully committed to preparing the next generation of leaders.She has served her entire career as a mentor to others; she has developed training programs and trained; she has been actively involved in helping rising stars participate in job exchanges from within and outside the City; and she has lead job shadow days with local schools. Pat is a big supporter of ELGL — she sees the value that we add to promoting the profession to new talent entering the world of public service. Pat's energy and devotion to all of us in and entering local government is unmatched – Congratulations Pat for being our Knope of Week!
Kirsten Wyatt, Assistant City Manager, City of West Linn, OR
Pat is an inspiration – I can't tell you the number of times I have shamelessly ripped off her motto: "you can't be what you can't see" as it relates to getting more women and people of color into local government management. She also impresses me with her ability to make time for any group that is passionate about local government. The phrase "I'm too busy" doesn't seem to be in her vocabulary, and that's simply impressive.  Thank you, Pat, for your service to ICMA and to all of us working in #localgov.
Jeff Towery, Assistant City Manager, City of Eugene, OR
Pat is a delight to work with.  She is a tireless champion of the profession and entirely committed to doing the best job she can for the people who live in, work in and work for the community she serves.  She is kind, thoughtful and entertaining in her approach to all that she does.  In her role as President of ICMA, Pat demonstrates both strong leadership and a commitment to keeping people engaged in the issue at hand.  It has been my pleasure to serve with Pat, I learn something new each and every time I get the chance to work with her.
Kent Wyatt, Senior Management Analyst, City of Tigard, OR
Pat has jumped into the ICMA President role by embracing opportunities to meet with people in all areas of local government. She seems to recognize that local government has and will change and we need to be prepared to attract and welcome diversity of all kinds. This diversity includes those coming from a non-traditional local government career path. Please keep bringing the energy, Pat!
Matt Bronson, Assistant City Manager, City of San Mateo, CA
Pat sets the standard for excellence in the local government profession.  Pat has demonstrated a tireless commitment to professional development and has coached and mentored countless emerging leaders throughout her career.  She is dedicated to building strong relationships across local government agencies here within San Mateo County, across California, and throughout the country which has culminated in her current role as ICMA President.  Pat has also been a strong champion for increasing diversity at all levels of local government including the executive level to help our organizations mirror the diversity of our communities.  For these and many more reasons, Pat is very worthy of this recognition from ELGL.
Ben Kittelson, Budget & Management Analyst, Guilford County, NC
Pat is so inspiring! Her appearance on our GovLove podcast reminded me of why local government is important and how much we can do to change our communities. It's also so powerful that someone so established in her career and at the top of the profession will take time out of her day to chat with two interns, that says so much about the kind of person she is and her values. Pat, I appreciate the time you took and keep up the great work!