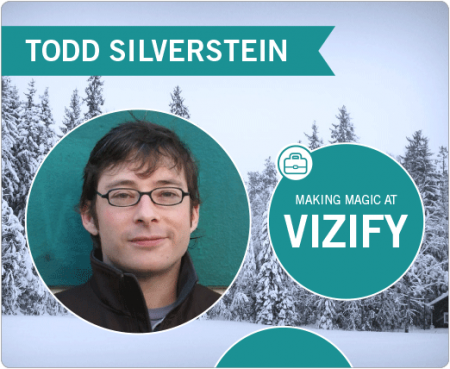 What is the Knope of the Week? It's ELGL's way of recognizing an individual or group of individuals who have excelled in promoting the public sector. Recipients may come from the public or private sector and are nominated by ELGL members. Recipients receive an incredible amount of recognition and prizes that we are not at liberty to disclose. The storied history of the award dates back to 2012.
This week's recipient is:
Todd Silverstein, Vizify Co-Founder and CEO
[youtube=http://www.youtube.com/watch?v=xuTOjJJKb_8&w=400&h=225]
Todd Silverstein is the co-founder of Vizify, a Portland, Oregon-based startup that transforms the content and data you've already created on the web (like tweets and photos) into a single, graphical bio that shows the best of you. Use it to stand out, find the perfect job, win a new client, or simply make a great first impression.
Todd spent the last decade crafting software experiences as a product manager, including one year during which he discovered that he truly was a full head shorter than most of the natives living in Stockholm. In the late '80s he sported a "rocking mullet, " so that his awesome hair would stick out from under his hockey helmet and intimidate opposing players on the ice.
In a past career as an editor in the ever-dying book publishing industry, he oversaw several New York Times bestsellers, authored an eminently forgettable page-a-day calendar, and published several unjustly forgotten poems. For the more visual than literal, you can see Todd's graphical bio here.
Knope-Worthy Contributions
Todd reinforced an ELGL mantra that a lack of online presence is a determent as opposed to an advantage, as many people think when they avoid social media sites such as Facebook and Twitter. Of course, if you are of that mindset you probably aren't reading this blog feature.
In the webinar, we learned recruiters are increasingly turning to social media to learn about candidates. Red flags are raised when recruiters find a candidate who doesn't have an online profile.
So it is appropriate that we turn to our Twitter feeds, ELGL, Midwest ELGL, Ben Kittelson, Kent Wyatt, to highlight takeaways from the webinar.
Vizify spoke to more than 250 recruiters in the development of their product to learn how employers find good people to hire.
Snap judgments occur in the hiring process and managing your online persona is an important way to present yourself well.
92% of job search candidates are searched for during the hiring process online.
80% of people look up new co-workers or potential business partners online before meeting them
Not finding information online is a signal that you're hiding something.
Most people's online presence is comparable to an unorganized attic
1 in every 10 Google searches includes a name. So you are being Googled when you apply for a localgov job.
Todd Silverstein encourages ELGL members to Google themselves to see how you are portrayed online.
Vizify mission: "Making everyone look awesome online."
Recruiters care more now than ever about cultural fit.
Vizify uses a visual tool to help people skip through commonalities to help them make connections
Vizify aggregates your selected social media sites and puts them into a visually friendly site. SEO boosts it up your Google search.
vizify has anecdotal evidence that it's helping people find jobs and get interviews.
Vizify will connect your Twitter, LinkedIn, Facebook, FourSquare, and Flickr accounts which is easy and quick for job seekers.
Important to tie your Vizify account to your full name when you are job seeking. Also to include a visual representation.
Google has done a great job of linking together services to optimize your search results
Vizify describes the Twitter pages as a "word poem."
Googling yourself is an 'online presence audit
Takes two to three weeks from the creation of a Vizify profile for it to show up in search results.
Vizify architecture allows for the 'latest and greatest' social media tools to be plugged in. Aging old tools will phase out.
Having a "central hub" that different websites or profiles link to is the best way for google to know it's an important page
The first three links when you Google yourself will get the most hits; so try to bump up your preferred links – perhaps using Vizify
Portland Seed Fund accelerator model was helpful in vizify start up. City of Portland and City of Beaverton are participants.
LinkedIn is the online resume or CV of choice. Vizify works in concert with LinkedIn which is helpful to add personality to your persona
Vizify has partnered twice with Twitter on #FollowMe to create mini video trailers on your tweets.
Is your online data rich enough to create an online persona?
Do you think localgov is a 'more buttoned up profession?' Vizify notes that you should be more conservative when developing your profile.
Recruiters will look you up online during a government job search.
You may think you are being anonymous online, but if you understand how IP addresses and the internet works…
Make sure you control the narrative about yourself
Tom Cruise and Bill Gates have Vizify profiles; Edward Snowden does not.
Word on the Street About Vizify
There's no way to remove that old myspace profile. You have to bury it with more relevant content. Visify seems to be a great tool to magnify what's probably more up to date and important by connecting with your LinkedIn, Facebook, Twitter, and other social media platforms like four square and Instagram. Great presentation and information.
Kirsten Wyatt, City of West Linn
Thanks to Todd Silverstein for his frank and honest advice to local government professionals about how to stand out online. Too few people in government are paying attention to issues like this, and it was incredibly valuable to learn directly from Todd.
Thanks for sharing your product with us. It is indeed very satisfying to take some time out of the day to explore a truly creative new tool that's available (and already well-established) on the market. And nice to hear it's currently free!
Thomas Frank, West Linn City Councilor
I'd like to thank Todd for taking his time out of his day to speak with us.  I did learn more about the recruitment process and the importance of managing your online credibility and search-ability.  In addition, seeing how the data is aggregated and the ability to edit the profile was helpful. Finally, I have a new email signature.
Ben Kittelson, Portland State University MPA Student and ELGL Project Assistant
I thought the statistics that 92% of job applicants are checked out online and that 80% of people look up new co-workers or potential business partners online were great facts.  It shows how important your online presence is.
Todd dispelled a common notion among public sector workers that having an online profile is a negative. Whether you agree with it or not, recruiters and your future coworkers are researching you and you need to begin to develop an online persona.
Supplemental Reading
Previous Winner: Justin Finestone, City of Bend and Anna Johnson, Deschutes County
[youtube=http://www.youtube.com/watch?v=RDlskQGjuYs&w=400&h=300]