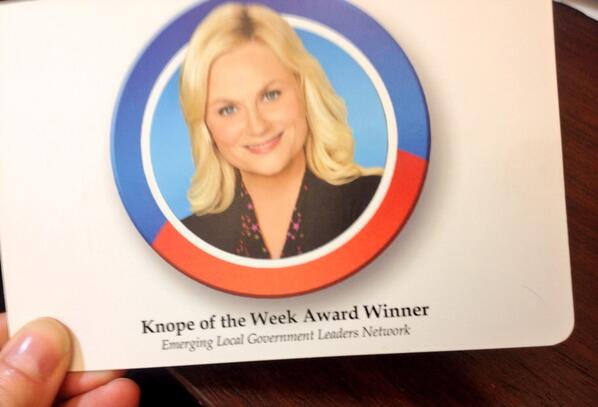 All-Star Communicator. Community Leader. Mentor
These traits best describe our Knope of the Week, David Austin. David has brought a professional communications approach to Multnomah County which was on full display at our forum this week.
Want to thank David for his commitment to public service? Order a subscription to Grant Magazine.
David was born and raised in Syracuse, N.Y. He attended Oberlin College in Ohio, majoring in English Literature. He worked as a reporter at The Oregonian for 22 years, covering local government, politics, the police beat and the environment. He joined Multnomah County in 2008.
David handles communications for the Chair's Office and for the Board of Commissioners, supervising a team of five communications coordinators.
Also, he is a volunteer teacher at Grant High School, serving as the instructor for the school's award-winning publication, Grant Magazine.
What We Learned
David grew up on Syracuse, raised by single mom, and siblings went to Ivy League. Dave went to Oberlin College.
Wrote three part series on race and football team while attending Oberlin College. His articles focused on how minority players were pushed toward the running back position. Football coach at Oberlin was fired in part because of Dave's article.
David's answer to Lightning Round question, "what book are your reading?" Book on Malcolm X.

David volunteers at Grant HS with the Grant Magazine. Link: Grant Magazine
David is committed to mentoring high school and college kids, mentions being extremely proud of @Oregonian reporter @yuxingz
David feels like he was raised by the @Oregonian; however, he feels their newsroom has taken on more of an anti-government tone in the last few years.
David won awards at @Oregonian for writing on the Kim family that went missing. Link: 2007 PULITZER PRIZE FOR BREAKING NEWS REPORTING
There's no hierarchy in the six-person Multnomah County communications office. David Austin, the director, ensures everyone has a voice. Daily stand up meeting are held in communications office.
When faced with a big project don't think about the amount of work and why it can't be done, instead think about how it can be done
Important for governments to tell their stories. David works with department directors to make them understand that we want to tell their stories.
David Austin wants his office to "show" Multnomah County, not "tell" about it. Their task is to show the faces of the people.
Must be proactive and not reactive to effectively communicate in local government. Local government should push the message and let the people know the truth.
Shed light on stories, don't bring heat to it, "when you don't tell the truth, it comes back to haunt you." Be more transparent and people will like and trust you more.
Celebrate programs that work, "not bragging if you can do it", can't forget we are beholden to taxpayers
The best stories are about people.
Years ago, you use to be able to fall out of bed and find a story, now there is more competition with blogs, social media, etc.
Multnomah County collects taxes for more than 200 taxing districts.
From a communications perspective, Dave Austin wouldn't change how Multnomah County handled Cogen crisis. David faced the situation by communicating what was best for the county and being as transparent as possible. The county released more than 600 emails in record time.
David approached the Cogen crisis in what would be best for the county.
What kept going David during the Cogen crisis? Encouragement from other employees, for example, one employee thanked David during the crisis for continuing to communicate the good work of Multnomah County and not getting distracted by one elected official.
Word on the Street
Heidi Starks, West Slope Water District, Finance and Customer Service
Local government needs to constantly cultivate a relationship with the media.  Be transparent above all else.  Or as David said, no BS.  😉
Kent Wyatt, City of Tigard, Senior Management Analyst
David is what local government needs. He understands the expectations from the media and understands how to proactively communication government's message. His commitment to Grant Magazine is unparalleled and will ensure that future journalists are equipped with the professionalism that Dave brings to his work.
Bonnie Hirshberger, City of Lake Oswego, Citizen Information Specialist 
Dave gave us a good reminder about focus – is the story about the County or about an individual?
Ben Kittelson, City of West Linn, Public Affairs/Economic Development
I loved David's philosophy about government communications, mostly that there are a lot of things in government that are good and work well, and we need to talk about those things.  Also I liked his advice that the best stories are about people because they put a personal face on government work, it allows people to connect.
Dan Englund, ICMA PSU Vice President, Portland State University
David Austin is certainly a pro communicator.  What stood out most to me about his approach was just how natural it is.  He's not trying to push stories or tell people what to think, rather he aims to "show" people what's going so they can decide what to think themselves. And his take on showcasing interesting stories about people is a core belief at ELGL.
Kirsten Wyatt, City of West Linn, Assistant City Manager
I am impressed with how David has assembled his team into a flat organization that is dedicated to telling good stories about Multnomah County government.  He showed that being a great Communications Director isn't just responding to press inquiries – it includes being proactive about sharing the good work that government does.  I was also very impressed with Dave's commitment to community and giving back.  His work with the Grant HS Magazine, and his prior work with the Oregonian's High School Journalism camp, is a reminder to all of us that we can find time outside of our day jobs to give back to our peers and community.
Supplemental Reading
Rasheed Wallace's 34K tax payment fails
Multnomah County: Moving on From 'Old & Clunky'
Learning about journalism by doing the real thing
New Grant magazine hits hard and prospers