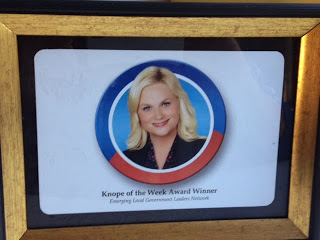 What is the Knope of the Week? It's ELGL's way of recognizing an individual or group of individuals who have excelled in promoting the public sector. Recipients may come from the public or private sector and are nominated by ELGL members. Recipients receive an incredible amount of recognition and prizes that we are not at liberty to disclose. The storied history of the award dates back to 2012.
This week we recognize Governing magazine for their contributions to the local government arena. Our intel tells us that Leslie Knope is a huge Governing fan and has memorized every issue of Governing since her birth.
Governing
 Nation's leading media platform covering politics, policy and management for state and local government leaders.
Connect: LinkedIn, Facebook, Twitter, and World Wide Web
Knope Worthy Accomplishments
We've heard and read the call for the public sector to prepare for the "silver tsunami" and "brain drain." (Who hasn't been to a conference where there is a session on "Bridging the Generation Gap" or "Building Tomorrow's Leaders Today") Unfortunately, the call for action often lacks, ironically, action. The team at Governing has sorted through the noise surrounding the "NextGen" to write a series of insightful articles that do more for the issue than any professional conference.
Governing has tackled the issue by identifying the current state of the workforce, analyzing the data that identifies whether anyone is even interested in joining the public sector workforce, and detailing initiatives such as the  Management Talent Exchange Program in Silicon Valley that seek to address the upcoming "brain drain."
Among our favorite Governing articles include: How Generation X is Shaping Government, Student Interest in Public-Sector Careers Grows, and Understanding the Value of the MPA and MPP Degree
We also applaud the culture at Governing that empowers its reporters and staff to communicate with outside groups such as ELGL. From Jonathan Walters to Mike Maciag, their staff has shown an sincere interest in accommodating our requests and providing follow up on issues of interest to ELGL members.
So next time your organization starts tossing around the term "succession planning", drop everything (especially if you're in an important staff meeting) and sprint back to your office and head to the Governing website for the real story and how government is or isn't effectively addressing the issue.
Previous Winner: #ELGL13 Twitterazzi
Supplemental Reading