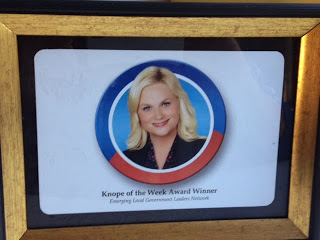 What is the Knope of the Week? It's ELGL's way of recognizing an individual or group of individuals who have excelled in promoting the public sector. Recipients may come from the public or private sector and are nominated by ELGL members. Recipients receive an incredible amount of recognition and prizes that we are not at liberty to disclose. The storied history of the award dates back to 2012.
And the winner of the Knope of the Week is……
Greg McKenzie
Executive Search Consultant, Window to Leadership, LLC
Education: Auburn University, Bachelor of Science, Aerospace Engineering and Lewis & Clark Law School, Juris Doctor, Law
Contact: LinkedIn, and World Wide Web
Background Check on Greg
For 25 years Greg practiced law in Clackamas County and more recently has worked as a leadership trainer and executive search consultant, first with the Oregon School Boards Association and now as a private consultant. He has a law degree from Lewis & Clark College and a bachelors degree in aerospace engineering from Auburn University. Greg previously served eight years on the West Linn-Wilsonville School Board.
Knope-Worthy Accomplishments
"Strategery" is Greg McKenzie's contribution to ELGL, and we got a preview of this at the first ELGL vision planning meeting this week. Our visioning committee met with Greg to discuss our core values, mission, and expectations from the visioning process. We left the meeting with a homework assignment. Greg has tasked us with answering the following questions:
How are we going to get there?
Not exactly the multiple choice questions we were hoping for but a necessary step in advancing the ELGL brand.
Our visioning process, which is expected to last six months, will be an open, transparent process that will involve every one of our 476 members. Greg will lead us through the process and will play the role of skeptic, when necessary, in order for us to test our assumptions and vision for ELGL.
Greg's Knope-Worthy accomplishments are described below by a few members who participating in this week's meeting.
Victor Sin, City of Beaverton, Mayors Office Program Coordinator
ELGL is so fortunate to have such long standing expertise and valuable knowledge of organizational development from Greg. With his assistance our strategic planning process will be efficient, thorough, transparent, and greatly beneficial to ELGL's growth.
Kirsten Wyatt, City of West Linn, Assistant City Manager
I am so excited for ELGL to work with Greg to finely tune our organization's outreach, communications, and events for the future.  Greg's wisdom and experience will positively benefit ELGL and all of our members.
Ben Kittelson, Portland State University MPA, Student
Greg's experience and expertise will be a huge help as we work to narrow down our ideas and bring our vision for the future of the organization into focus.
Kent Wyatt, City of Tigard, Senior Management Analyst
Greg has an incredible track record in strategic planning, and more recently, with conducting executive searches. His commitment to advancing the ELGL brand through strategic planning is exactly what we need as we plan for meeting the expectations of our nearly 500 members from 20 different states. Greg's also providing us skills that will benefit our cities and counties.
Supplemental Reading
Previous Recipient: John Nalbandian, University of Kansas