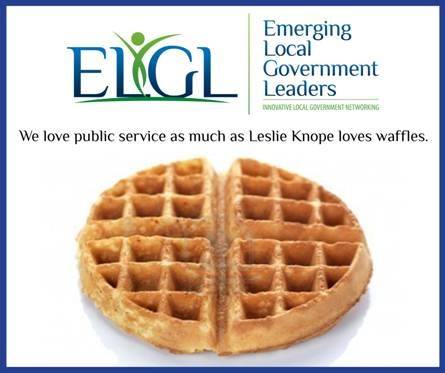 What is the Knope of the Week?
It's ELGL's way of recognizing an individual or group of individuals who have excelled in promoting the public sector. Recipients may come from the public or private sector and are nominated by ELGL members. Recipients receive an incredible amount of recognition and prizes that we are not at liberty to disclose. The storied history of the award dates back to 2012.
Vitals
Jessica Williams
 Current Position: Editor, Mac's List
Connect: LinkedIn, Twitter, [email protected]
Education: Wake Forest University, BA, Communications and University of Oregon, Master's, Strategic Communications
Previous Employment: Senior Administrative Assistant, Northwest Women's Clinic; Tasting Room Manager, Bishop Creek Wine Cellars; Co-Captain, Alastor; and Account Executive, Cox Enterprises
Knope Worthy Accomplishments
We know Mac's List is the best site for job postings and career information so what else could we have possibly learned from Jessica Williams. Well, it is a lengthy list and the following are just a few of our takeaways
Jessica's worst CD purchase: Brown Sugar soundtrack. Responses from attendees included Jock Jams, Weird Al, Dr. Doolittle, and Tim Cook's band.
Employers look at who you follow on Twitter. It's important to follow those in your industry to show you are engaged in your profession.
Focus on targeted networking events as opposed to general job fairs or "meet and greets."
Job seekers in Portland are sometimes willing to accept less to remain in the area.
Industry best practice is to speak about yourself in the third person
Employers think it's "weird" if you don't have a Linkedin profile.
Two types of job searches: active and passive.
It's all about the personal brand.
Macs_List started as a list of jobs in an email blast.
At the end of the interview, tell them that you want the job. Simple, but often overlooked. Also, ask them what the next steps are
Volunteer with organizations in the sector that you work. Ex: budget committees, planning commission, school district committees, etc.
How do you stand out in the crowd? 1. know someone in the org, 2. have good references, 3. be the super star
Send a personal invitation to connect with others on @LinkedIn. Avoid the generic message.
Do the work to get the work.
Find the "sweet spot of mutual benefit" where you can benefit your network and they can help you.
Find creative ways to say you're unemployed.
Free lance work is another way to gain experience.
Future of Mac's List: making deep, rooted connections in Portland.
Grace Roxas Morrissey, Strategic Communications Master's Degree Student, University of Oregon
It was quite a revelation to hear from Jessica that following up on job applications and interviews is perfectly OK.  Reminding us to always show our appreciativeness to the interviewer through a personal thank you note is also a good tip.
Mark Stotik, Clackamas County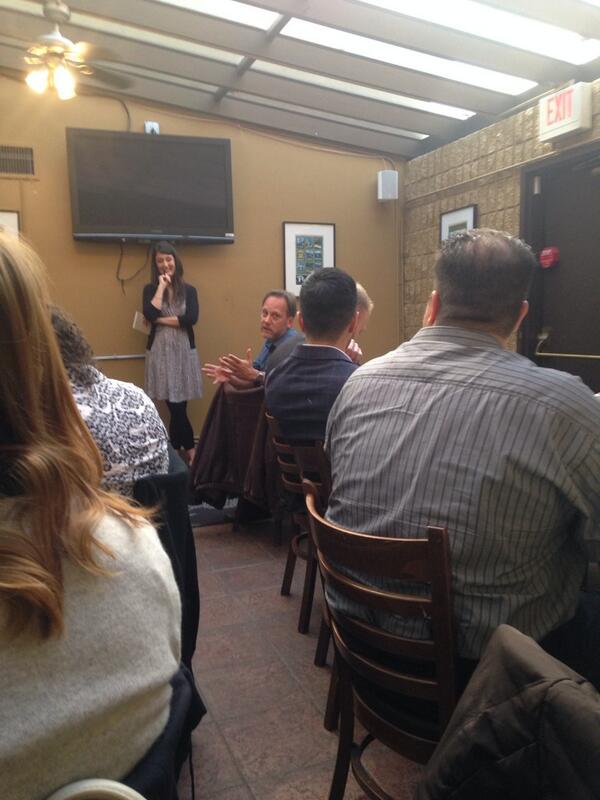 Finding work is work. Send thank notes – hand written is best. Try not only to connect but be a connector.
Lisa Gibson, City of Damascus
Plugging into communities in which you live, work and play is beneficial to everyone.  Networking is key to personal growth as well as others you meet and interact with; everyone comes out a winner.
Victor Sin, City of Beaverton
Jessica provided good insight on aspects of the job market in the Portland area based on her personal experience.  Her advice on branding one's self through social media as a way to show immersion in the industry you seek to break into, was a significant take away for me from her presentation.  Whether an active or passive job seeker, Jessica's passion for the work she does speaks highly to what a great resource Prichard Communications has been and continues to be in various industries.
Elise Raher, Project Manager, Student Life
Jessica was a wonderful resource. One of the many takeaways that I gained from her presentation is to build a network by giving. It is important to work for your network while your network is working for you in order to build stronger more fulfilling connections.
Eric Woods
There are a few things that I took away from this informational meeting. As far as personal branding is concerned, I had never thought of my Facebook page as anything more than a means to reconnect with lost friends, not as a tool that recruiters could potentially use to get to know me better. What stood out most for me though was the idea of a hand-written note to say thank you to someone. In a digital society we can forget about the basics. I certainly did!
Kent Wyatt, City of Tigard
Jessica and Mac's List offer the best job resources in the Portland area. Jessica's presentation made of us all go home and reconsider our "personal brand."
Ben Kittelson, City of West Linn
I loved her saying that you "have to put in the work to get the work" and her advice about informational interviewing and volunteering in the sector you want to work in was really good.
Beth Otto, City of Tigard
Jessica is passionate and knowledgeable about navigating the job market in Portland. The underlying theme that I heard from her presentation was the importance of talking to lots of people and then using those connections when applying for a job. This is a hard market, we all know that, but social media allows us to connect to lots of people and easily tap into our network to convey our worthiness to employers. Thanks for all the great information and discussion!
Tim Cook
It was a very worthwhile meeting. Jessica knows her stuff. It was helpful to hear what the hiring process looked like from her point of view.  Tim Cook will be updating his LinkedIn profile to 3rd person!
Jennifer Taylor Shih, Environmental Planner at City of Auburn
Network! It's really all about who you know.
Show engagement in your field or area of interest. Jessica can help connect job seekers with good organizations in field of interest.
Fill out Linked In profile and make settings public. Use third person voice for summary.
Keep Facebook private.
In an interview, say that you want the job.
Have amazing references
Develop a network and give back too (e.g. don't rely on it only when you are looking for a job).
Write thank you notes after an interview (hand written and email if time sensitive)
Matthew Hoffman, City of McMinnville
Jessica echoed a sentiment that seems to be a universal truth, that being, "networking is everything."
Supplemental Reading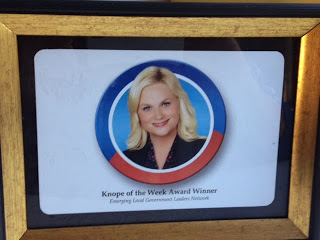 "Mac's List" Goes Responsive for Easier Mobile Access
10 Survival Tips for Your Portland Job Search
How to Answer a Behavioral Interview Question: Tips from an Oregon Employer
How I Built a Community in Portland, Oregon
What Does an Introvert's Informational Interview Look Like?
American City & County Magazine Highlights Knope of the Week
Knope of the Week: Jessica Williams, Mac's List Editor