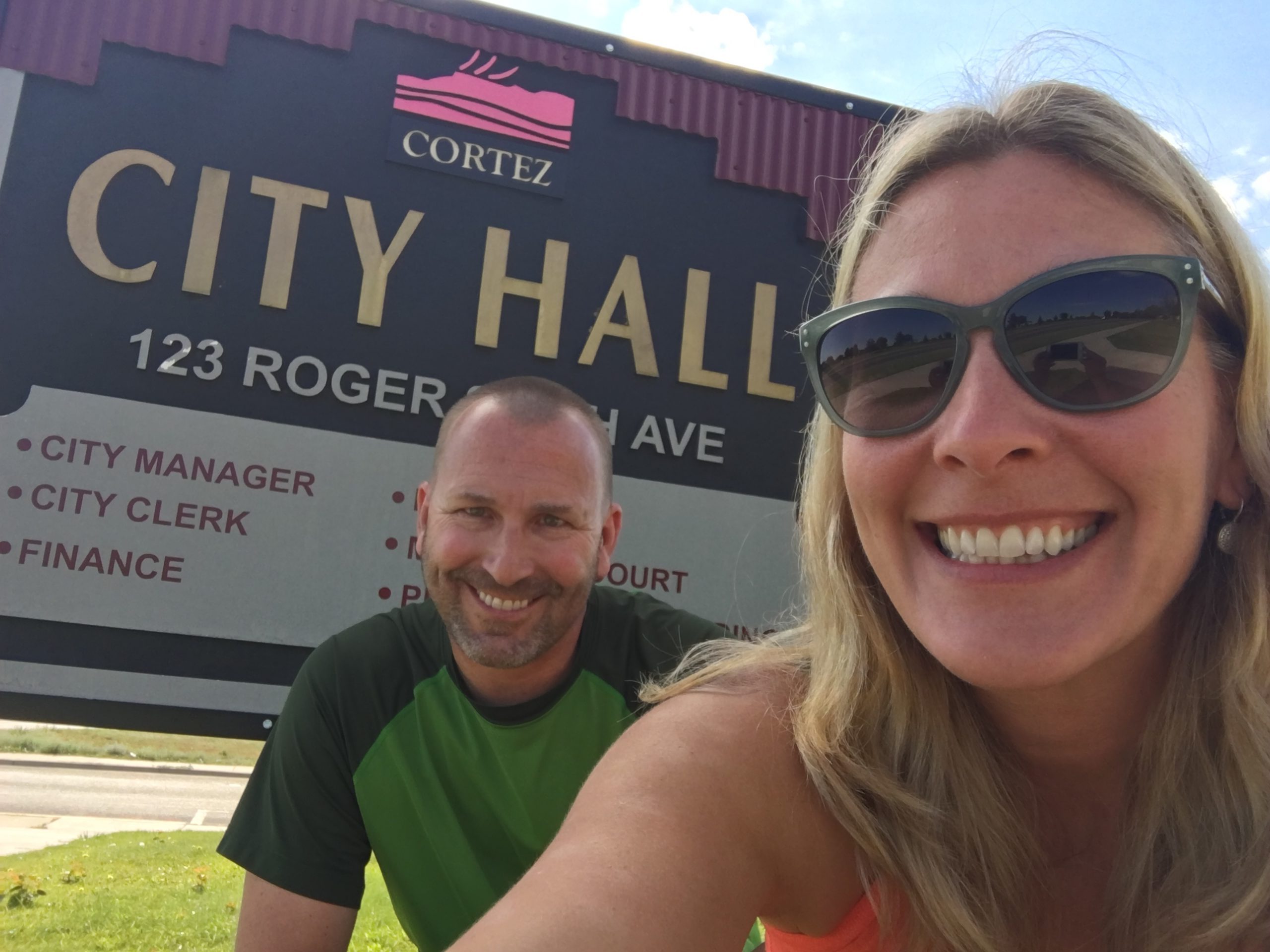 Passionate. Driven. Courageous
Leslie Knope would be impressed by Dave & Julie Morris' recent #CityHallSelfie tour of the Western United States.  We saw picture after picture of city hall buildings and fire halls, thanks to Dave & Julie's dedication.  When they're not snapping selfies, Dave is the Battalion Chief for the Lake Oswego Fire Department, and Julie is the HR Analyst for the City of West Linn.
What We Learned
If you missed the #CityHallSelfies – don't cry! Here's the link and our favorite #selfies: Local Gov Adventures.

---
Word on the Street
Anthony Hooper, Support Services Supervisor, City of Lake Oswego

#City Hall Selfies" has officially become my number one favorite blog entry of all-time.  It meets all of my requirements for the perfect blog article by containing City Halls, selfies, history lessons, puns, bison, and passionate civil servants.  I would expect nothing less from the 2012 Lake Oswego Networker of the Year, Dave Morris.   I have never seen Dave without a smile and he always has a positive attitude.  The blog mirrors its writers by being fun, witty, and committed to the local government profession.  I do have one correction to the blog:  It is actually the Morris Family and city government that go together like peanut butter and jelly.
Elissa Preston, HR Manager, City of West Linn

I love Julie and Dave's zest for life, creative adventures, and dedication to public service! What a great way to incorporate all three and share with all of us!
Shelby Johnson, Payroll & Benefits Administrator, City of West Linn
I loved tracking Julie & Dave #CityHallSelfies!  This was a Fun and Hip way to spotlight each City Hall.  I personally think they were great ambassador's representing City of West Linn & City of Lake Oswego on their journey.
Kirsten Wyatt, Assistant City Manager, City of West Linn

There's nothing better than finding ELGL members who share the same passion for local government.  The dedication of Julie and Dave's #CityHallSelfies is admirable!  They took the time to find local government facilities, learn about the communities they were visiting, meet with local government staff, and share their experiences.  We can all learn a lot from Julie and Dave's dedication.
Ben Kittelson, Program Manager, ELGL

The Morris adventure was so fun to follow! It was great to see all those different City Halls and I loved the little bits of history that they added in. I hope #CityHallSelfie catches on and becomes a regular part of ELGL. I know the next time I'm on a road trip I'll be trying to emulate the Morris adventure.
Kent Wyatt, Senior Management Analyst, City of Tigard

Being the skeptic, I thought #CityHallSelfies would have been lucky to make it outside of Oregon, but Julie and Dave proved me wrong. I love that they not only stopped at so many places but they also took time to meet the various municipal workers. Intended or not, other recent #CityHallSelfies indicate that Julie and Dave may have started local government's version of planking.
Emily Leuning, Economic Development Intern, Cities of Sherwood & West Linn
I loved following the Morris family selfies! Their trip looked like a lot of fun, and I enjoyed seeing the varied local gov buildings in all the different towns. I've taken city hall pics on trips before, but now I'm moving up to selfies! Thanks for sharing Julie and Dave!