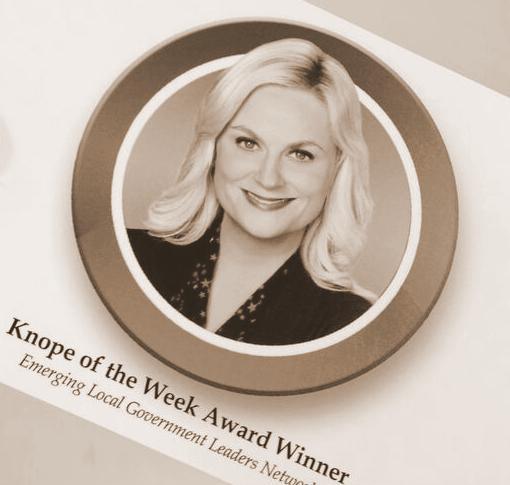 New Perspective. Top 5 Presentation. Bradley Cooper. 
This week's Knope has appeared nationally on Morning Joe, CBS This Morning, and now, an ELGL webinar.
Leigh Gallagher provided a highly informative presentation on the state of the American suburb by highlighting specific examples of what and who are shaping our suburbs.  Her presentation was thought-provoking and challenged ELGL members to think the "end of the suburbs" issue is impacting their communities. We have a feeling that the lessons from her webinar will be shared in many of our organization's upcoming staff meetings.
A HUGE thanks to Leigh for sharing her findings and for answering the many questions that were raised during the webinar. ELGL members can relive Leigh's presentation by visiting our webinar library.
Background Check
Connect: LinkedIn, Twitter, and World Wide Web
Leigh Gallagher is an Assistant Managing Editor at FORTUNE, where she edits feature stories on a wide range of topics and is responsible for FORTUNE's "40 Under 40" rankings. She is also a co-chair of the FORTUNE Most Powerful Women Summit, speaks regularly at FORTUNE and other business, economics and leadership conferences, and she is a seasoned business news commentator, appearing regularly on MSNBC's Morning Joe, CBS This Morning, CNN's Piers Morgan Tonight, CNBC's Squawk Box, and other programming; she is a regular biweekly guest on public radio's 'Marketplace.' Leigh's first book, The End of the Suburbs: Where the American Dream is Moving, was published by Portfolio in August 2013, and has been described as "prophetic," a "first-rate social history" and "fascinating reading on changing trends in how and where we live."
Leigh is also co-chair of the Fortune-U.S. State Department Global Women Leaders Mentoring Partnership and a visiting scholar for the Business and Economic Reporting program at the Arthur L. Carter Journalism Institute at New York University. Before joining FORTUNE in 2007, Leigh was a senior editor at SmartMoney magazine and a writer for Forbes. Originally from Media, Pennsylvania, Leigh is a graduate of Cornell University and lives in New York.
What We Learned
Leigh immersed herself in local government because that is where change happens.
The American suburbs have basically jumped the shark.
The shift of developers to building downtown instead of in suburbs is indicative of the end of the suburbs.
Millennials singlehandedly bring vibrancy to a communities. Millennials want to be where the action is.
Anthropological study: What did we name suburbs and what do we name modern urban developments? What does this say about us?
Leigh describes millenials as wanting "the silver linings play book town." They want to walk, "find an urban burb."
Just like the shopping mall became the shopping center, suburbs are changing into urban-burbs.
Traditional viewpoints and school quality are roadblocks to radial change in existing burbs.
There are more baby boomers and senior households in the suburbs than families.
Inner city schools have not "become magically wonderful" but are steadily improving.
The Toll Brothers business model now includes urban development which signals shift away from the burbs.
To cities concerned about inadequate property tax revenues: Density of value may require density of people.
Stores formerly in malls are compressing and shrinking to offer in-city options.
Big suburban office parks and company headquarters are dying off and moving to the city
City Center is the new 'Rio Vista'.

Philadelphia has a lot of "urban burbs" where there's a sense of community.
@culdesacked's twitter feed highlights the negative views of the suburbs
Morning morning newscasts have moved back 1st broadcast to as early as 4:30 a.m. to catch super early commuters.
Word on the Street
Patrick Rollens, Social Media Coordinator, Village of Oak Park, IL
Leigh Gallagher's presentation really cast a spotlight on trends that I've seen taking place across the Chicago area. She had great ideas about what the future will bring regarding the suburbs vs. urban areas, and I'm excited to see what's over the horizon.
Brad Kilby, Planning Manager, City of Sherwood, OR
Leigh's webinar was very interesting and timely for some of the discussions we are having in the Planning world.  While I cannot remember a specific line of Leigh's that sticks out, we can all appreciate that she is bringing to light a paradigm shift in American settlement patterns that is unprecedented, and will ultimately lead to a new way of thinking for zoning and development that is different from typical suburbia.
Beth Otto, Planning Assistant, City of Tigard
I appreciated Leigh's objective and data driven perspective on a subject that is often discussed more observationally. She clearly and convincingly articulated how the trends are changing from classic suburbia to a community design that facilities more social interaction and active lifestyles.
Kirsten Wyatt, Assistant City Manager, City of West Linn, OR
Leigh Gallagher provided an accessible and interesting learning opportunity for ELGL.  I was especially impressed with the degree of empathy she brought to her research – she seems to genuinely care about how communities are built and how they best function. And, she was very adept at the use of PowerPoint to augment her presentation. Leigh's webinar is definitely in my top-5 favorite presentations we've heard from ELGL.
John McCarter, Management Analyst Intern, City of Novi, MI
The End of the Suburbs challenges not only the way we design our communities but our entire lifestyle in the suburbs. Leigh provided a thought provoking look at the future of suburban development for a group of future suburban leaders. I could not have asked for more and cannot thank her enough for giving us some of her time.
Ben Kittelson, Newsroom Intern, Metro Regional Government, OR
The trends the Leigh talked about in her webinar are why I got interested in local government. How communities change and adjust as we move away from a car-centric culture is fascinating. Creating communities that are walkable and diverse are the answer to sustainability, health, and inequality issues. Great webinar and I'm excited to read the book!
Ben McCready, Assistant to the City Manager, City of Rock Island, IL
Media frequently inundates us with headline articles claiming that suburbia has been forsaken by the hordes of creative youth who are claiming the urban realm for themselves. Leigh presented a new perspective that is in stark contrast to the black and white world we frequently find ourselves. Taking cues for the most desirable urban centers, new development and redevelopment trends are proving our resolve to create great places to live. The values and priorities of a post consumerism populous will become evident in the built environment of both large cities and suburban communities. Leigh's insightful work is a refreshing, offering a story not of doom but of adaptation and innovation.
Christine Durkin, Management and Budget Analyst, Milwaukee Metropolitan Sewerage District
Leigh's webinar was fantastic.  The information presented was thorough and thought-provoking.  She gave me a new understanding of the changing wants of citizens and the benefits of urban neighborhoods.  Her research is timely and timeless for urban planning.  I look forward to reading her book and I would love to attend future webinars.
Kent Wyatt, Senior Management Analyst, City of Tigard

Leigh did an incredible job of highlighting the divide between #ILovetheSuburbs and #EndoftheSuburbs. Another simple, but powerful, takeaway from her presentation was the results from typing "suburbs" into Google bot. It's tough to top a presentation, like Leigh's, that includes photos of Bradley Cooper, George Costanza, and @culdesacked's Twitter feed.
Supplemental Reading
Leigh Gallagher, The End of the Suburbs
Southwest Airlines' new cause: 'Placemaking'
The Mean Streets of New York – NYTimes.com
Meet Leigh Gallagher, Author of The End of the Suburbs