The greatest television show ever made about local government is coming to an end. LITERALLY! Parks and Rec, one of the spiritual founders of ELGL, is ending a seven-year run this January. Fortunately (or unfortunately) Parks and Rec introduced much of America to local government for the first time ever. (We know…that's sad.)
City managers, parks directors, city councilors and many other local government positions were thrust into the spotlight by the show. The show birthed Leslie Knope who ELGL anointed as the gold standard of local government.
The most distinguished award in local government, the Knope of the Week, has been awarded for several years to recognize those making a positive impact on local government. Jordan Wheeler, City of Lake Oswego, OR, was the first recipient and since we've recognized writers, professors, local and state government practitioners, a minor baseball general manager, the founder of Bob's Red Mill, and everyone in between.
We're saddened by the end of Parks and Rec for many reasons. The show finale puts a death nail into ELGL's dream of appearing on the show in some shape or form. (Not that we're bitter.) We take away many positive memories – Rent-a-Swag, Jerry/Gary, Mouse Rat, and Joe Biden's cameo. The above "Citizens of Pawnee" video is used as the intro to every presentation that ELGL makes at a professional conference.
In recognizing the show with the Knope of the Week, we turned over the microphone to our membership to share their fondest memories of Parks and Rec. You can add yours in the comment section below.
Word on the Street
Caroline Smith, SeeClickFix
I've been reading a lot of feminist theory recently . . .which has fueled my belief that Leslie Knope is a shamelessly awesome, revolutionary feminist. Here's some proof in the pudding.
In particular, she pushes against one the most frustrating and dangerous forms sexism can take: internalized sexism. She is always elevating the power of sisterhood. As the article says:
"Leslie Knope has never been one for knocking down her fellow females. Instead, the fiercely loyal friend and ally makes sure to shower her sisters in praise, stick up for them when they're being discriminated against, and relentlessly encourage them to follow their dreams…and of course, we can't forget about Galentine's Day, Leslie's favorite holiday."
I think we're in this super exciting time in feminist history, and this show did something special by putting another friendly, hilarious, and strong face to the movement.
Rafael Baptista, UNC-Chapel Hill MPA Student
My favorite is the episode in one of the last two season where Ben and Jerry have a day-long man date.
Katie Babits, City of Veneta, OR
One of my favorite episodes was when Leslie throws the memorial service for Li'l Sebastian. Leslie and Ben get caught making out & try to pay off the janitor, Andy steals Elton John's song, Ron's eyebrows are burned off… classic.
I could probably go on all day, but I won't.  I'll just add one more.
I love when Leslie finds out she is from Eagleton.  I find this especially relevant here in the Eugene/Springfield area because Eugeneans wouldn't be caught dead in Springfield & Springfieldians think Eugeneans are a bunch of snobs.  The hospital moved to Springfield a few years ago & you could hear Eugene women of childbearing age say, "You mean my child has to be born in Springfield?!"
I am forcing myself to stop.  I hope there won't be any spoilers since I'm only through the 2013 season!
John McCarter, City of Pearland, TX
These are words to live by.
Ben Kittelson, Guilford County, NC
It's not often that a TV show can justify your chosen career path while also poking fun at the things that make that same profession frustrating, but Parks and Rec does it perfectly. They balance the drive and passion those in local government have, while showing the eccentricities of citizens, elected officials, and staff alike. Local government can't and doesn't take itself too seriously and the show embodies this attitude, I just love it. Best of all is that the show did this while creating some of the most memorable characters on television, obviously Leslie Knope makes the public servant in me proud but the supporting cast is outstanding from the libertarian stereotype of Ron Swanson to the silliness of Andy Dwyer.
If you work in local government and haven't seen the show, you're missing out its a great reminder that there are a lot of funny things that happen in local government and you aren't the only one dealing with difficult characters.
My one issue with the show is that Leslie Knope's dream job should have been to become City Manager! That's way cooler and more fun than City Councilor! Plus that would have been a great way to educate people on what a City Manager is, although since it's the only show with a City Manager in it I'll cut the writers some slack.
Ian Davidson, ELGL Project Manager
Anything with the Citizens of Pawnee is gold, but this movie review by Perd Hapley is pretty great too:
Emily Leuning, Cities of Sherwood and West Linn
Parks and Rec love, where do I start?! Patton Oswalt's Star Wars themed filibuster? Tom's ridiculous but enthusiastic business ventures? Treat Yo Self days with Donna and Tom? My insatiable desire to ride around Pawnee with Donna in her Benz? The moment when Leslie is
matched up with Tom's nerdy version of his online dating profile? Ben's proposal to Leslie? The Wyatt/Knope Unity quilt? When Ben and Leslie say "I like you and I love you" and later have the most adorable and heartwarming spur-of-the-moment wedding ever with the most fabulous dress made out of newspaper clippings and campaign flyers? Each season's outtake compilations on youtube?
Seriously, the only thing consoling me about P&R's finale is that maybe, just maybe, Amy Poehler and Tina Fey will team up and do something even more incredible. But what's more incredible than local government?!
Brian Southey, Village of Elk Grove, IL
As a former parks and recreation professional and wannabe renaissance man for all things "manly", I have a great affection for Ron Swanson.  Here are two of my favorites moments that I believe sum his character up.
If you wanted to perfectly display Ron Swanson's character you could throw in an anti-government quote but I was trying to keep it clean for the ELGL audience.
Laura Lake, Village of Morton Grove, IL
Why I love Parks and Rec. I love Parks and Rec because I feel like I finally found a role model via a TV show. Who wouldn't want to be Leslie Knope? Her love of waffles, her love of serving the public, and hatred of raccoons are traits I hope to have some day.
Bridget Doyle, City of Sterling Heights, MI
In all seriousness, this is my favorite show on TV. Incredible cast, incredible writing and Leslie Knope is one of the greatest characters on TV. She is well-meaning, energetic and fearless. She's not afraid to be herself and pursue her love of public service unabashedly. She embodies so much of what local government is and should be about. Also, Amy Poehler is a goddess and I want to be her. I just bought a hand-embroidered Leslie Knope quote to be framed for my new office. Yeah, so I guess you could say it's serious. Runner up favorite character: Donna.
Favorite Leslie Knope Quotes:
How important are speeches? I don't know, ask the Gettysburg Address.(quote for my office)
Good, I hate paperwork. I hardly ever do it in my bed on a

Saturday 

night listening to old Spice Girls CDs.
Holy mother of Malia! And Sasha! I love them both equally.
What I hear when I'm being yelled at is people caring loudly at me.
Patrick Rollens, Village of Oak Park, IL
I must confess that I didn't begin watching Parks & Rec until I started working in local government. As fate would have it, I launched into season 1 on Netflix the same week that I discovered ELGL. So I literally had a moment where I was like "Wait, what's the deal with
the waffle in ELGL's logo? Oh wait…" It was an epiphany on so many levels. Since then, the show has been by turns poignant and hilarious, rarely bitter but always bittersweet. And while not everything makes sense to a (lightly) seasoned local gov professional like me (just what is Leslie doing bossing around a municipal department while serving on an elected council, anyway?), Parks and Rec has probably done more to improve the overall perception of public service than anything else in the 21st century. Ratings aside, the show's role in the nascent development of a little organization called ELGL might well be its crowning achievement.
Anthony Hooper, City of Lake Oswego, OR
I absolutely adore this show.  The writing is consistently funny, insightful, and heartfelt.  I don't say that lightly, because I am disappointed by most shows.
One of my favorite TV episodes of all-time was in season 3 and is titled "Eagleton."  I have seen this episode about eight times.  There are a lot of amazing characters with dynamic storylines; however, my very favorite storyline is when the show explores the working relationship between Leslie and Ron.   In this episode, Leslie interacts with a former co-worker, Lindsay Carlisle Shay, who took a job as the Parks and Recreation Director at the
affluent community of Eagleton.  Leslie was offered the job, but turned it down because of her devotion to Pawnee.  This episode largely revolved around the fighting between Leslie and Lindsay.  However, the best part of the show was at the end.  Ron was freaking out that Leslie was going to throw him a massive birthday party with balloons, party favors, and lots of people, which are all things that Ron hates.  Instead, Leslie throws him a very thoughtful party that involves him sitting in a comfortable chair alone in the dark while watching "The Bridge on the River Kwai," drinking whiskey, and eating a very large steak.  Right before Ron gets to enjoy his ideal party, Leslie asks him "do you remember what you said to me when I asked whether I should take the job at Eagleton?" and Ron answered, "I believe I said I thought that we work well together and that I might disagree with your philosophy, but I respected you.  And I said that you'll get a lot of job offers in your life, but you only have one hometown."  Leslie responded with "yes, that's how I remember it."  Personally, I strive to have this type of genuine and respectful relationship with my employees.
Any show can make you laugh, but there are few comedies that are truly funny while still resonating at that deeper and more emotional level.  I will miss Parks & Recreation when it concludes this year.
Kirsten Wyatt, City of West Linn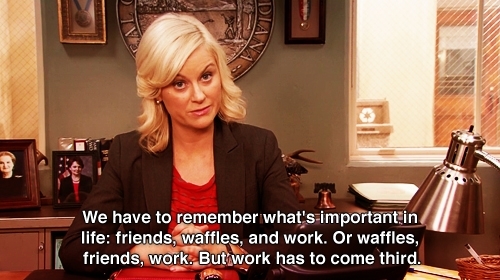 Robert Frost said, "If we couldn't laugh we'd all go insane." For those of us working in local government, the show "Parks and Recreation" has been that humorous respite we all need to stay focused and sane. A friend asked me if the shenanigans on the show were even close to being realistic and the answer was a resounding 'yes.' It's as if the writers mined every local government for their stories and compiled them into one show, which is what makes it so incredibly watchable for all of us at ELGL. Lastly a special thanks to the character of Leslie Knope, who embodies the passion and dedication that ELGL members try to emulate.