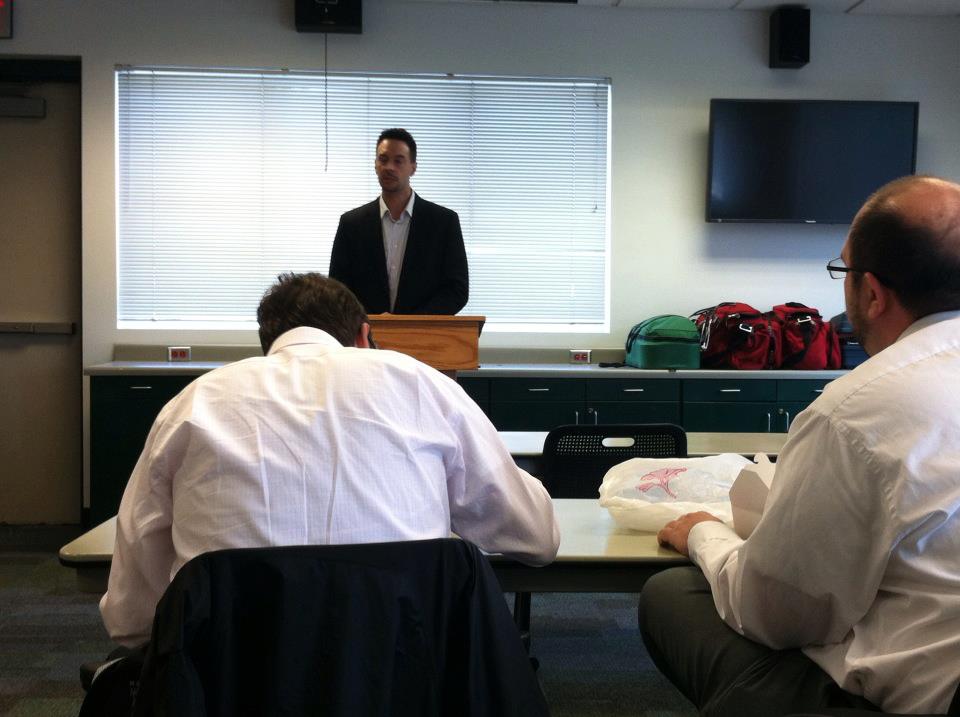 Before we move forward, take a look back at the 52 recipients from 2012. Each recipient will tell you that life has changed dramatically with the recognition, similar to a lottery winner minus the money and notoriety. ELGL proudly notes that before awarding a Knope of the Week we test the potential recipient for performance enhancing drugs. We also proudly note that those individuals have no idea that they've ever been tested.
Now onto the beginning of a new year, the 13th recipient for 2013 is …
What a partnership between the City of Hillsboro and Hillsboro Hops, so great that they're equally worthy of the Knope of the Week award. At this week's forum, we got a behind-the-scenes look at what it takes to lure a professional sports team to the area. Part of what it takes is city leaders like Michael Brown, Hillsboro city manager and Steve Greagor, Hillsboro assistant city manager. They both were dealing in those "other duties as assigned" area in working long hours in carrying out the direction of the Council.
Why is there so much buzz surrounding the Hillsboro Hops? K.L Wombacher is largely responsible. He has integrated himself into the community through speaking engagements such as the ELGL forum along with directing a smooth transition from Yakima. Everything from the unveiling of the Hops name to the community outreach has contributed to the Hops success even before the first pitch.
As we learned on Wednesday, both of these organizations are motivated by meeting the "WOW" factor test.
Here's a rundown of our takeaways from the City of Hillsboro and the Hillsboro Hops.
Local businesses in

City of Hillsboro are excited for

Hillsboro Hops. Hops want to maintain this first-year excitement.

Michael Brown noted the potential economic development benefits for

City of Hillsboro from

Hillsboro Hops.

Minor league teams can be a "needle mover" for business recruitment.

"We don't market to dad the sports fan… we market to the cruise director – we market to mom." K.L. Wombacher

Sports teams contribute to quality of life in a community. K.L Wombacher

"Hops" name a team effort & suggested on

oregonlive poll. Fan created Hops Nation which is "awesome fan group."

If City of Hillsboro hadn't worked out there were "plenty of options."

"We both were uncomfortable so that probably means it was a good deal for both sides." K.L Wombacher

City and team put together an "interesting deal." Minor league makes it hard to move a team so moves have to make sense.

Selection of Hops name has been "very very successful." K.L Wombacher

Hops are able to put more money into security, promotions, etc because they are committed to fan experience. K.L Wombacher

Jordan Wheeler asked K.L. Wombacher about his day to day as GM: 

K.L Wombacher is the business manager of the HillsboroHops. He doesn't handle player roster. Equal at major league level is the team president.

You'll see a worldwide presence in single A baseball. "Elite of the elite." K.L Wombacher

You'll see future Diamondbacks, Mariners, Giants play versus Hillsboro Hops.

Schedule doesn't compete with school schedules or bad weather so it's pretty awesome in the NW league.

"When players come here they are taking it all in and they will do anything we ask." K.L Wombacher

Why single A? K.L Wombacher explains it is where players are their best. It's players first year in pros and they are excited.

"Would love to get a UO/OSU game in Hillsboro as long as OSU wins." Steve Greagor, City of Hillsboro

There is a big demand for recreational facilities in Hillsboro and Hops helps meet this community need. Steve Greagor, City of Hillsboro

"Facility is truly a community facility." Steve Greagor, City of Hillsboro

Hillsboro Hops stadium now available year round. Great community asset  "it's about building community." Michael Brown, City of Hillsboro

"This has been the best move of my life." K.L Wombacher

"We want to wow our fans."  K.L Wombacher

Mini plans allow fans to pick their seats and pick their games. Treat fans well and "blow them away."

Upgrading all concession stands so they are full service stands. Customer service and fan experience are key Hillsboro Hops goals.

No luxury seats in stadium. But will include "party deck.

Trend is to move away from fixed seats and develop more social areas. Safeco Field,

Hillsboro Hops are following this trend.

New open style ballpark so you can always see the field. A key part of fan experience.

Excitement & energy every night. Grass berm will be great for families (esp if you have young kids). $7 tickets! Wowza!

 "Complex design challenged the architects but the end result will be one of the best single A complexes in the country."

One year ago today, no deal put together yet between

City of Hillsboro and

Hillsboro Hops. What a difference a year makes!

About 40K cars per day driving past facility. Great stadium visibility.

Season ticket holders for

Hillsboro Hops from Astoria, LO. Impressive draw and reach for a new team!

Suburban areas are great for minor league teams because of the family friendly focus.

"Able to overcome any barrier because of this refreshing can-do approach." Great advice from K.L Wombacher

"From day one we had a can-do approach which was refreshing." K.L Wombacher

Hops took over negotiations with City sans consultant because it was the best approach at that time.

City and Hops hit it off immediately and that connection made a big difference.

No offense to city people but sometimes when you hear 'city facility' your expectations aren't too high."

Went into Oregon move with "eyes wide open" and when invited to City of Hillsboro it was "love at first sight."

Hops GM walk up song? Hit Me Baby One More Time by Britney.