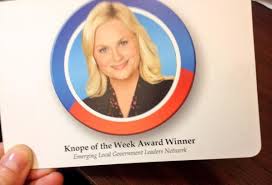 The 1st ever Nitty Gritty forum lived up to its name. A diverse crowd from the Lake Oswego fire chief to a PSU MPA student got down in the weeds on all things related to veteran's preference in Oregon. Our main takeaway: you're un-American if you don't support veteran's preference. Kidding, sort of. We all support veteran's preference but we all don't know how to correctly apply it within our organization.
Enter Kathy Peck, Elissa Preston, and Julie Morris who teamed up for a presentation full of practical advice. Kathy provided the insight from an attorney who has litigated employment law for more than 20 years. Elissa and Julie brought the perspective of city staff who are charged with sorting through the legalese to develop a practical approach for West Linn.
Background Check
Elissa Preston: Has been the Human Resources Manager at the City of West Linn since February of 2013 and served as a Management Analyst for West Linn prior to that. Elissa provides the practical perspective of complying with the Oregon law while performing searches and hiring new staff.  Connect with Elissa on LinkedIn.
Kathy Peck: Is an attorney at the firm Peck Rubanoff & Hatfield PC and specialist in employment law.  She has been practicing labor law for 30 years. Kathy is a well-known lecturer on employment law topics and has published articles for the Oregon State Bar, the Oregon Law Institute, the Bureau of Labor and Industries, the American Arbitration Association and a variety of other organizations. She has also taught employment discrimination as an adjunct professor at Willamette University College of Law. Connect with Kathy on LinkedIn and read her profile here.
Julie Morris: Julie is a Human Resources Generalist for the City of West Linn and has worked in human resources since 2011.  Julie provides a practical take on how to deal with the veterans preference law as you navigate the hiring process.  Connect with Julie on LinkedIn.
Our Takeaways
First lesson: the veterans preference also applies to promotions, not just hiring.
One of the issues with the law is that you aren't required to use a point system but without one there's no way to prove the preference.
It's wise to use a 100 point scale for evaluating candidates; a million point scale is not recommended. You aren't required to use a point system to evaluate candidates but STRONGLY recommended.
Interview any veteran who meets the minimum qualifications for an interview.
NittyGritty on Vets' preference: use step ranking process, award points at end of all interviews, final score by HR for Vet preference.
Preference is just providing an opportunity.
Why should employers closely follow Veterans' preference? It's the law.
Veterans preference points have to be added at each stage where an applicant can be eliminated.
The City of West Linn changed their process by taking the veteran question off of the applications and have been interviewing all qualified vets.
The panel recommends providing a question about "transferable skills" so veterans can supply other skills they acquired while active.
Word on the Street
Kirsten Wyatt, City of West Linn
The first ELGL Nitty Gritty was a perfect combination of the technical (courtesy of Kathy Peck) and the practical (courtesy of Elissa Preston and Julie Morris).  There's nothing more valuable than learning the background on a complex issue, and then the best ways to practically apply those lessons in the local government environment.  Kathy, Elissa, and Julie were the perfect introduction to this exciting new speaker series offered by ELGL.
Ben Kittelson, Portland State University MPA

Kathy, Elissa, and Julie did a wonderful job at the lunch forum. They provided examples, answered questions, and made the forum very interactive. You can tell how passionate they are about Human Resources and how much work they put in to administering the veterans preference law.
Sherryl Childers, City of Sherwood
My takeaway is that if you want or have the need to prove you gave Veterans' Preference it is recommended that interview panel and hiring manager use a point system while interviewing.
Angela Handran, City of Wilsonville
My take away was that job descriptions need to have very specific minimum qualifications. If your hiring manager want to interview applicants that do not meet the minimum qualifications, then they will also need to interview any veterans who have applied.  Great information, and great meeting.
Marlene Myers, City of Gresham
My take away:  It is the applicant's responsibility to demonstrate transferrable skills AND at any point in the application process where a candidate can be eliminated preference points must be applied. Thank you to the presenting team….Great Job!
Amber Autry, City of Gresham
A Public Sector employer must able to show how preference is provided in every step of the selection process, for a minimally qualified Veteran.
Kent Wyatt, City of Tigard
Kathy, Elissa, and Julie were successful in engaging the audience. This led to an informative discussion about what our cities and counties are doing and how we can help each other develop the right approach to veteran's preference.
Supplemental Reading
Presentation: Oregon Veteran's Preference