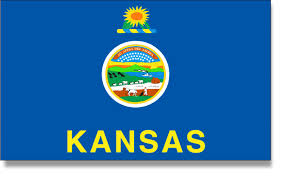 Rock Chalk Jayhawk! The 50 Nifty returns to the Sunflower State. The state is the 15th most extensive and the 34th most populous of the 50 states. Michael Wilkes, Olathe city manager, was the first to walk us through the Wheat State. We return to Kansas upon the recommendation of Raymond J. Hummert, University of Kansas School of Public Affairs and Administration, who was quick to suggest Jason Gage as the perfect person for the 50 Nifty project. Before we learn if Jason lives up to the hype, let's get a Cliff Notes version of all things Kansas.
When ELGL thinks about Kansas we think about the Wizard of Oz, Kansas (the band), Brown v. Board of Education, Smallville  (based in a fictional town in Kansas), and Bob Dole. Beyond this exhaustive brainstorming list, you should also know a few other things.
The council-manager government model was adopted by many larger Kansas cities in the years following World War I while many American cities were being run by political machines or organized crime, notably the Pendergast Machine in neighboring Kansas City, Missouri.
Kansas has 627 incorporated cities. By state statute, cities are divided into three classes as determined by the population obtained "by any census of enumeration." A city of the third class has a population of less than 5,000, but cities reaching a population of more than 2,000 may be certified as a city of the second class. The second class is limited to cities with a population of less than 25,000, and upon reaching a population of more than 15,000, they may be certified as a city of the first class. First and second class cities are independent of any township and are not included within the township's territory.
Kansas was boyhood home to Republican president Dwight D. Eisenhower. It was also the adult home of two losing Republican candidates (Governor Alf Landon in 1936 and Senator Bob Dole in 1996).
Kansas has a reputation as a progressive state with many firsts in legislative initiatives—it was the first state to institute a system of workers' compensation (1910) and to regulate the securities industry (1911). Kansas also permitted women's suffrage in 1912, almost a decade before the federal constitution was amended to require it. Suffrage in all states would not be guaranteed until ratification of the 19th Amendment to the U.S. Constitution in 1920.
Kansas has its share of interesting laws including:
Derby: Hitting a vending machine that stole your money is illegal.
Lawrence: All cars entering the city limits must first sound their horn to warn the horses of their arrival.
Topeka: No one may sing the alphabet on the streets at night.
Wichita: Don't get carried away in the city parks.
Wichita: One must get a permit from the city if they wish to take dirt from the airport.
---
Vitals
Jason A. Gage

Salina (KS) City Manager
Education: Missouri Southern State University, BA, Political Science (pre-law) and minor Computer Science and University of Missouri-Columbia, Master's of Public Administration, Urban Management
Experience: City Manager, City of Stillwater, Oklahoma; Assistant City Manager, City of Salina, Kansas; and City Manager, City of De Soto, Missouri
Connect: LinkedIn
---
Background Check on Salina
Connect: Twitter and World Wide Web
Salina (population: 47,707)  is the county seat of Saline County. Salina operates with a commission-manager form of government which it adopted in 1921. The city commission consists of five members elected at large, one of whom the commission annually selects to serve as mayor. Commission candidates who receive the most and second most votes are elected for a four-year term; the candidate who receives the third most votes is elected for a two-year term. The commission sets policy and appoints the city manager. The city manager is the city's chief executive, responsible for administering the city government and appointing all city employees
The Wichita Business Journal recently reported that "Salina is Kansas' retirement hub", the state's top destination for retirees.  In 2009, Salina was selected by Business Week as the "best place in Kansas to raise kids".
Salina in Pop Culture
Bluegrass band The Avett Brothers have a song titled "Salina"
In Dr. Seuss' book "I Can Read with My Eyes Shut!" a street sign near the end of the book says "Salina Kansas Birthplace of Curtis A. Abel 2376 Miles->"
In Alfred Hitchcock's 1958 film Vertigo, the character of Judy Barton, played by Kim Novak, comes from Salina.
In Shawn Colvin's song, "Wichita Skyline" (from the 1996 album A Few Small Repairs), she sings "As far as Salina I can get that good station from LaRue / I'm searching the dial while I'm scanning the sky for a patch of blue / And I watch the black clouds roll in, chasing me back again / Back to the flat fine line, the Wichita skyline."
Salina was largely destroyed in Ted Bell's 2008 novel Tsar, with only a Motel Six hotel, a park, and the surrounding area surviving.
---
Lightning Round
Best piece of advice from your parents. 
As a child, I was always very encouraged to say 'thank you', to give up my seat for elders and to get good grades in school.
In a dream world, which bands would headline your retirement party? 
My retirement bands would include the Beach Boys, Journey, 38 Special, Night Ranger, Def Leppard and Nickelback.
(Complete the sentence) Before I die I want to…….make a noticeable difference for the benefit of others.
Three most influential books in your life.

All the Best by former president George H.W. Bush
Profiles in Courage by former president John F. Kennedy
If you could FaceTime with five people (dead or alive and not including family members), who would be on the list? 
I would like to have FaceTime with:
Yes, I do recognize this is a list of six.
Describe the inside of your car. 
The interior of my Explorer is black, pretty clean, and with music on.
What's the meaning of life? 
I believe the meaning of life is to make a positive difference in the lives of others, while finding happiness and exalting the creator.
---
Q and A with Jason
Give us three bullet points that best describe local government in your state. 
Kansas local government can best be described as professional, stable and challenging.
We'll assume you didn't grow up dreaming about a career in local government. What was your dream job as a 12-year old?

My dream job was to be a professional athlete, with a preference toward basketball.  Unfortunately, I never grew beyond 5'10".   

What was your first local government job?
My first paid, local government job was as a management assistant for Mexico, Missouri.
How did you end up in local government? 
I found awareness of and interest in local government from an undergraduate public administration class taught by Professor Tom Simpson at Missouri Southern State University.  He continually described it as an opportunity to make a difference at the grass roots level and change the world.
Give us your top three career accomplishments. 
In my first job as city manager, I established a successful strategy that resulted in strong voter approval for a much needed sales tax for capital improvements.  This was a big deal both due to being new in the city management profession and because the same community had recently voted down a no tax increase bond issue for the public school system.
I recently initiated in my current organization the use of private sector Lean Six Sigma tools so that we can identify non-value added work time, think more efficiently, eliminate mistakes and use tax dollars as effectively as possible.  I believe that all government owes this level of effort to their citizenry.
I have brought to each organization I have managed an ethical, caring, future thinking, team-oriented and professional approach to providing operational services and building community.   This isn't a project per se, but an overall approach for which I take great pride.
We often learn from our mistakes. Name one or two career mistakes that you have made that you think we could learn from.   
Both of these examples occurred early in my career.
I recommended utilizing a special election date for a ballot initiative to increase the local sales tax.  The ballot issue failed miserably.
I provided specific direction to a department head regarding a minor road project without first hearing from the other interested parties.   This premature decision and direction eventually resulted in a conversation with the interested parties and a change in my direction to the department head.  This change in direction was confusing to the department head and demonstrated immaturity in my leadership.  I have made a point not to make this mistake twice.
Our experience has been many of our friends, family, and neighbors are not well versed in what it is we do in local government, many think we are a "planner" or "mayor". Has this been your experience?
Yes.  Most people have not heard of a city manager and believe it is an elected position.  It takes a full explanation of the government form for them to realize the purpose of the city manager role is to lead all operational aspects without being affected by politics in order to professionalize the management of the local government.  Of interest is that once some people learn about the role, they then believe it has supreme authority over most all community matters.  When my son was young, he once became a little perturbed at me when he felt that I did very little to reduce fuel prices in our town.
How can local governments better communicate their role in the everyday lives of the community? 
First, we need to not assume that we always know what people want or will support.
Second, we must find creative and strategic ways to get the attention of an apathetic public.  Third, truly listening and contemplating their needs is vital.  Fourth, we need a means to synthesize the volumes and breadth of input received.
Finally, we need to be able to execute the plan that is based on our citizens input, measure the outcomes, be able and ready to change again, and never quit asking for ongoing feedback.
Would you encourage your family and friends to consider a career in local government? 
Yes I would, but only if I am sure the family member fully understands the difficulty that working in the public eye can at times cause.
Hypothetically, if we find ourselves interviewing for a job in front of you, talk about three steps we can take to make a good impression.   
First, I believe it is important for a person to be genuine and demonstrate integrity.
Second, I find it important to know what they truly believe in and how this has drawn them to the position for which they are interviewing.
Finally, it is very important for them to demonstrate their technical competency, critical thinking capability, knowledge of the big picture, ability to work with and lead other people, and capacity to execute.  If these traits are demonstrated, it wouldn't hurt for the candidate to communicate that it is their intention to commit for at least a minimum duration of time in which the organization can truly benefit from their contributions.
Mentoring is such an important part of local government. Name three of your mentors. 
My mentors include:
Dale Brockmeyer, my high school science teacher and part-time employer.  He demonstrated integrity, accepted me into his family and taught me a great deal about home construction.
Scot Weber and Shane Wood (tied), who were my youth pastors and kept me in line as a young person.
Gene Moses, who was a Park Board member and active community volunteer during my first job as city manager.  He demonstrated an open heart and exceptionally optimistic perspective about most everything.
Dennis Kissinger and Mike Morgan.  Dennis (city manager) and Mike (deputy city manager) hired me for the first time in Salina, Kansas.  They chose me, a young Mizzou grad, from among numerous other applicants that were from Kansas colleges which included the prestigious University of Kansas.  Dennis and Mike provided me with the training, participation opportunities and work environment to develop as a young, future city manager.
(Complete the sentence) In 2018, local government will be …………
expected to solve more of their community's social problems with relatively fewer financial resources, while dodging in and around citizen unrest and a very complex and extreme political environment; resulting in a higher degree of satisfaction for a job well done.
---
Supplemental Reading

50 Nifty Profiles