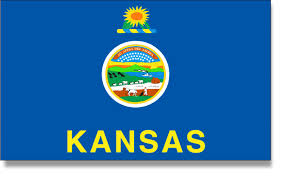 Fifty Nifty Takeaways
What do we hope to learn from this series? We hope you will gain a better understanding of the unique characteristics of local government in each state, we hope you will learn that there are others like you who are motivated to make a difference through the public sector, and we hope you will learn that it is best to learn from others' mistakes than yours.
Our Take on the Sunflower State
Rock Chalk Jayhawk! The 50 Nifty lands in the Sunflower State. Kansas is the 15th most extensive and the 34th most populous of the 50 state. Michael Wilkes, Olathe city manager, has signed up to walk us through the Jayhawker State. Michael is a familiar name for some of us, Amanda Kaufman (ELGL advisory board member) worked in Olathe for Michael and Kirsten Silveria (ELGL member) is currently working in Olathe.
When ELGL thinks about Kansas we think about the Wizard of Oz, Kansas (the band), Brown v. Board of Education, Smallville  (based in a fictional town in Kansas), and Bob Dole. Beyond this exhaustive brainstorming list, you should also know a few other things.
The council-manager government model was adopted by many larger Kansas cities in the years following World War I while many American cities were being run by political machines or organized crime, notably the Pendergast Machine in neighboring Kansas City, Missouri.
Kansas has 627 incorporated cities. By state statute, cities are divided into three classes as determined by the population obtained "by any census of enumeration." A city of the third class has a population of less than 5,000, but cities reaching a population of more than 2,000 may be certified as a city of the second class. The second class is limited to cities with a population of less than 25,000, and upon reaching a population of more than 15,000, they may be certified as a city of the first class. First and second class cities are independent of any township and are not included within the township's territory.
Kansas was boyhood home to Republican president Dwight D. Eisenhower. It was also the adult home of two losing Republican candidates (Governor Alf Landon in 1936 and Senator Bob Dole in 1996).
Kansas has a reputation as a progressive state with many firsts in legislative initiatives—it was the first state to institute a system of workers' compensation (1910) and to regulate the securities industry (1911). Kansas also permitted women's suffrage in 1912, almost a decade before the federal constitution was amended to require it. Suffrage in all states would not be guaranteed until ratification of the 19th Amendment to the U.S. Constitution in 1920.
Kansas has its share of interesting laws including:
Derby: Hitting a vending machine that stole your money is illegal.
Lawrence: All cars entering the city limits must first sound their horn to warn the horses of their arrival.
Topeka: No one may sing the alphabet on the streets at night.
Wichita: Don't get carried away in the city parks.
Wichita: One must get a permit from the city if they wish to take dirt from the airport.
Background Check on Michael 
Michael, a native of Alabama, earned his Bachelor of Arts Degree from the University of Alabama and his Master of Public Administration Degree from Georgia State University. He began his local government career in 1984 as an administrative intern in the County Manager's Office in Jackson County, Oregon. He subsequenty worked in Eugene, Oregon as a budget analyst before going to work for Gwinnett County, Georgia. Though he began work in Gwinnett County as the Budget Manager, he progressed through the organization to eventually become Assistant County Manager over the course of seven years with the county.
Michael spent six years as the City Administrator of Alpharetta, Georgia, the fastest growing city in the state of Georgia.  Since January 1999, Michael has served as the City Manager of Olathe, Kansas.  Olathe has the distinction of being one of the fastest growing communities (#33 according to a 2009 U. S. Census estimate) in America over the last decade and in 2008, Olathe was recognized by Money Magazine as the 11th Best Place to Live in the country. Olathe is also an award-winning community which has received a number of national awards for various programs.
Since arriving in Olathe, Michael has been involved in several community activities. Among his community service, Michael is: a current member of the Santa Fe Trail Rotary Club; a member of the Executive Committee of the Olathe Chamber of Commerce Board and the Olathe Economic Development Council; a member of the Olathe Convention and Visitors Bureau Advisory Council; and also serves on the National Board for the Alliance for Innovation. He attends Grace Church, where he directs youth worship and also serves in the position of secretary on the board of directors at the church. Michael is also a past board member of Johnson County United Way and the Olathe Region United Way.
Michael was recognized with the 2007 Olathe Character Council, Character Award for City Government. He was selected and graduated as a member of the 2005 Class of Leadership Kansas and was named Olathe Citizen of the Year in 2001. Michael was also recognized as one of Olathe's 150 Most Notable People (#58) in honor of Olathe's Sesquecentennial celebration.
Background on Olathe
Connect: Facebook, Twitter, and World Wide Web
Olathe (population: 125, 872) is the fourth-largest city in the Kansas City metropolitan area and is the second largest among the 21 communities in prosperous Johnson County, and the fifth largest city in the state. It is located just 20 miles southwest of downtown Kansas City, with all of the cultural advantages of a major metropolitan area.
In 2008, the US Census Bureau ranked Olathe the 24th fastest-growing city in the nation. The same year, CNN/Money and Money magazine ranked Olathe #11 on its list of the "100 Best Cities to Live in the United States."

The City's Parks and Recreation Department maintains year-round activities including music and dance, sports, health and fitness programs for all ages. Baseball diamonds, tennis courts and fitness trails are available throughout the city and there are four public outdoor swimming pools in Olathe. Olathe has two public lakes: Olathe Lake and Cedar Lake.
Olathe's commercial and industrial parks are home to many companies, including Honeywell, Husqvarna, ALDI, Garmin, Grundfos, and Farmers Insurance Group. Although Farmers Insurance is based in Los Angeles California, Olathe has more Farmers employees than any other city in the United States.

John Anderson, Jr. was the 36th Governor of Kansas
Darren Sproles, NFL Player
Willie Aames, actor, Charles in Charge
Lightning Round
Best piece of advice from your parents. 
The best advice my parents gave me was in leading me to a personal relationship with Jesus that has lasted my whole lifetime. 
In a dream world, which bands would headline your retirement party? 
Red, NeedtoBreathe
(Complete the sentence) Before I die I want to…….
this is a hard one for me.  There are a lot of things that I'd love to do before I die – places to see, people to talk with, experiences to have, but, I'm also very happy and content with my life.  God has blessed me immeasurably and I am very happy with the life that I've been given.  I guess I would say that I want to pursue all my hopes and dreams to the fullest while also being content with what God has blessed me with.
Three most influential books in your life.

If you could FaceTime with five people (dead or alive and not including family members), who would be on the list? 
One of the Founding Fathers of our Country
Describe the inside of your car.
No clutter, pretty clean, floorboard needs vacuuming.
What's the meaning of life? 
To love the Lord, your God with all your heart, soul and mind and to love your neighbor as yourself.
Q and A with Michael
Give us three bullet points that best describe local government in your state.
We'll assume you didn't grow up dreaming about a career in local government. What was your dream job as a 12-year old? What was your first local government job? How did you end up in local government?
When I was 12, I wanted to be a lawyer, who then becomes a politician.  I saw myself in state or national politics.
My first local government job was as a Management Intern in the County Manager's Office in Jackson County, Oregon.  Not doing well on the LSAT, made me decide to get my Masters of Public Administration before going on to Law School.  Once I got into graduate school, the convergence of the political side of being a city manager and the leadership side of being a city manager came together for me as a good fit for what I really wanted to be.
Give us your top three career accomplishments.
As an intern, my career goal was to be a city manager of a suburban city, over 100,000 in population by the time I was 35. I became the manager of Olathe, Kansas when I was 39 so I only missed it by four years, but pretty happy about that.
Helping to achieve at the ballot box, three successful tax initiatives for parks and streets and one successful charter change in a community with a history of limited success in elections.  All four issues were fundamental to the future of the community.
Helping to build a great organization based on values, customer service and metrics and is as good as any in the country.
We often learn from our mistakes. Name one or two career mistakes that you have made that you think we could learn from.
This is a relatively minor one, but I learned a long time ago not to "nickel and dime" people when you are hiring them.  As an SDI red, early on, I saw it as my mission to hire people at a bargain.  Well, I've learned that that $2K that you saved, will cost you in employee engagement somewhere along the way.  Now, I'm much less worried about saving a few thousand dollars, vs. making sure we get the right people on board and making sure they feel valued in the transaction.
Our experience has been many of our friends, family, and neighbors are not well versed in what it is we do in local government, many think we are a "planner" or "mayor". Has this been your experience?
Yes, if I had a dollar for every time someone introduced me as the "city planner"………..Most people just don't really have a concept of city manager.  Even when I say I am a city manager, the follow-up question is usually, "what do you do as a city manager?"
How can local governments better communicate their role in the everyday lives of the community? 
I'm not sure that's the question.  I think the question is one of access.  I believe it's our role to provide information and access to that information so that our citizens can consume the information how and when they need it.  To do that, we have to communicate in ways that are "normal" to them.  In today's culture, that means print, video, social media, web, tv.  If we use these platforms to provide the information that citizens need to get what they need and when they need it, then we have fulfilled our role.
Would you encourage your family and friends to consider a career in local government?
Yes, absolutely.  I think it is an incredibly important and noble profession.
Hypothetically, if we find ourselves interviewing for a job in front of you, talk about three steps we can take to make a good impression.

Demonstrate to me that you know something about our organization and community that can't just be gleaned from our website
Have a compelling value proposition on why you are "the one"
Mentoring is such an important part of local government. Name three of your mentors.
Chuck Button, former County Manager, Gwinnett County, Georgia
Charlotte Nash, former Financial Services Director, Gwinnett County, Georgia
Mike Gleason, former City Manager, Eugene, Oregon
(Complete the sentence) In 2018, local government will be …………the career of choice for bright, innovative, entrepreneurial young people!
What question(s) should we have asked you?
I would hesitate to add anything to the list – this was brutal!  Way too much brain damage and self-reflection!!
Supplemental Reading
50 Nifty Profiles