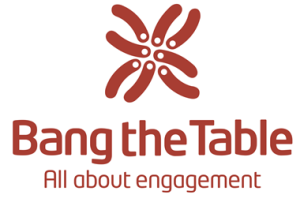 It's time to meet the sponsors of the #ELGLPopUps. Our sponsors allow us to maintain a lower registration fee. This year, students can attend for $25; ELGL members can attend for $50; and non-ELGL members can attend for $75.
---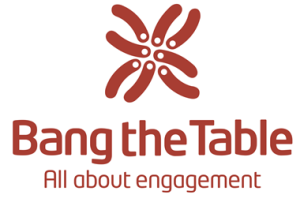 Connect: Facebook, Twitter, and World Wide Web
Sign Up: Bang the Table Newsletter
What They Do: Digital public engagement innovators we are passionate about empowering organizations and the communities they care about.
---
Rank the Pop Up cities – Charlotte, Dallas, Kansas City, Portland.
Given we are going to be at all of them this would be undiplomatic!
Company Facts (that are not on your website)
We help our clients launch over 100 online community engagement projects every week
We  have clients and team members in 6 countries
Our team has had 4 babies this year (it's lucky we give parental leave)
Our selfie sticks are the most sought after corporate bling on the planet (that's a true fact)
Local Government Clients
New York City Planning
Lakewood, Colorado
Gilroy, California
Scarborough, Maine
Most Difficult Words to Spell
Surpsie
Anything with a 'z' that should be an 's'
---
In the News
Built In Colorado: Meet the tech company bringing civic engagement into the digital age
Bang the Table's engagement solutions provide governments and community organizations with a means to connect with the people in their communities in more meaningful and productive ways. The EngagementHQ platform offers a suite of engagement tools — such as polls, forums, surveys and Q&As — that provide citizens with an online forum for discussing and weighing in on the issues that impact them most directly. The goal is to help to make civic engagement more rewarding and interactive for everyone involved.
BizWest.com: Australian software helping Colorado governments engage with citizens
"We needed to hear from the community for strategy, but those same people didn't represent the whole community," Crozier said. "We decided to use the Web to connect more people."
---
ELGL Features
CityHallSelfie Tips from Matt Crozier, Bang the Table
Replay: Bang the Table Citizen Engagement Webinar
Bang the Table: Community Engagement Primer, Part I
---
Bang the Table on GovLove

Podcast: Citizen Engagement with Matthew Crozier of Bang the Table
Figuring out the best way to get residents involved and participating in local government has been a hot topic in cities across the country. Matthew Crozier from Bang the Table has been doing engagement work around the world and came on GovLove to discuss best practices, how cities can do better and more.