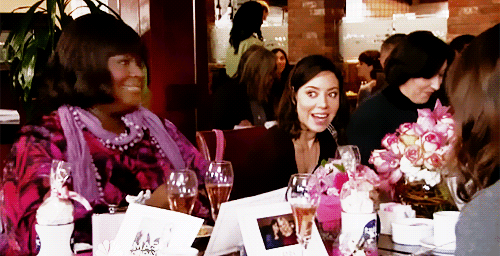 Galentine's Day is a holiday Amy Poehler's Parks and Rec character Leslie Knope created that occurs every year on Feb. 13, the day before Valentine's Day. As Leslie herself explains on the show: "Oh, it's only the best day of the year.
ELGL celebrates Galentine's Day by recognizing the work of our female members. What'd we miss? Email [email protected].
---
#ELGLWorkLife: Returning to Work After Childbirth by Marissa Grass, City of Tigard, OR
Promote local government as a family-friendly profession. This should include resources for current managers like training, webinars, and draft policy; and resources and networking opportunities for working parents.
Real Characters: Princess Leia, City Manager by Matt Horn, City of Geneva, NY
How is your city or town faring in fostering leadership among women? If you're searching for candidates, would your recruitment budget support a search that extends to a galaxy far, far away? If so, Princess Leia Organa may be just what you're looking for.
On Momentum & Progress: #13Percent to #GenderBalance by Stacy Schweikhart, City of Kettering, OH
The Engaging Local Government Leaders (ELGL) network didn't just step up – they jumped in feet first and launched the #13percent initiative.  ELGL is a network of innovative local government leaders from all disciplines and administrative levels who share a passion for making our communities the best they can be.  ELGL believes that attracting and retaining local government professionals requires making meaningful connections.  ELGL members share information – a learning process that empowers all of us to work harder, smarter, faster and more creatively.  ELGL provides educational offerings that address new trends and ways we can proactively respond as local government professionals.
#ELGLWorkLife: "To and Fro the Pendulum Throws…" by Rebecca Olson
As a mother of four, a volunteer for several non-profits, a child with aging parents with medical conditions, a wife and working full time – I am routinely doing things for others. It is important to remember to take care of yourself too. Do something you enjoy daily. Even if you have to sit on the counter in the bathroom reading a book with the door locked and the shower running so kids think you're busy for 15 minutes – do it. I guarantee you will cherish those 15 minutes and that bathroom will become your special haven. (Not that I would know.)
#13Percent: Fight Like Hell Dammit, and Win! by Ashley Jacobs

My alma mater has a cheer that goes: "Fight like hell damnit, and win!"  I love that cheer.  It's so satisfying to yell it from my seat.  It makes me feel like I've really done something; like I've personally lit a fire under my team to go out and slay our opponent.  It's so energizing to me that I've adopted it as a slogan in my own personal campaign to beat the 13 percent.
#ELGLWorkLife: In It Together by Julie Underwood and Todd Fiala
The reality is that we have areas of our life that don't get as much attention as we both would like. The area that could use much more time and attention is our health and wellness. Over the last year, we have made this a goal and continue to strive to squeeze 30 minutes of exercise three to four times a week. In addition, a healthy amount of sleep is a goal for us. We buy into all the studies that call for 7-8 hours of sleep (we're both pretty cranky when we don't get enough sleep); however, this is extremely difficult to achieve. When we need to trade-off how we spend our time, frankly, we take it from exercise and sleep.
Life as a City Manager's Child, Will Norris, Hood River, OR
I do not remember too many perks associated with my mom's job.  No fire engine rides or parades like a few others have mentioned (I'll need to follow up with her now on why that was).  The best part was just growing up around other local government folks.  The field attracts friendly, interesting, and smart people. That was our circle of friends, which was a great environment to grow up in.
#13Percent: The Forecast Calls for Changes by Sean Jacobs
City and county governments in the United States must immediately develop concrete plans to attract and ultimately hire a more diverse workforce. Individuals with disabilities, women, military veterans, and people of all races, religions, and ethnicity, that are part of the local population need to be appropriately represented.
#13Percent: What You Speak Is Your Truth by Cindy Mitchell
Why is it a win for women in local government? Women leaders in government that are demonstrating their ability to handle every adversity with courage, honor and success elevate all women. Merkel is the most powerful leader in Europe, a woman leading a nation during tumultuous times, demonstrating that women can handle anything.
#13Percent: I'm a 36-Year Old White Male by Kent Wyatt, ELGL Co-Founder
I am a 36-year old, white male. I work as a senior management analyst for the City of Tigard, OR. My dad was a city manager for more than 35 years in North Carolina and Virginia. I grew up going to ICMA Conferences and state association conferences (jealous, yet?). I have two daughters – a 3-year old and 5-year old daughter who face a lifetime of local government events.
---
Data
Data Download: Measures to Meaning
Data Download: Measures to Meaning – Part 2
Data Download: Measures to Meaning – Part 3
Break it Down: Increasing Women in Local Gov Leadership
#13Percent: Using Data to Improve Diversity and Inclusion
Push/Pull: Opening the Door to Survey Responses
Pushed or Pulled? Responses to the Push/Pull Survey
Push/Pull: Closing Out the Push/Pull Analysis
---
Podcast
Exclusive: ELGL Executive Director Discusses Discrimination Suit
GovLove: Glass Shattering Police Chiefs

GovLove: The Stories Behind The Start-Up City with Leah Treat and Gabe Klein
Podcast: You (Yes You!) Can Run for Local Office
Podcast: Bonus! The League of Women in Government
Podcast: #13Percent Measures to Meaning
---
Webinars (Must be an ELGL member to view the webinar recordings.)
Follow Up Reading From CCCMA Women Leading Government Conference Call
ICMA Recap: Expanding Diversity and Inclusion in Local Government

Webinar: Women in Local Government
California's Glass Ceiling, Watch the Webinar
Watch the #13Percent Webinar with Heidi Voorhees and Rachel Lange-Skaggs