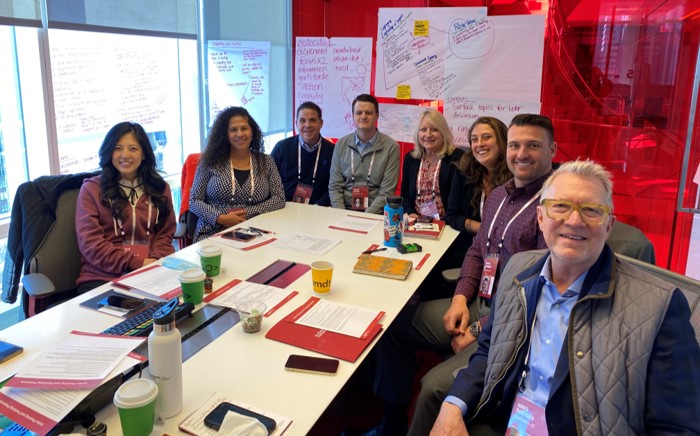 Today's Morning Buzz is by Shane Stone, sr. management to Scottsdale's City Manager
Connect with him on Twitter and LinkedIn
What I'm Listening to: I saw FISHER three times in nine days last month, so his music has been bouncing around in my head
What I'm Reading: I just finished "The Book of Hope" by Jane Goodall and Douglas Abrams, up next is "The WEIRDest People in the World" by Joseph Henrich
What I'm Watching: I just finished watching OU Softball dominate the Women's College World Series, up next is hopefully OU Baseball doing the same in the Men's College World Series
---
Over the last several months I have been afforded one of the greatest opportunities that I never saw coming. As part of our engagement with the Bloomberg Harvard City Leadership Initiative, Scottsdale joined the collaboration track of the program. We were tasked with identifying a complex challenge facing our community that would require cross-boundary collaboration, in our case the challenge was serving those experiencing homelessness. In mid-February I was notified that due to some people in our organization taking on new roles elsewhere in the city I would be asked to be the team leader of the collaboration track team. My first task was preparing for a day of collaborative engagement with more than 40 local experts on the topic.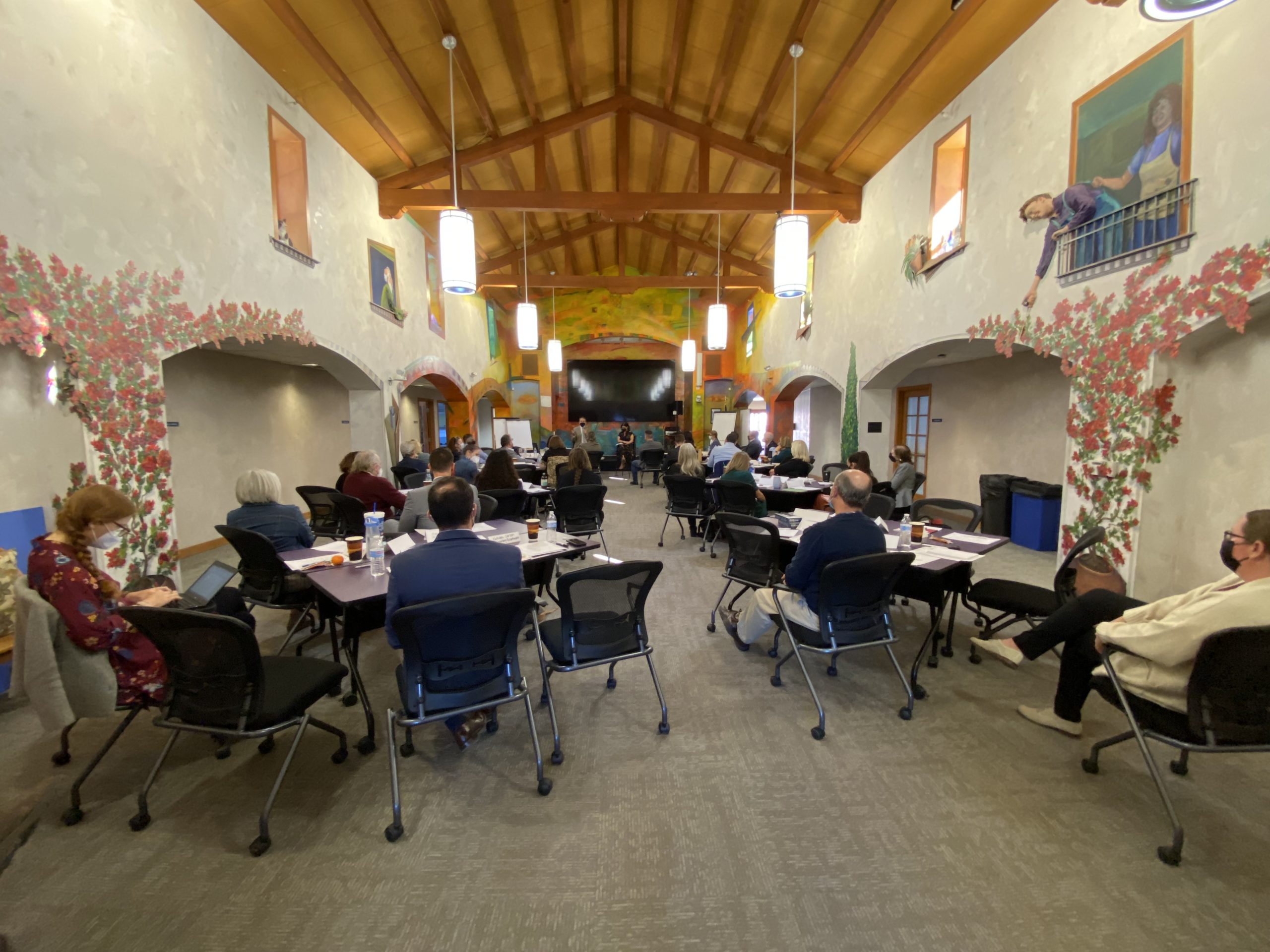 The experts that we engaged, while all working on the same issue, had a wide array of perspectives. Some were our counterparts from other local governments, some took a regional or state governmental focus, others worked in the nonprofit world, and we had private sector representatives that developed affordable housing. From the first group discussion that I was a part of I knew, we had a lot of well-founded ideas floating around the room. Some were similar to one another, but many were not. Fear not however, we had the greatest facilitators from Bloomberg Harvard, Kathleen, George, and Keesler. With their guidance the day was incredible, we all left with a better understanding of the problem we were faced with, and how we may be able to work collaboratively to tackle it. We also knew that we would be assembling a smaller team of eight people to work closely over the next month or so before embarking on a trip to New York City for a week of intensive programming.
Our team met regularly, mostly virtually, before heading to New York City. While this team was as diverse in perspective as the larger group we hosted in February, we gelled quickly with a few exercises and intentional team builders. By the time we got to New York we were old pals.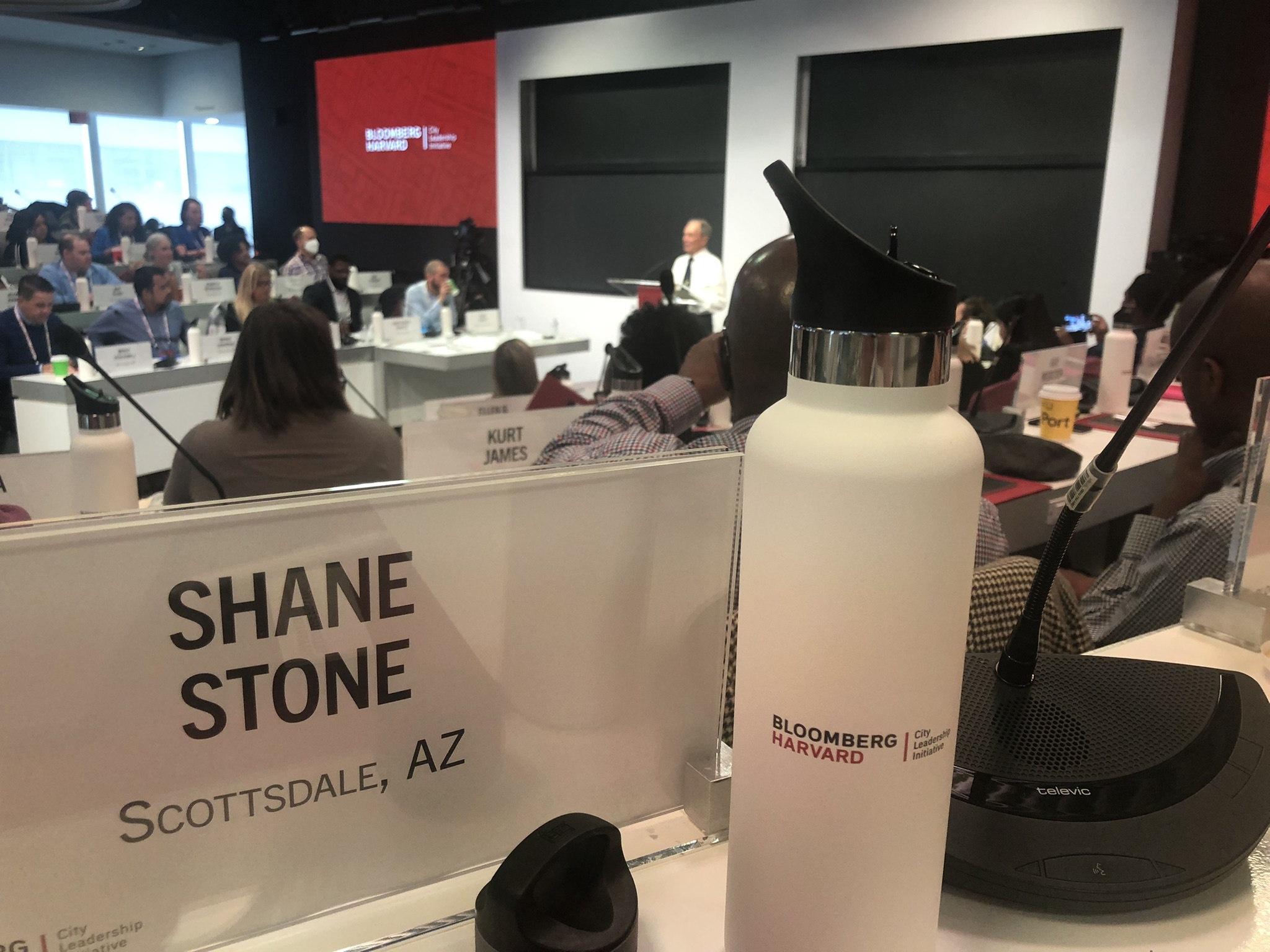 New York City was something else. We were one of ten cities in attendance, working alongside the best and brightest from across the country, and the globe. Folks travelled from places like Mannheim, Germany and Bogotá, Colombia to be there and I have no doubt that for them it was absolutely worth it as it was for our Scottsdale Team. Over that week we had some twelve-hour days, we worked with a helpful pressure to perform at our best and most efficient, and we were guided by Harvard professors that could make everything relatable and engaging.
Throughout the process there were a lot of lessons learned.
Don't approach problems with a solution already in mind, instead seek to understand the problem and the web of underlying causes.
Before you collaborate have everybody work separately to help them bring their own ideas to the conversation.
Work under some pressure of time, you will accomplish more than you thought possible in the limited timeframe.
Be iterative, not just with your solutions, but in your work that leads to identifying those solutions.
Most importantly, you only need to agree "enough."
Committing to simply "agreeing enough" means that you will get to a place that is palatable enough for all, where everyone can agree that what is in front of them will at least get you closer to the end goal, and you agree to move on. You set aside what is perfect in the eyes of each individual for what is good in the eyes of all.
Collaboration is an inherently lengthy process; you can of course work more nimbly by yourself. Choosing to work until you "agree enough" helps speed collaboration up. Our team would occasionally fixate on how a sentence was worded, or on a minor detail of our approach. When I have worked collaboratively in the past it is all too easy for these details to take hours of ironing out, but we would stop and ask ourselves, "Do we all agree enough to move forward with this as is?" and we could move forward together with pace. This allowed us to work swiftly and be more rapidly iterative.
There are a few important elements to find success in working to "agree enough." This is not an exhaustive list, but some pro-tips I have identified in my short time with this as a focal point in my work. First, your team has to agree upon an ultimate goal, and the root causes of the challenge that you are facing. This will let you ask the question, "With this solution or action will we be closer to overcoming our agreed upon challenge?" Second, you have to have mutual trust within your group, with an expectation of give and take. For this to work at its best, each team member essentially has veto power over the actions of the team, this could be abused but that is obviously going to stifle progress. Instill a common belief that every member of your team is committed to the common goal and refrain from abusing the veto power. Finally, and this one is for you as an individual, give more than you take. For every time that you get others to agree (enough) with your idea, agree (enough) with two of their ideas that you don't necessarily find to be perfect.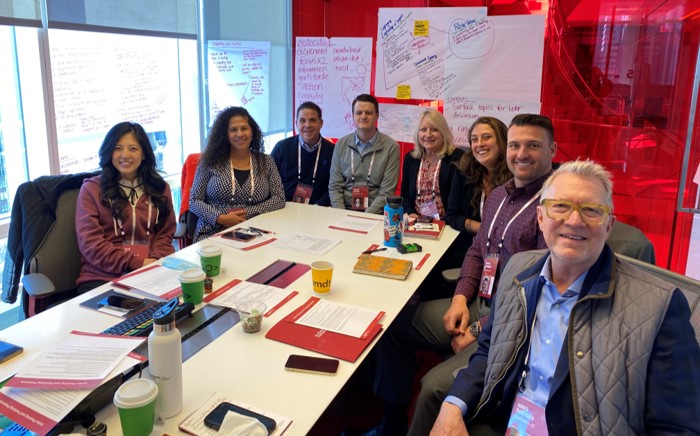 There is a mindset shift that this has created in me. When working in groups, my educational experiences taught me to take pride in how many of my ideas were included in the final product. Between being a team leader with the least expertise on the team and working hard to adopt the "agree enough" mindset, I have begun to take pride in how many ideas I can incorporate from others in a project.
When you do this, incredible things are possible. We have an actionable (not quite ready for a public forum like this) plan to improve upon our services to our neighbors experiencing homelessness. Luckily, I found an example of this in one of the world's most difficult collaborative environments that illustrates fully the power of agreeing enough. DISCLAIMER – this is not a statement on the gun debates surrounding the example, I am not advocating for or against the policy proposals. Twenty US Senators came together, ten from each political party, and they announced a framework for a gun violence agreement. In the PBS article I linked to, it highlights that this was not a perfect agreement for anybody. Still, they all were able to agree that we needed progress and collaborated more effectively on the issue than the US Senate has in my lifetime because they decided to simply "agree enough."
Luckily for us, while local governments collaborate on very difficult issues, our stakeholders tend to be more flexible than the major party platforms on gun issues. The good solution for many will consistently outperform what is a perfect solution for few. Working to "agree enough" includes more diverse perspectives and creates buy-in among a wider array of stakeholders. I hope we can agree enough that collaboration is better when it is more efficient, more diversely crafted, and more likely to succeed.