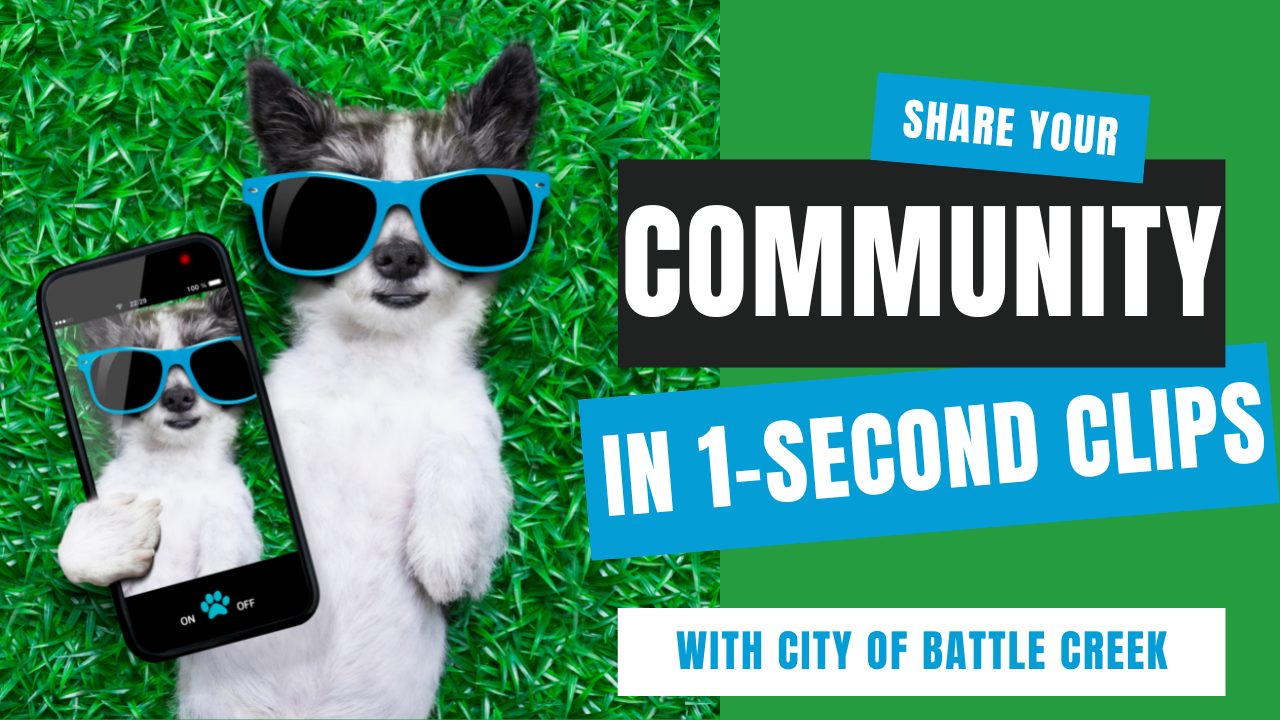 You are buzzing today with Jessica VanderKolk, Communications Manager for the City of Battle Creek, Michigan. Connect with me on Twitter and LinkedIn!
What I'm watching: Won't You Be My Neighbor (I love Mister Rogers.)
What I'm reading: Prince Charles: The Passions and Paradoxes of an Improbable Life (Why yes, I DID just finish S4 of The Crown.)
What I'm doing: Run the Edge's Amerithon challenge. I started on my birthday in December 2021, and I'm 763 miles in (running miles only), headed toward the Grand Canyon.
---
Depending on your sources, humans might or might not have a shorter attention span than the average goldfish, or less than nine seconds. Whether or not that's true, I feel that, as communicators, we are always trying to get to the point as quickly as possible for our communities. So I was thrilled to participate in a one-second video project, proposed by our local visitors bureau.
Let's check it out! We have done this as a community twice so far in 2022. I hope to use the idea for just our city in the future, too. Our project leader is still finishing our June version, so here is our January video:
Four community communicators worked together on this – our city, visitors bureau, public library (independent from our city government), and local community college.
We set up a shared January calendar using a Google document, making sure we covered the days evenly between us, including weekends. Our goal was to give a fun, well-balanced look at life in our city over the month of January, in one-second tid-bits.
Individually, we chose our video topics on our particular days, and filmed a few seconds each day, something easy to do on your phone. We sent our clips to our project manager, and she stitched them – with dates and brief descriptions – into the 1 Second Everyday app. She shared the video with us, and we all have been able to promote a great, positive project to our community.
For my part, January was a fun month, since we have snow – I shared a clip of Public Works moving a pile of snow, and our airport clearing a runway. I also shared clips of creating a Facebook event for our State of the Community address, my dog getting a pup cup on his birthday (that was a weekend), daily activity at our Waste Water Treatment Plant, a virtual reality training demo at our Police Department, a look the first new issue of our community newsletter, and a Joint Information Center briefing from our COVID-19 response team.
Full clip (with audio) of Hush Puppy's birthday pup cup, because dogs:
Our other teammates showed clips of college sports, some of our best natural assets and monuments, local businesses, and features of the two branches of our public library.
For our June video, I filmed clips of our absentee ballot drop box, our city water park, Juneteenth and African American flags flying at a local park, a press conference we held, and a fountain at a downtown park via a camera you can view online.
I hope you consider giving this a try in your communities. It's a great way to share and promote your activities, amenities, and attractions! Since the clips are so short, and don't require audio or speaking, your team can easily work together; I asked our airport and waste water teams to film those January clips for me at their own facilities. What a great way to promote what we do.
In a time when attitudes toward government and similar agencies continue to challenge us, I am all for projects that shine positivity, education, and fun on us. Let me know if you give it a try, and look for our June video coming soon!