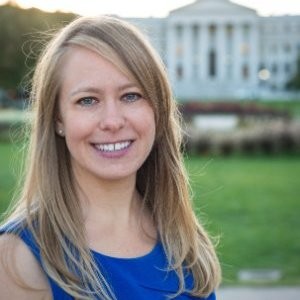 Today's Morning Buzz is by civic dreamer and doer Sarah Moss, MPA. She is a strategist based in Denver who helps clients solve policy and political puzzles across the United States. Connect on LinkedIn and Twitter and read her past ELGL posts.
---
What I'm Reading:

Behavioral science to help state and local government with COVID-19 vaccination outreach

What I'm Watching:

The (original) British

House of Cards

Trilogy

What I'm Listening To: Jazz artist Nnenna Freelon
---
It was a hot late-May day in Denver. I walked out of my house and opened the trunk of my car to… WAIT. A. MINUTE. Something's not right. Someone stole my rear license plate! Plate, registration stickers, screws, everything.
"Boooooo" from The Princess Bride via GIPHY
For many people, this would trigger anger and an existential dread of dealing with the motor vehicles office. For me, it presented two opportunities.
First, I referenced this hilarious outtake video from Emmet Otter's Jug-band Christmas by sending a photo of the car's naked rear to my boyfriend with the caption, "Hooligans! Probably some of those River Bottom Boys!"
Next, I geared up to be on the receiving end of one of my past process improvements.
"Have fun storming the castle" from The Princess Bride via GIPHY
My local gov career has included serving at the City and County of Denver twice (so far!): first in the Mayor's Office and later at the Fire Department. During my second stint at the City, I earned a Denver Peak Academy Black Belt in Lean process improvement and started teaching and leading process improvement. In 2016, alongside Black Belts from across Denver agencies, I participated in Behavioural Insights Team training. Then we worked on one piece of a series of process improvements and experiments to get people out of line at motor vehicles offices and get them online for renewing vehicle registrations. Multiple DMV process improvements reduced wait times "from an hour and a half to less than twenty minutes." (Read more on the Peak Academy blog: We tried this one technique, and what we found might shock you.)
But had our good work held up five years later… in a pandemic?
Voice of the Customer: Me
I opened a browser and typed "Denver stolen license plate." The first search result was a denvergov.org page called Replace Lost, Damaged, or Stolen Plates & Placards that told me, in order, everything I needed to do. So far so good.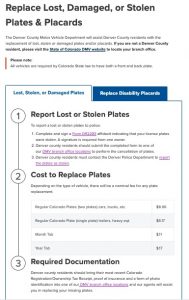 While I could file a police report online – and did, in under 10 minutes, woo hoo! – there wasn't an option to file the rest of the paperwork online, which was disappointing. But honestly, I wanted to go to the DMV office to see how well things were running, because I'm that kind of nerd.
Police report and other paperwork in hand, off I went. Outside of the DMV, about two dozen people were waiting in two socially-distanced lines. A friendly employee holding a tablet greeted me and asked for my cell phone number. She sent me a test text, which I received instantly. The text assigned me a number in line and said that I would receive another text when they were close to calling my number. I thanked the friendly greeter and took a walk around the neighborhood and listened to a podcast. (I also pondered that she didn't verify that I had all the correct paperwork before she put me in line. This could be a major pain point for other customers who were unknowingly unprepared.)
When my "your turn is soon" text arrived, I showed it to the greeter and she let me into the building. Inside the DMV office, I sat in a socially-distanced chair and waited less than five minutes before a clerk called me up to her window. She verified that I had brought the correct paperwork. I watched her movements. Everything she needed was in arm's reach or just a couple steps away: a computer, printer, license plates, and registration stickers. Impressive! Someone had paid attention to the movement and motion of those tasks, putting less wear and tear on her body and saving time for me and her. In less than five minutes at her window, I had new license plates and registration stickers in my hand.
Wait Times
You may be wondering: How long did I wait in total?
"I'm waiting!" from The Princess Bride via GIPHY
From getting in line for the initial outdoor check-in to completing the indoor window transaction was about 2.5 hours. It was much longer than I expected to wait. And also:
There's a pandemic

I went during the last week of the month

I went on a Friday

I went the Friday before Memorial Day weekend

Did I mention there's a pandemic?
Wondering if I might have a different experience if I went to the DMV on a different day or week,  I emailed some questions to a public information officer at the City. Amidst her many other duties – including stimulus funding work – she quickly replied and gathered data.
So far in 2021, the average Denver DMV wait time across five branch offices is about 49 minutes. The average transaction time is about six minutes. (I'd be curious to know the median, mode, and range of wait times, too. I hope DMV staff are also tracking those.) The PIO's email said,
"Prior to reopening [after COVID-19 office closures] we made a number of safety adjustments to the DMV Title & Registration. We installed plexiglass dividers at the windows, installed cues for social distancing, [implemented] a text program/process to let people know when we were at a safe capacity in the lobby to allow them to enter. We also spaced out our internal staff spaces for safety as well. We did not have a single COVID-19 incident reported to our OUCH line following our June [2020] reopening.  
"Regarding reopening, the DMV Title & Registration team made the conscious decision to open to the public for first-come first-served service rather than using appointments. This allowed us to safely process as many people as possible per day and catch up on our backlog faster than any other Metro Denver Title & Registration office. With scheduling appointments, staffing limitations and the limited number of appointments we could schedule would have resulted in it taking longer to catch up on the backlog and wouldn't have allowed us to serve people as quickly as we have been able to. The first-come first-served methodology was more efficient, effective and allowed for the maximum service delivery…. Since June 2020, the DMV Title & Registration team has experienced a fairly consistent customer flow ranging from 1,300 to 1,600 residents per day. This has remained consistent for all weeks of the month including the last week of the month. Historically, the DMV Title & Registration team has seen an increase in customer flow the final week of the month, however since June 2020, the daily customer flow has remained consistent with no significant increase the final week of the month."
When I read this, I felt proud. They are protecting the health and safety of residents and City staff. They are innovating. They are evaluating different service models for customer service. They are tracking performance metrics and benchmarking their work against other agencies.
Kaizen
Was my experience as a customer perfect? No. One principle of Lean is kaizen, a Japanese term for "continuous improvement." I'm certain the DMV staff and residents would prefer the wait times to be under 20 minutes again, not an average of 49 minutes or my experience of about 2.5 hours. I also know that Denver's population grew 21% from 2010 to 2019, and City staff are serving more residents than ever. As DMV staff continuously improve processes, they could also post wait time stats on the website to help residents plan ahead for their visits.
Thank you, City and County of Denver DMV staff. Not only did you make my potentially bad day better, your commitment to continuous improvement made me proud to be a resident and a former (and maybe someday again!) colleague.