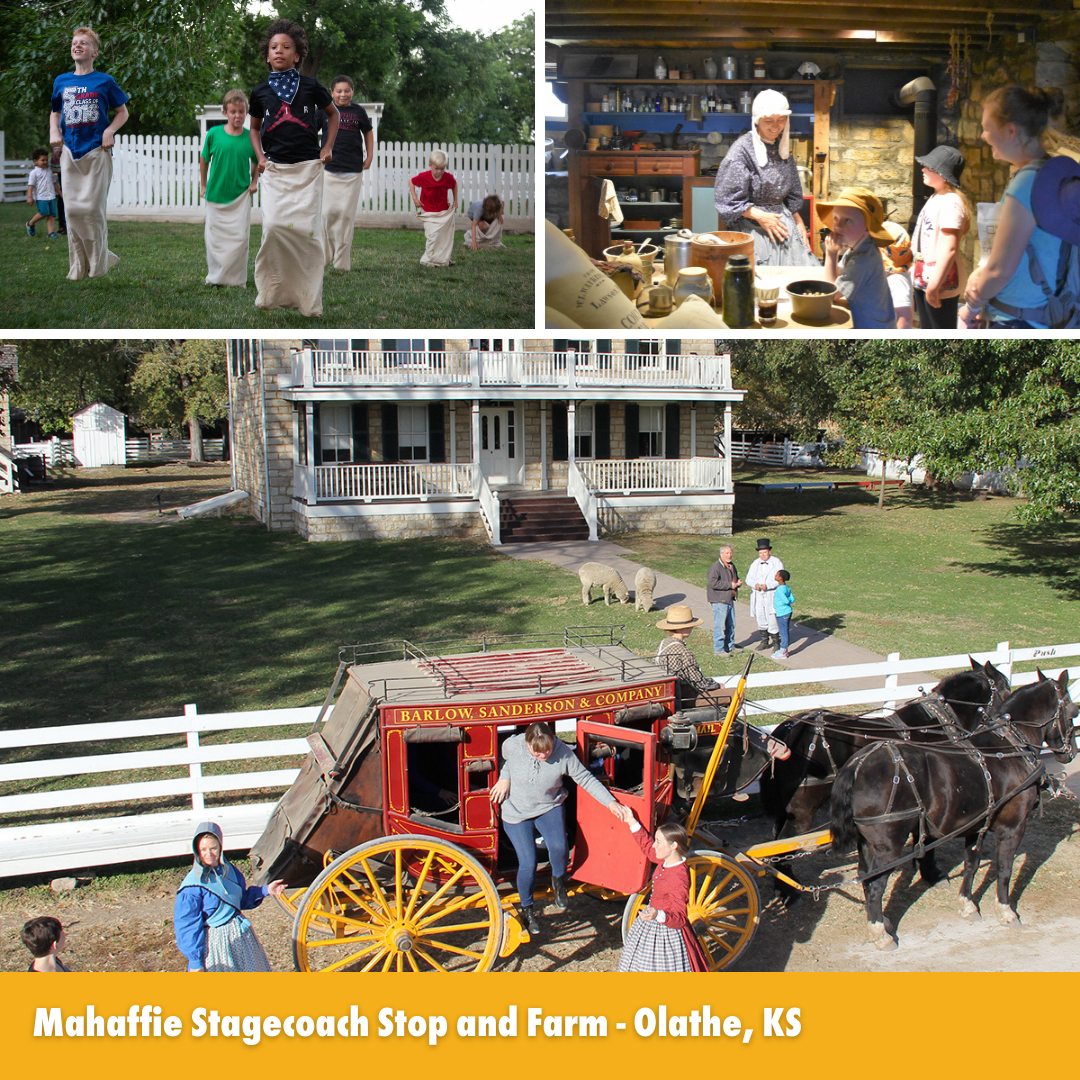 Voting for the 2022 Best Places in Local Government (aka the #ELGLKnope) Round of 8 opens on March 21, 2022 and closes at midnight PT on Friday, March 25, 2022. One vote per person. Learn more about this award online.
---
Mahaffie Stagecoach Stop and Farm
Olathe, Kansas 66061 
Year(s)/Era:

1860s-1870s 

Type of Place:

Building, Site  

Nomination:

Mahaffie Stagecoach Stop and Farm brings history to life every day.  The living history farm is the only intact stagecoach stop left on the Santa Fe Trail, preserved as a historic site and open to the public. This living history Stagecoach Stop & Farm offers unique experiences and opportunities that engage visitors of all ages in discovering 1860s farming, life on the Kansas frontier, and stagecoach travel. I am nominating this site because they are able to  bring history to life and they do it in very innovative and fun ways.  





Have you ever seen lamb yoga?  Well we have it on our YouTube Channel. What takes longer – a fighter fighter getting ready to battle a blaze or a woman sliding into an 1860's-era hoop skirt with coreset?  Our staff had a race! Fireworks set in the 19th century, a working blacksmith, and spooky fall tours of the Olathe Memorial Cemetery are a few ways that our staff connects our modern life with those who have gone before us.  This site is listed on the National Registry of Historic places and is a special place where history is brought back to life.





Have you been to a place that captures your imagination and takes you somewhere else for a while?  Mahaffie Stagecoach Stop and Farm does all these things and more.   This is not your standard history museum, it is your passport to experiencing life in simpler time—but it was simple at all. 

Most notable attribute(s):

Mahaffie Stagecoach Stop and Farm is "real" in that we've not been created, rebuilt, moved – this IS the Mahaffie farm.  The stone house is in it's original location, along with the stone ice house.  We are on 22ish acres of what's left of the 340 acre farm.





A good deal of our operation is based on our living history program for the public, which includes maintaining two stagecoaches and currently six horses.  As Mahaffie was a farm first, and then also a stagecoach stop, we raise and harvest a wheat crop with the horses, and thresh the wheat with a horse-powered treadmill and restored threshing machine.  We raise corn and garden crops as well, with school children and the general public providing much of the labor for planting and harvest along with our staff.    We also maintain oxen, chickens, goats, sheep, and pigs as part of our living history program (all heritage breeds from our era.)





Mahaffie Stagecoach Stop and Farm isn't a museum – it is a working farm and living history dedicated at preserving the way of life in 1860 and making a difficult period of time more comprehendible and alluring with today's modern life. 

Special designations or recognitions:

The Mahaffie site is listed on the National Register of Historic Places (and therefore automatically, on the Kansas Register of Historic Places.)




The Mahaffie site is a certified component of the Santa Fe National Trail by the National Park Service.




The Mahaffie site is a partner site with the Freedom's Frontier National Heritage Area.




The Mahaffie site is a Community Travel Information Center for the Kansas Tourism division.




Mahaffie has twice received exceptionally high ratings in the American Association for State and Local History Visitors Count! national survey program.




Our cemetery tours received  an award from the Kansas Recreation and Parks Association in 2008 for Outstanding New or Innovative recreation programming.

Three words to describe:

Inspiring, Revolutionary, Unforgettable 

Anything else to share?

A unique offering during COVID – write Letters to our animals campaign: and the animals wrote back!   Over 200 letters from 12 states and was recognized at the 2021 Kansas Tourism Conference as one of the Best 30 ideas in 30 minutes during the conference. 
Local Government:
City of Olathe, Kansas 
Olathe, Kansas 66061 
---