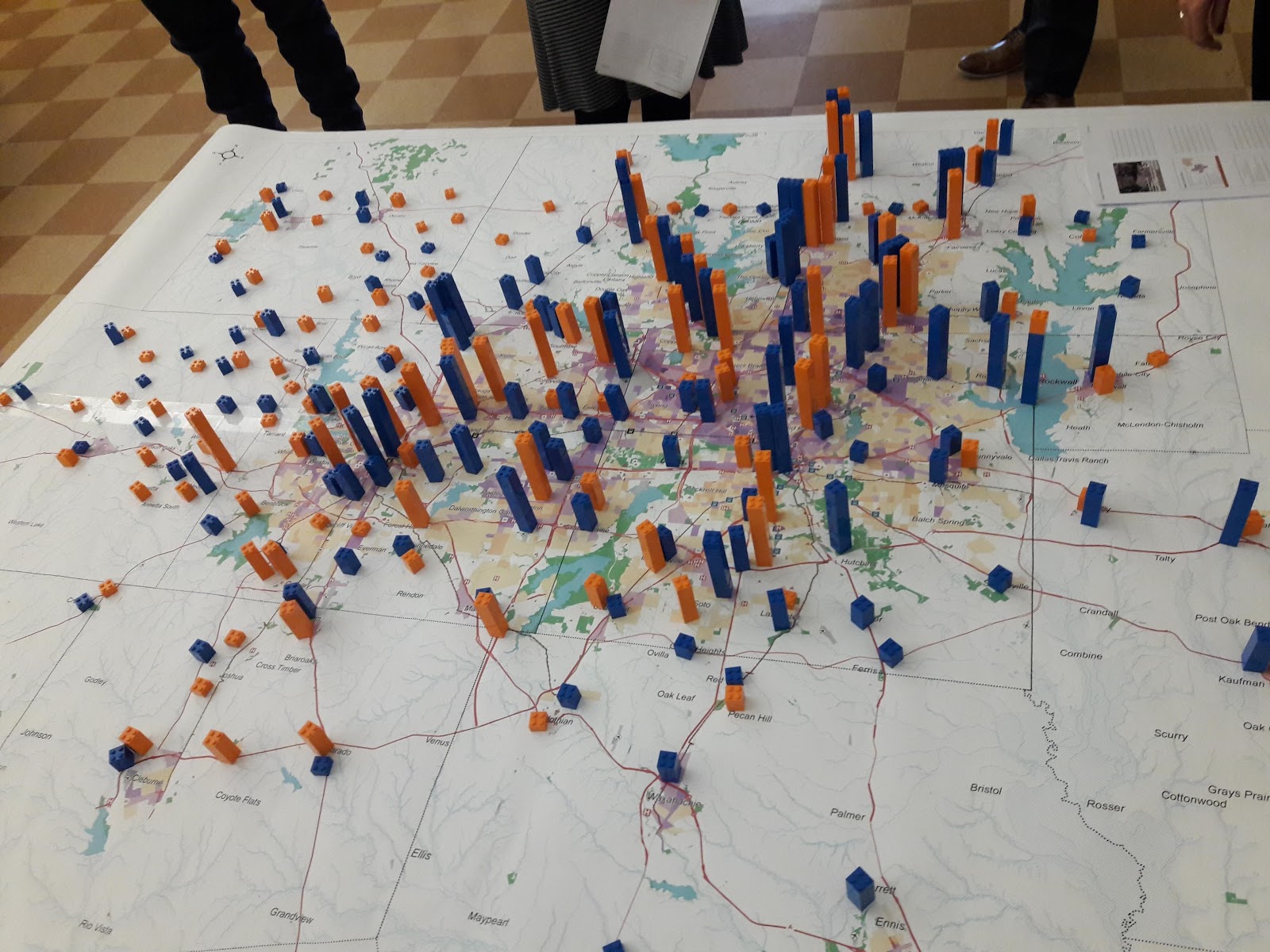 Confession: I hadn't paid attention to Main Street America until now.
That's a somber fact, considering I've been involved in community and economic development efforts for the bulk of my professional career. Much of the work has focused on housing development (and redevelopment), neighborhood growth, researching potential companies, or studying workforce trends. This is all incredibly important. We could also do a better job thinking about how these things impact regional growth on large – and small – scales.
There is a true Main Street movement across the country – and with good reason: "Downtown is important because it's the heart and soul of any community. If you don't have a healthy downtown, you simply don't have a healthy town." We've also started to pay more attention to the Housing + Transportation Index, which helps us change our definition of housing affordability to include transportation costs. Spoiler alert: location efficiency is a real thing and it isn't just about housing or transportation. It's also about access to jobs, training, healthy foods, daycare, and support systems, too.
I was recently part of an incredibly fun and important Lego exercise led by the North Central Texas Council of Governments. If we continue with our current patterns, we will lose 900,000 acres of agricultural land, double the amount of impervious surface, more than half of new households will live in water supply lake watersheds, and one-third of the region's households will live outside current urban areas in lower-density communities. By 2050, existing water supplies and electricity productions will not be able to meet the demand.
"Business as usual" growth comes at a price – a price we cannot afford.
Over the next 15 minutes, three different teams forecasted new growth patterns for our region using two different colors of Legos: blue for jobs and orange for households. Although each result was unique, one pattern was incredibly clear: central city growth is key.
Fort Worth, Texas is incredibly fortunate to have two key business districts, each with their own distinct personality. Downtown Fort Worth, home to Sundance Square, generates a larger payroll than any other employment center in the county, contributing 18.7 times its geographic weight in private payroll. It is also home to powerful hotel and residential markets; more than one-third of the city's hotel occupancy tax is generated in Downtown and housing inventory has increased by more than 77 percent. Downtown-adjacent Near Southside, Inc., home to Iter8 health innovation community, is "heart of Fort Worth's creative class and offbeat indie spirit and is experiencing an amazing renaissance, with dozens of restoration and new construction projects transforming the district and attracting new residents and businesses." In addition, the Near Southside is home to the highest density of medical jobs in the Dallas-Fort Worth region and is Tarrant County's second-largest employment center with more than 40,000 jobs, more than 60% of which are based in hospitals and healthcare.
This is one of the (many) reasons why efforts like Main Street Now are so important. We need to be thinking about ideas like the Main Street movement, smart growth, sustainability, and equity and how that impacts long-term success of our communities and encourages what we are seeing in Downtown and the Near Southside.
On Wednesday, May 20, follow SWELGL's Twitter account and get ready to learn five key themes: Innovation and Ingenuity, Changing Nature of Retail, Equitable Entrepreneurship, Sustainable Solutions, and Preservation and Development.
Here are sessions I'm most excited about (and I think you will be, too):
A Main Street Seat and the Public/Private Partnership Table


Two Washington, DC Main Street programs partnered with the city's water department to provide relief to businesses that lost customer traffic as a result of nearby sewer construction. What started off as a somewhat simple idea soon involved navigating the interests of a utility company, city staff, elected officials, neighborhood residents, and, of course, local business owners. $120,000 in grants were issued, but it wasn't a smooth ride. Main Street Executive Directors and consultant Jon Stover will share lessons learned and guide a larger discussion about how to balance the expectations, roles, and needs of a diverse array of stakeholders.
Preserving Philadelphia's Chinatown through Equitable Development

Projects like New York City's High Line and countless other green and cultural reinvestment initiatives that financial and other resources generated are not equitably distributed. These projects often result in displacement, trauma, cultural erasure, geographic isolation, and marginalization for low-income communities, communities of color, and immigrant communities. This session will highlight the approach that Philadelphia Chinatown Community Development Corporation and PolicyLink have undertaken to develop an equitable development strategy that will preserve the rich culture of Philadelphia's Chinatown and stem the displacement of low-income people of color and small businesses
Lunch Session: Combatting Commercial Gentrification

A low vacancy rate and strong rental market are, for many commercial corridors, signs of success. However, these factors are also tied to rising rents, demographic shifts, and hyper-competition for retail space, resulting in the loss of essential small businesses along with neighborhood identity and affordability. Join this lunch time panel discussion to hear about three different approaches for creating tools, resources and programming to work with local businesses and property owners to stem the tide of displacement.
Creating Sustainable Solutions for Commercial Corridors

By advocating for green initiatives, like holistic planning practices, green business programs, energy efficiency programs, and disaster preparedness, Main Street leaders can help their communities prepare for climate-driven changes–planned and unplanned–and reap positive economic impacts, such as reduced energy costs. In this session, participants will learn about the inherently sustainable characteristics of their older and historic commercial districts and how those assets can be leveraged toward their communities' environmental and economic sustainability. They will hear from colleagues Elevated Chicago, the Downtown Westfield Corporation, and Oregon Main Street about their innovative and practical approaches to realizing these sustainable goals.
Changing Streetscapes, Changing Lives: Sustainable Solutions for Main Street and Social Challenges

Beginning in 2006, Washington, DC's Shaw Main Streets developed and implemented a workforce training program to address social challenges, including homelessness, unemployment, lack of job skills, and ex-offender reentry, while also addressing commercial district public space maintenance, including litter collection, graffiti removal, and treebox maintenance. Fourteen years later, the program has expanded to over 30 neighborhoods, providing training and employment in public space maintenance, tree care, and ambassadorship. This session will include detailed information on structuring, funding, and implementing programs that use existing human capital to address Main Street goals, as well as a first-person testimonial from a former team member who is now a manager.
BONUS: Community Revitalization the Lighter, Quicker, Cheaper Way

Lighter, Quicker, Cheaper (LQC) is a short-term, low-cost strategy that leverages place-based assets to revitalize a downtown. It's a great way to not only engage the community, but also impact the economy. LQC focuses on transforming vacant and underutilized spaces into vibrant community destinations that can also transform a neighborhood. Hear more about LQC, where to get funding, and what type of spaces to transform. Then get the nitty-gritty details on a revitalization project conducted by a Main Street organization that spent about $10,000 to turn one place around and led to over one million dollars in investment.
About Main Street Now
Main Street Now is the "largest national conference of local leaders working to advance economic opportunity in downtowns and commercial districts." This year's conference will be hosted in Dallas, Texas from May 18-20. To learn more about the conference and register online, visit Main Street Now 2020.