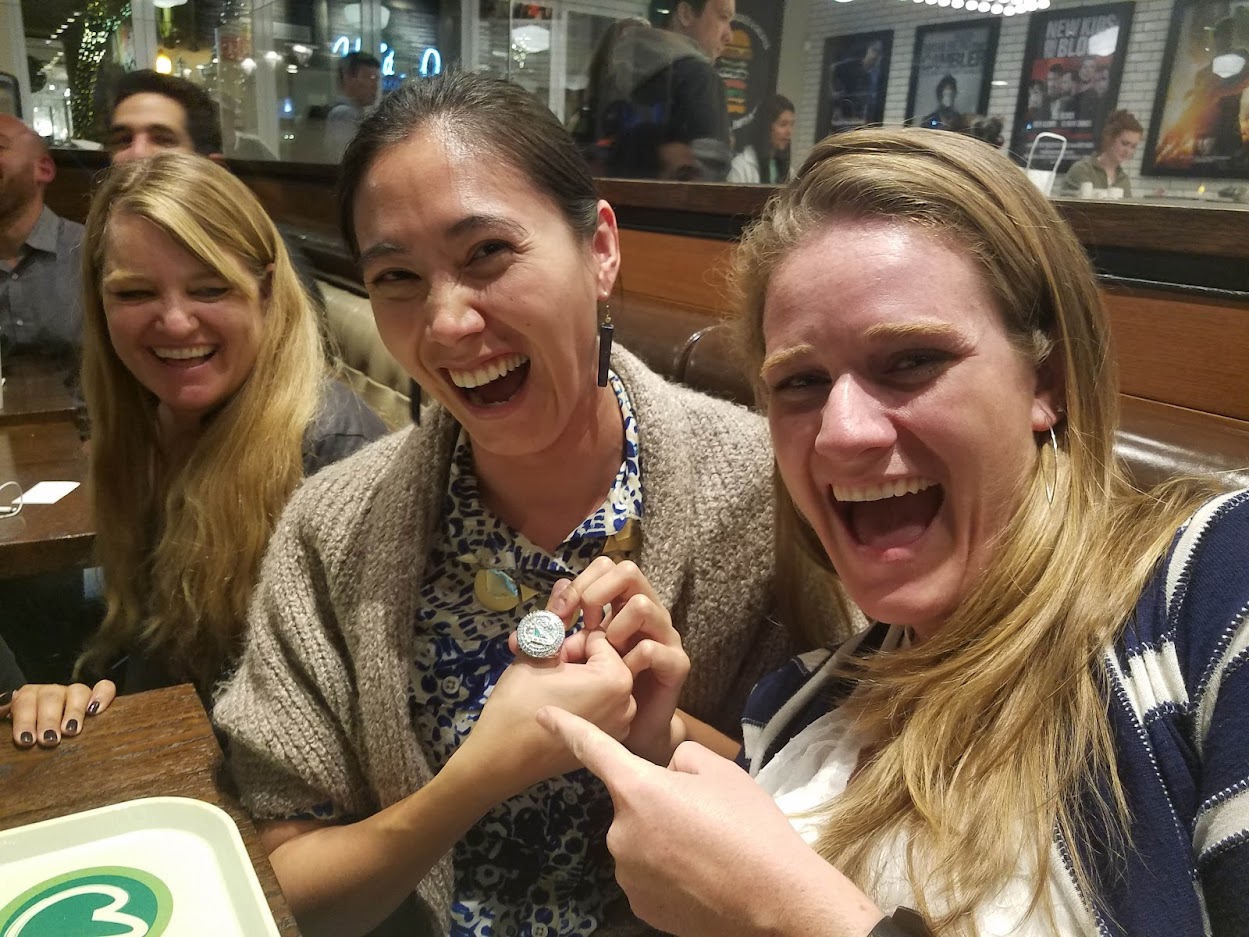 Today's Morning Buzz is brought to you by Kendra Davis, Senior Management Analyst for the City of Santa Clara, CA. Follow her on the internet at LinkedIn or Twitter, if she ever decides to tweet again. In the above photo, she is holding a championship ring for the Golden State Warriors that she did not win but was allowed to wear for a brief moment.
What I'm Reading: A Psalm for the Wild-Built, where a community-minded monk meets a "wild-built" robot generations after robots decided to leave the human world and live by themselves. A very sweet commentary on purpose and how we spend our time; plus, robots!
What I'm Watching: Utopia on Amazon Prime. It's a little more violent than I like, but it's full of super weird comic book conspiracy, so I'm into it. Also, Gillian Flynn adapted and produced it, so you know the writing is top-notch. 
What I'm Listening to: All Neko Case, all the time. I see her in concert this week, and I am SO STOKED!! 
---
The 2021 Summer Olympics are over, in case you were still waiting for the final race of competitive canoeing. I discovered this season that I am NOT an Olympics person. I am happy to hear that someone did well in their event and excited to get the highlights over a couple of days, but the 24/7 reporting was exhausting! My partner is decidedly an Olympics fan, and we are still recovering from his two-week obsession with yelling updates from the living room for every event.
One thing we could both agree on was that it was past time for the conversation surrounding mental health to be happening, and watching athletes set the necessary boundaries in order to keep themselves safe and healthy was as inspirational as any medal. In case you missed it amidst the gold-medal glory, a number of Olympic athletes took steps back from what could be called a once-in-a-lifetime opportunity because they felt it wasn't in the best interest of their mental, physical or emotional health. 
WHOA. With the whole world watching, athletes like Simone Biles and Naomi Osaka advocated for themselves in what will go down in history as a turning point for mental health. In many cases, these athletes represent the ultimate achievement, what thousands of others sweat and bleed and strive for. For them to take a deep breath with the pressure of the world on them and make space for themselves to be people, not just athletes, was wildly impactful.
As Simone Biles said, "I just feel like we have to focus on ourselves as humans, not just athletes, because I feel like we lose touch of our human feelings sometimes."
Working for local government can often make it feel like you have the weight of the world on your shoulders and you're expected to be a public servant robot (never not thinking about Kirsten's article on crying at work). While there aren't any medals at stake, there are always eyes watching and judgments being passed, no matter what your level (sorry if you thought you were working in a vacuum!). I've seen City Managers sit through eight hours of contentious meetings and turn around to lead a staff meeting the next morning. I've talked to coworkers who left their family camping trip to find a coffee shop where they could access the wifi for a few hours and provide "urgent" updates. I have been guilty of responding to late night emails and waking up early on vacation to make edits to a presentation.
While we may not be putting ourselves under the same international microscope and grueling physical strain as Olympic-level athletes (unless I'm doing it wrong?), most of us understand the pressure to push through and ignore the warning signs our brain is sending. In many cases, maybe you don't even recognize them! There's a lot of shame wrapped up in making space for ourselves because it feels weak or indulgent – No Pain, No Gain!
That thinking is dangerous. It can lead us to burn out, mental and physical exhaustion and take a long time to recover. In local government, it can lead to bad data, poorly executed programs or grumpy customer service. Even worse, because local government often struggles against the "we've always done it that way" mindset, these negative impacts could get baked into programs for years!
I'm not a mental health professional, nor am I an expert on what you can and cannot shoulder at any given time, so I'm not going to close this Buzz with any advice that makes it seem like I have my mental health game together. Only you know how much is too much. All I'm going to say is if Olympic-level athletes are learning to prioritize their mental and emotional wellbeing and it's not the end of the world, then there is hope for the rest of us.