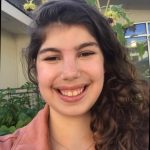 Hi! My name is Adina Goldstein and I am a sophomore at Willamette University. My hobbies are writing fiction, improv, and playing Dungeons and Dragons. I was born and raised all over the Bay Area California. I grew up in Berkeley and went to high school in San Francisco.
I hope to major in English and PPLE (Politics, Policy, Law, and Ethics). As part of my politics major, I am excited to take on this communications internship at ELGL because of the variety of people and places this organization reaches.
I want to learn about governments all over the country/world and explore their respective similarities and differences.
I am studying politics because the government is both a vital and overarching power in everyone's life. Unlike abstract philosophy, the government applies ethics and principals in a tangible way to the world. 
This will be my second experience as a communications intern, over the last summer I briefly interned in the PR department of my local county hospital.
Writing is my main skill set and passion. During high school and over this past summer, I worked at a journalism training program called YR Media. I have written three short books, two fictional novels, and one poetry collection.
I write because I believe words can not only teach people but move them emotionally.
I am here to help ELGL use words to communicate their message and goals. I am excited to collaborate with and learn from all of you.