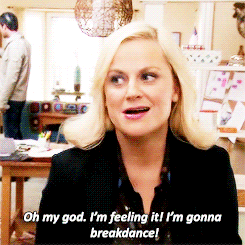 This blog is by ELGL's new employee – Emily Edmonds, the Membership Services Coordinator!
---
Hello, ELGL!

I'm so excited to be the new Membership Services Coordinator here at ELGL. Seriously, you should have seen Kirsten and I sharing jazz hands across thousands of miles and three time zones…
You know those moments in life when everything comes to a decision point you weren't expecting? I recently had a personal and career shift that forced gave me the opportunity to reevaluate what was most important in my life and in my work.
Applying to this position with ELGL fit all of my shiny newly-defined values: serving something I believed in, working with people who don't take themselves too seriously, and getting things done that matter in a small way every day.
I joined ELGL as a grad student at UNC-Chapel Hill, where I earned my MPA in an innovative online program that allowed me to learn with people from all over the world – from my tiny town in Western NC. (The ceiling is definitely the roof, by the way; go Heels!) I've been a member ever since, once got to do an ELGL webinar on local food economies, and have loved getting to know the people and places that you all represent. Birthday books and events are probably my favorite ELGL experiences (shout out to Zach Navin and Jen Lo!).
For me, this job isn't about cleaning up data or geeking out over the super-cool stuff our tech can do (although I am a total dork and love that, too). It's about supporting this network of cool people doing great work in small ways every day.

ELGL has given a lot to me over the years. Paying that forward to the organization and its members makes me feel all Parks & Rec breakdance (and trust me, I'm a terrible dancer, so that's rare and valuable to me).
Both my MPA and my professional experience have focused on rural places and spaces, often in nontraditional programs and positions since that's how we get things done in the sticks. I worked as a town clerk, housing administrator, greenway coordinator, project manager, food systems researcher, fundraiser, and street-festival-planner-extraordinaire for a number of different local governments and universities in North Carolina.
In addition to working with ELGL, I now work part-time writing and administering grants for cities, counties, and towns working to rebuild water and sewer infrastructure, catalyze economic development, build cool trails, upgrade town halls, and generally fight the good fight of local government every day.

I live in WNC (where I grew up in an unincorporated community of a couple hundred people in the mountains) with my husband and daughter. My county is the kind of place that describes itself as "A Quaint Little Drinking Town with a Fishing Problem" and then confuses the whole town and county identity a little. That's probably due to the drinking, not the fishing.
I like porch-sitting, hiking, growing/cooking/eating food, reading, and writing; I love to travel and recently went to Europe for the first time with just my daughter and two backpacks, which was pretty much the greatest thing ever. I also really like starting interesting conversations with people I meet through ELGL, so please feel free to reach out and say hello. I'd love to meet you, and eventually to help you with your pesky membership problems, too 🙂
---