Congrats to the inaugural cohort of the Public Sector Leadership certificate program, offered by ELGL, Claremont Graduate University's Drucker School of Management, and the Drucker Institute!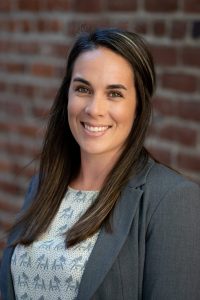 Melissa Hodnett
Assistant Finance Director, City of Bend
Connect with Melissa on LinkedIn
What's the best book you've read in the past few years?
The Alice Network by Kate Quinn
How did you end up working in the public sector?
Honestly, I moved to Bend and found a job here for a man (now my husband!). The City of Bend job description matched my qualifications and career needs perfectly. I had never really thought about the public sector before or how roads and water systems were built and maintained. It has been an eye opening and meaningful experience to assist in any way in providing services to the community where I live!
What job on your resume or LinkedIn was most formative for you? Why?
My most formative position was as a Financial Leadership Associate at United Technologies. It was a two-year rotational program where I spent six months in each of four positions throughout the company and across the globe. This program formed my early ideas of what work and leadership were, but also encouraged me to learn quickly and improve processes after the person before me!
What do you think is a common misconception people have about leadership?
That leadership is a thing, and there are specific qualities that you need to be a leader. Leaders have strengths and weaknesses like everyone else, and the key is utilizing those strengths to lead in your own way. I highly recommend the book Nine Lies About Work by Marcus Buckingham for more!