Meet the Transformative Water Leadership Cohort! We're profiling the local government leaders who were accepted into this cohort to build resilient organizations that are unafraid to try new things, reform and improve business processes, and encourage empathy throughout the organization.
---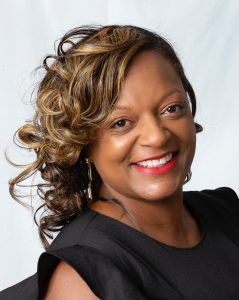 Tiffaney Hardy
Greater Cincinnati Water Works
Assistant Superintendent, Marketing and Communications
Cincinnati, Ohio
Connect: LinkedIn | Twitter | Instagram
---
How would you explain your job to someone you just met?
I am a public servant at heart who uses media, communications, strategic planning, and community outreach to help local government. I have been with the City of Cincinnati for 18 years and I am known for my hard work and dedication. I am responsible for internal and external communications and communicating the Greater Cincinnati Water Works brand regionally and nationally, media relations, social media outreach, risk communications as well as developing community engagement strategies and programming for diverse stakeholders and internally for employees. I get to tell others about the great work GCWW does every day providing high quality water for our region.
What is something you think is cool that most people think is boring?
Writing and talking to people! Taking cool photos and writing captions. Writing… people think that's pretty boring! Making cool connections and talking with people in order to solve problems.
What was your path to local government work?
My exciting path to local government began working with the American Heart Association as a Cultural Field Health Initiatives Director for the Ohio Valley Region which included Charleston, West Virginia, Dayton/Cincinnati, Ohio as well as Lexington/Louisville, Kentucky. I then began my 18-year journey working for the City of Cincinnati with the Department of Public Services. In 2000 I was appointed to serve (in a volunteer capacity) on the Cincinnati Board Health as a member and youngest chairperson of the Cincinnati Board of Health dealing with many public health, water quality, and environmental justice issues. I officially joined the City of Cincinnati in 2004 with the Department of Public Services and then the City Manager's Office for the City of Cincinnati. I then joined the Cincinnati Police Department as the Director of Communications and Community Relations where I was responsible for executing strategic communications, intergovernmental relations, media relations, emergency response and risk communications, as well as citizen engagement. I then joined Greater Cincinnati Water Works in the role of Assistant Superintendent for Marketing and Communications where I have been working for the past two and half years.
Where does your to-do list live?
Post-it Notes and a daily notebook.
What's a local government topic or trend that you think more people should know about?
One local government trend that I think people should know about is Community Outreach vs Civic Engagement and knowing the benefits of fostering positive Civic Experience in addition to civic engagement.
What was the first music purchase you made? What format was it (e.g. tape, CD, download…)?
Tape. I'm old school, so I remember the paperback tape order forms where you would order them and they were mailed to your house. My first order was New Edition, Chante' Moore, Sade', and a few others (a case full!) that I can't recall right now! lol : ) Had to buy a new leather tape case, too!
What question should we have asked you? What is the answer?
What is your proudest moment? 1) The birth of my KID [King In Development], my 19-year son, James Alfred Hardy, III. 2) Being selected as Commencement Speaker for my graduating class for the University of Cincinnati's Class of 2000, 3) Winning a 2018 Emmy as an Executive Producer for a community relations video dedicated to fostering positive police community relations for the Cincinnati Police Department. I know you asked for one, but it was my question, right?!?! lol… Okay one more, when my Cincinnati Bengals made it to Super Bowl LVI in California and I went out to LA for the Super Bowl festivities.