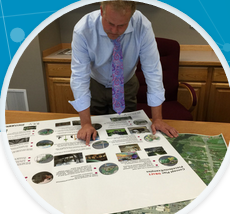 Mike Darrow

City Administrator & Utility Manager, City of New Richmond, WI
---
So far, what's your proudest accomplishment in 2019?
Attending yoga 2-3 times per week.
Valentines Day is in February. What do you "love" about your job?
I love our community and the opportunities that this job offers.
(Complete the sentence) Before I die I want to…
See if I can get my ankles to touch the floor doing downward-dog during yoga practice  (and see great white sharks swim off the coast of South Africa).
10 Year Challenge! What were you doing in 2009? How did it help you reach your current position?
I was working on the private-side of things 10 years ago.  Consulting allowed me to focus on solutions, communication and collaboration.
(Complete the sentence) The first time I heard about ELGL was…
when I was nerding out by researching various planning topics on-line.  I love the approach that ELGI takes in promoting professional development and empowering people of diverse backgrounds within local government.   The socks are cool as well.  Empowerment, creativity, innovation and fun is how I would describe ELGL.
What question should we have asked? What's the answer?
Best part of life… being a dad.  Our focus here is New Richmond is "family-first and safety-first."  I strive to be an example of balancing my work life with family life (yoga has helped this past year).   Being a dad is simply the greatest thing that has ever happened to me.
---
Welcome to ELGL! We profile our members so you can learn more about them and also connect on Twitter and LinkedIn to grow your local government network! Reach out to our new and renewing members and strengthen your local gov community.