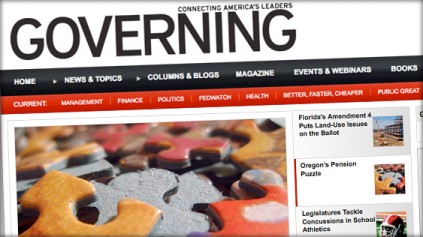 GOVERNING has given us permission to reprint Mark Funkhouser's column that appeared in the March 2015 issue. Why should you care? Mark, a Knope of the Week winner and Publisher of GOVERNING, weighed in on the #13Percent initiative and confirms that the status quo is not acceptable. What could be better? ELGL and GOVERNING are exploring a number of opportunities to partner together in the coming months.
Our Missing Leaders
By: Mark Funkhouser – LinkedIn and Twitter
It's hardly news that women are underrepresented in government, but the statistics are eye-openers nonetheless. According to the Center for American Women and Politics, women constitute less than a fifth of members of Congress and less than a quarter of those holding statewide elected offices or seats in the state legislatures. While the number of women in Congress has crept slowly upward since the 1990s, their representation in state governments has been essentially flat.

The situation in the top professional ranks of local government is worse. In a recent article in the International City/County Management Association's PM magazine, Heidi Voorhees and Rachel Lange-Skaggs report that women make up only 13 percent of local government chief administrative officers—the same percentage as in 1981.
So what's to be done? Kirsten Wyatt, an assistant city manager in West Linn, Ore., and co-founder of Emerging Local Government Leaders (ELGL), appreciates Voorhees' and Lange-Skaggs' research but finds their recommendations—such as advising women to "navigate the assertiveness dilemma" and "develop informal networking groups"—too bland. In an ELGL blog post, Wyatt described reading the recommendations over and over "and each time I read them, I could feel my blood pressure building and my frustration growing. I want outrage from the top leadership in ICMA, NLC, U.S. Conference of Mayors, NACo."

She has a point, and the issue is more than one of equity and appearances. Having more women as top administrators and elected officials is a clear path to better government. Research shows that women tend to be more responsive to constituents and therefore more able to bridge the disconnect between people and their governments. And it's important to remember that success in the public sector, when it occurs, is a team effort. Teams with more women on them are smarter, studies tell us.
In these contexts, our Women in Government Leadership Program couldn't be more timely and relevant. As described in a special section in this issue, this new Governing Institute project is working to create a bipartisan national network of women thought leaders in elected and appointed positions. The profiles of the 24 inaugural class members are inspiring, and we pledge to work with them to increase the numbers of women running for office, seeking high-level appointments and serving as top managers. If our work can help ease the frustrations of people like Kirsten Wyatt, we'll have accomplished something important.
Supplemental Reading