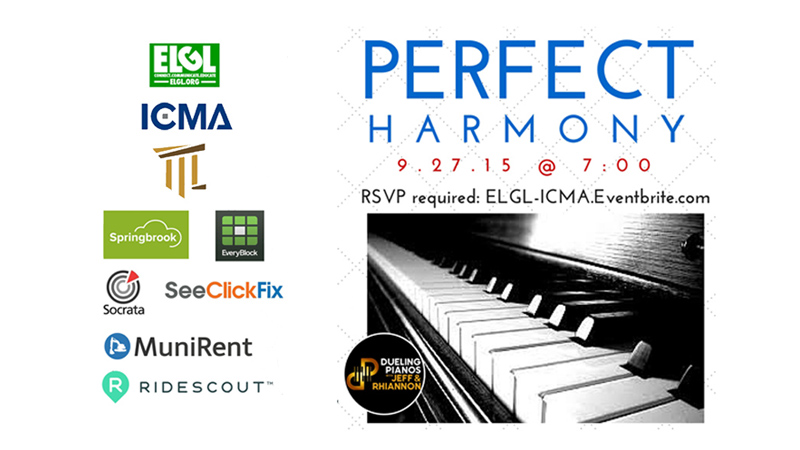 For the second year in a row, ELGL will be co-hosting an event at the ICMA Conference. This year we're bringing a couple of pianos and booking a much larger room. More than 500 local government professionals from all areas of local government will attend. Registration will continue until we reach maximum capacity. We recommend registering as soon as possible.
Let's get prepared for the ELGL and ICMA "Mixing in Perfect Harmony" event by hearing from our guests.
City of Sherwood, OR – City Manager
If you could pick any three bands (dead or alive) as the opening act for the Dueling Pianos event, which would you choose?
(Complete the sentence)When I learned the ICMA Conference was being held in Seattle, I thought….
Cool, I can take the train!

(Complete the sentence) I knew local government was the career for me when….
When I got excited in my high school years about the redevelopment of the riverfront in my hometown of Toledo, Ohio


Our #13Percent Initiative focuses on increasing diversity in the local government workforce. Give us your perspective — does local government have an issue? what, specifically, can we do to increase diversity in the workforce?
Yes, we clearly have an issue when the percentage hasn't really moved in decades.  The first step is acknowledging the realities (as the 13Percent Initiative has successfully accomplished).  I am proud that nearly half of my senior leadership team is composed of women and I work for a City Council that consists of six female elected officials out of seven.  We are ahead of many other organizations and elected bodies.
The Seahawks lost the Super Bowl by passing instead of running from the 1-yard line. Give us your best tip(s) for rebounding from difficult situations.
Obviously, as a diehard New England Patriots fan, I do not believe that last year's Super Bowl was a difficult situation!