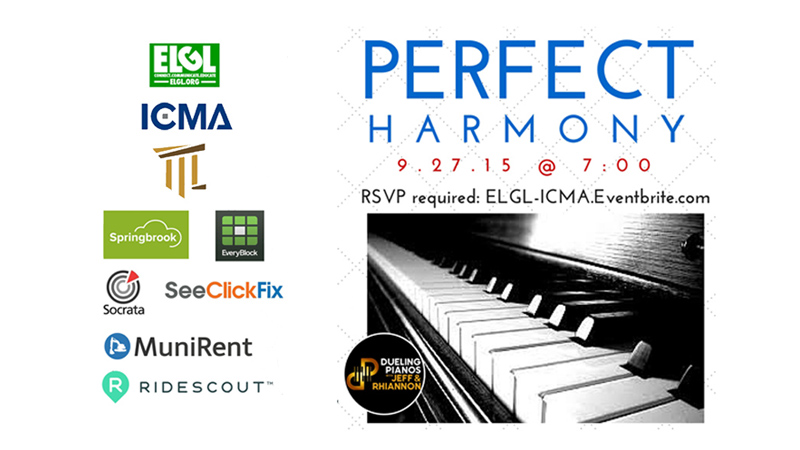 For the second year in a row, ELGL will be co-hosting an event at the ICMA Conference. This year we're bringing a couple of pianos and booking a much larger room. More than 500 local government professionals from all areas of local government will attend. Registration will continue until we reach maximum capacity. We recommend registering as soon as possible.
Let's get prepared for the ELGL and ICMA "Mixing in Perfect Harmony" event by hearing from our guests.
Megan Roach

(LinkedIn) – City of Beverly Hills, CA

If you could pick any three bands (dead or alive) as the opening act for the Dueling Pianos event, which would you choose?
Bruno Mars and the Hooligans
Grace Potter and the Nocturnals
(Complete the sentence)When I learned the ICMA Conference was being held in Seattle, I thought….
Great choice! Seattle has a great buzz, beautiful scenery and lots of amazing coffee.

(Complete the sentence) I knew local government was the career for me when….
I interviewed for an internship with the City of Laguna Niguel and met then City Manager Tim Casey. His love and enthusiasm for the community and for the local government profession were inspiring.
Our #13Percent Initiative focuses on increasing diversity in the local government workforce. Give us your perspective — does local government have an issue? what, specifically, can we do to increase diversity in the workforce?
Diversity is important in all professions and while I support the overall objective of the 13Percent initiative, we need to acknowledge that not all women want to become City Managers. I want the number of female CEOs and City Managers to increase, but it's important to let women know that isn't the only option. Let's encourage women to also explore other management positions and provide more peer mentoring opportunities for those positions.

The Seahawks lost the Super Bowl by passing instead of running from the 1-year line. Give us your best tip(s) for rebounding from difficult situations.
The number one thing I have learned over the years is to not take things personally. You can only control your actions. Do your best and if things don't go as planned regroup (fresh air and exercise are key) and start again.[/vc_column_text][/vc_column][/vc_row]