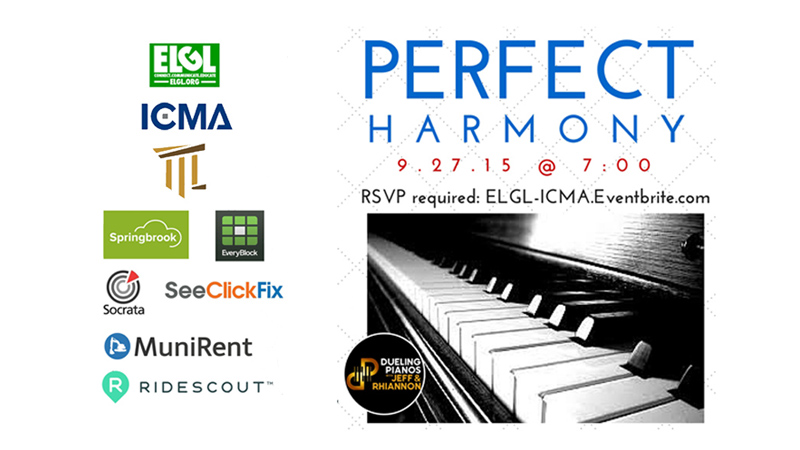 For the second year in a row, ELGL will be co-hosting an event at the ICMA Conference. This year we're bringing a couple of pianos and booking a much larger room. More than 500 local government professionals from all areas of local government will attend. Registration will continue until we reach maximum capacity. We recommend registering as soon as possible. Let's get prepared for the ELGL and ICMA "Mixing in Perfect Harmony" event by hearing from our guests.
Pam Weir
City of Sierra Vista, AZ
If you could pick any three bands (dead or alive) as the opening act for the Dueling Pianos event, which would you choose?
When I learned the ICMA Conference was being held in Seattle, I thought….

I'll pack some Arizona sunshine in my suitcase.
I knew local government was the career for me when…..
I spent a summer in college working with homeless youth in Phoenix and saw firsthand how local government infrastructure and services allowed them to survive.
Our #13Percent Initiative focuses on increasing diversity in the local government workforce. Give us your perspective — does local government have an issue? what, specifically, can we do to increase diversity in the workforce?

The local government workforce does suffer from a lack of diversity.  The fact that the city management profession is becoming more self-aware of this problem and starting to make some change gives me hope. There are many steps we can take to increase diversity; here are six of my ideas:
Do more to increase visibility of careers in local government among students of all ages
Mentor aspiring professionals of diverse identities and backgrounds
Make sure that conference session speakers and classroom guests reflect diverse identities
Ensure that our organizational cultures embrace diversity and are safe environments for all
Hire people who are different from us
Be willing to recruit from outside the traditional city management pipeline—look for exceptional leaders beyond just other local governments and MPA programs, and give them a chance to sip the local government Kool-Aid
The Seahawks lost the Super Bowl by passing instead of running from the 1-year line. Give us your best tip(s) for rebounding from difficult situations.
Take some deep breaths, expand your focus to be wider than just the difficult situation in question, and ensure future success by not making the same mistake twice.
Supplemental Reading
1984 with Pam Weir, City of Sierra Vista, AZ
Quick Take: Pam Weir, City of Sierra Vista