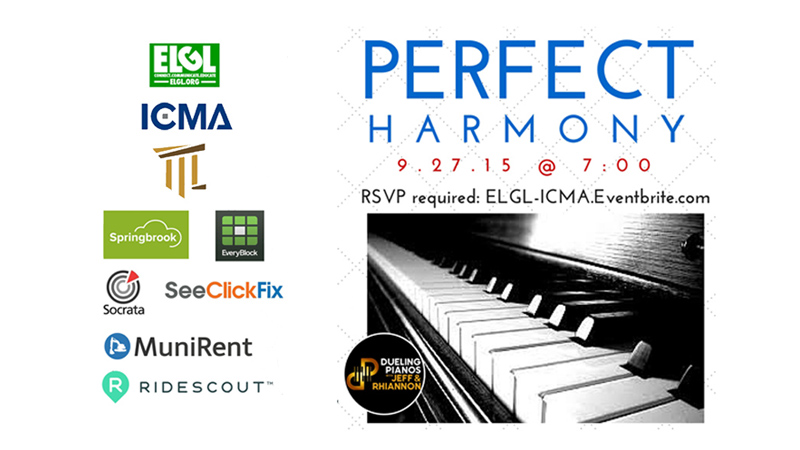 For the second year in a row, ELGL will be co-hosting an event at the ICMA Conference. This year we're bringing a couple of pianos and booking a much larger room. More than 500 local government professionals from all areas of local government will attend. Registration will continue until we reach maximum capacity. We recommend registering as soon as possible.
Let's get prepared for the ELGL and ICMA "Mixing in Perfect Harmony" event by hearing from our guests.
Bonnie Svrcek, City of Lynchburg, VA – Deputy City Manager
If you could pick any three bands (dead or alive) as the opening act for the Dueling Pianos event, which would you choose?
Bruce Springsteen and the E Street Band
Carole King and James Taylor at the Dueling Pianos
Zac Brown Band
(Complete the sentence) When I learned the ICMA Conference was being held in Seattle, I thought….
…wow, what a great opportunity to visit the Pacific Northwest! I sure hope a lot of my ELGL friends will be there!
(Complete the sentence) I knew local government was the career for me when…

…I realized that making an impact happened in communities not the lofty towers of HUD in Washington, DC!
Our #13Percent Initiative focuses on increasing diversity in the local government workforce. Give us your perspective — does local government have an issue? What, specifically, can we do to increase diversity in the workforce?
YES, there is an issue! Research shows that women bring a set of knowledge, skills and abilities to leadership that men do not bring…communities without women in influential positions are missing opportunities to be even greater than they may be!  We can increase diversity in the workforce by educating local elected leaders on the benefits of women in leadership.  We can do this though working with Municipal Leagues throughout the country.
The Seahawks lost the Super Bowl by passing instead of running from the 1-yard line.  Give us your  best tip(s) for rebounding from difficult situations. 


From Keith Stevens:  Go with what works; don't overthink or second guess the   tried and true.