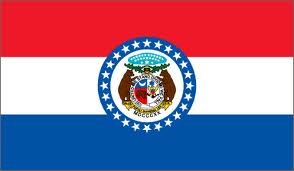 Fifty Nifty Takeaways
What do we hope to learn from this series? We hope you will gain a better understanding of the unique characteristics of local government in each state, we hope you will learn that there are others like you who are motivated to make a difference through the public sector, and we hope you will learn that it is best to learn from others' mistakes than yours.
Our Take on Missouri
The 50 Nifty has arrived in the "Show Me State" to learn from one of the rising stars in local government, Jennifer Gray, Des Peres (MO) assistant city administrator. Jennifer has advanced through the organization after starting as a management intern in 2011.
We'll return to Jennifer shortly but let's find out about Missouri. The first thing to know is if you want to have a good time Missouri might be the place for you. Missouri has some of the least restrictive laws toward alcohol and tobacco. Missouri has no statewide open container law or prohibition on drinking in public, no alcohol-related blue laws, no local option, no precise locations for selling liquor by the package (allowing even drug stores and gas stations to sell any kind of liquor), and no differentiation of laws based on alcohol percentage. Missouri has no laws prohibiting "consumption" of alcohol by minors (as opposed to possession), and state law protects persons from arrest or criminal penalty for public intoxication.
Some of Missouri's pop culture contributions include Nelly, Mark Twain, 1904 Summer Olympics, Tina Turner, and Meet Me in Saint Louis. As if that wasn't enough, Missouri is also home to Branson which is a mecca in the country music world.
Directing our attention toward government, Missouri is viewed as a bellweather in presidential elections. The state had a longer stretch of supporting the winning presidential candidate than any other state, having voted with the nation in every election since 1904 with three exceptions Harry S Truman (1884–1972), the 33rd President of the United States (Democrat, 1945–1953), was born in Lamar.
Missouri has 114 counties and one independent city (St. Louis). Jefferson City is the capital of Missouri.The five largest cities in Missouri are Kansas City, St. Louis, Springfield, Independence, and Columbia. And luckily, for your readily pleasure, Missouri has its share of obscure laws. 

Excelsior Springs: Hard objects may not be thrown by hand.
Marceline: Minors are allowed to purchase rolling paper and tobacco but not lighters.
Mole: Scaring babies is illegal.
Purdy: Dancing is not allowed.
St. Louis: Milk men may not run while on duty.
Vitals
Jennifer Gray
Des Peres (MO) Assistant City Administrator
Work Experience: Assistant to the City Administrator, City of Des Peres, Management Intern, City of Des Peres, Missouri, and Management Intern, City of Kirkwood, Missouri
Education: Saint Louis University, Master of Arts, Public Administration and Lincoln University, Bachelor of Science, History, Political Science
Background Check on Jennifer
Jennifer N. Gray is the Assistant City Administrator and has been employed with the City of Des Peres since May 2011.
Jennifer is a 2002 graduate of Falls High School and received her bachelor of science degree from Lincoln University and master of arts degree from Saint Louis University.
Here's how Jennifer describes Jennifer:
"I am passionate about public service and the purpose of government. I greatly enjoy systems analysis and process improvement. To that end, I strive hard as a manager to innovate and collaborate to improve all aspects of the organization both internally and externally. I consider my greatest attributes to be communication, dedication and vision."
Connect: Facebook, World Wide Web, and YouTube
The City of Des Peres is located in St. Louis County at the intersection of Interstate 270 and Manchester Road which places it central to the St. Louis Metropolitan Area and within 7 miles of the City of St Louis.
The city is a high-end residential community with a population of 8,373 per the 2010 census. The city is also home to a high concentration of retail and commercial development including the International Headquarters of Edward Jones and the West County Center Regional Mall.
Des Peres was incorporated in 1934 and operates under the Mayor-Board of Aldermen-City Administrator form of government as a 4th Class City under the Missouri Statutes . The Board of Aldermen is composed of six members with two elected from each of the city's 3 wards for a 2 year term of office. The Mayor and Aldermen are part-time officials, meeting twice monthly in regular session, typically the second and fourth Monday's of the Month. The City of Des Peres does not assess a real or personal property tax and has not for the past fifteen years. 
Lightning Round
Best piece of advice from your parents.
Love what you do and be passionate about it – anything worth having doesn't come easy, it takes commitment and hard work!
In a dream world, which bands would headline your retirement party?
Beatles, Fleetwood Mac and Garth Brooks
(Complete the sentence) Before I die I want to…….
…continue to travel the world as much as possible. I lve to experience new places and culture.
Three most influential books in your life.
Democracy in America by Alexis de Tocqueville
Eat and Run by Scott Jurek
The Strength in What Remains by Tracy Kidder
If you could FaceTime with five people (dead or alive and not including family members), who would be on the list?
Barack Obama
Margaret Thatcher
Tom Brokaw
Howard Schultz
Oprah Winfrey
Describe the inside of your car.
At least two umbrellas (golf umbrella on the floor and a small one in the back seat pocket), a copy of Auto Upkeep (my brother Michael and his wife Linda's book, for quick reference), a water bottle in the cup holder and some trash in the side door bins. I am a little obsessed with keeping the inside of my car clean and neat.
What's the meaning of life?
Leave the world a little better that you found it.
Q & A with Jennifer
Give us three bullet points that best describe local government in your state.
Networked
Responsive
Politicized
We'll assume you didn't grow up dreaming about a career in local government. What was your dream job as a 12-year old? What was your first local government job? How did you end up in local government?
My dream job when I was 12 was to be an Astronaut. I was memorized by the universe and all things in the sky.  I even had a giant poster of the space shuttle as a main fixture of my bedroom decor growing up.
My first local government job was with the City of Kirkwood, MO (as a graduate intern through Saint Louis University). I took on a major project involving analysis of city-wide performance measurements.
Growing up, my mother was heavily involved in our small community (as a local business owner) and led as a great example for my siblings and I. She taught us to care about what was going on around us by exposing us to a lot of community meetings, events and fundraisers. She was constantly giving back to the community and volunteering her time.  I would say it was ingrained in me as a child to care about your community and to give back.  Specifically however, I was inspired to explore this career path by my older brother Jason Gray who is the City Manager of McKinney, Texas.  When I was in graduate school he and I had a conversation one day about what career path I wanted to explore once out of my MPA program. He encouraged me to try an internship in local government and see where that led. I took his advice and couldn't have found a better fit for me.
Give us your top three career accomplishments.
Project manager of a complete redesign of the City's Website – including overseeing first "community profile video" production. I am very proud of this project because I think it brought our communication and transparency to the 21st century standard.
Project manager of city's wireless agenda project –transforming our communication with the Elected Officials and Department Heads.
Communicating the need for the first community-wide general attitude survey to be conducted of Des Peres residents (2014 approved project), I will be project manager.  It is important for the City to see what residents think we do a good job on and where we can improve – as well as what interests they have for the future of the community.
We often learn from our mistakes. Name one or two career mistakes that you have made that you think we could learn from.
As a new manager, it is hard sometimes to not jump to conclusions in certain circumstances when information is presented to you.  I have learned that you have to take your time in processing the information and in formulating your conclusion as every circumstance is different.
Our experience has been many of our friends, family, and neighbors are not well versed in what it is we do in local government, many think we are a "planner" or "mayor". Has this been your experience?
Yes! I am constantly asked if I would like to become Mayor someday or told, "You'll be Mayor in no time!"  At that point, I politely try to explain the difference between the City Administrator's role and Elected Official's role if given the opportunity. However, I think there is still a significant disconnect for most of the population on the structure/operations of local government.
How can local governments better communicate their role in the everyday lives of the community?
Strategically, proactively and creatively!  Better communication about the role and impact of local government everyday lives ties directly to the issues/confusion brought up in question 5.  As local leaders, we must be cognizant in promoting the benefits and services of local government. Local government leaders must learn to listen and adapt to be able to reach people where they are at.
Would you encourage your family and friends to consider a career in local government?
Absolutely!  This profession is a challenging, yet extremely fulfilling career – to be able to see and feel the impact of your work in a community and be a part of democracy on the ground floor is incredible.  Also, each day is different which helps to keep you on your toes and constantly growing as both an individual and a professional.  Caution however, you must have a thick skin and be able to adapt to changing situations with relative ease.
Hypothetically, if we find ourselves interviewing for a job in front of you, talk about three steps we can take to make a good impression.
Be confident, speak clearly and concisely.
Know your audience and do your research about the community – know more than generalities.
Be genuine – try your best to display and communicate who you are and why you are interested in the job and more specifically, serving the public.
Mentoring is such an important part of local government. Name three of your mentors.
Douglas J. Harms, City of Des Peres, MO
Jason Gray, City of McKinney, TX
(Complete the sentence) In 2018, local government will be ……
…… advanced in all aspects of communication and resident interaction.  I also hope that in general, local government will be more integrated and collaborative not only on a state level but also on the national level.
50 Nifty Profiles