This blog is by ELGL member Samantha Harkins, the Chief Of Staff to Lansing Mayor Andy Schor.
---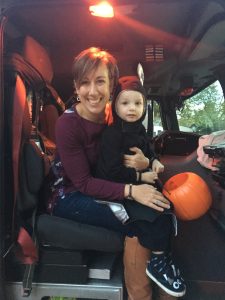 Some kids get to go to Disney World in vacation; others to an indoor water park. Not my kid. At the tender age of four he's a public market aficionado, having been to such great ones as St. Lawrence Market in Toronto, the Milwaukee Public Market and Soulard Farmers Market in St. Louis.
He's eaten beignets while watching street performers in Jackson Square in New Orleans. He's visited children's museums in Pittsburgh and Richmond. He's taken light rail to the zoo in Portland, Oregon and humored his parents as we ate oysters and lobster rolls at Eventide Oyster Company in Portland, Maine.
He's played in splash pads in Boston Commons, frolicked in the fountain at Millennium Park in Chicago and braved the slippery rocks at Barton Springs in Austin.
He was eight months old when he fell asleep in my baby wrap as I danced at a honky tonk in Nashville. We walked to phenomenal urban parks all over Philadelphia. If this kid doesn't love cities it won't be for lack of exposure.
But those lines blur, and often I am absent as mom –physically or more often mentally. My attention is on work – the latest challenge, the latest crisis, the latest opportunity. As often as possible I try to include my son in my work so he can understand and appreciate what I do every day.
My most fervent hope is that he loves cities like I do.
I joke that having a toddler in city hall is like having a kid in the White House (obviously on a much smaller scale.) I'm not the only person on our leadership team with a child, but I'm the only one with a really young one.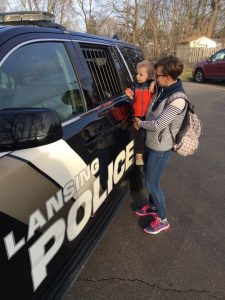 When I took my job as the Chief of Staff to Mayor Andy Schor in Lansing, Michigan just over a year ago, I knew it would be busy. The Mayor knew I wanted to pick my son up from school as often as possible, and he's been 100% accommodating in knowing I'm mom first, COS second.
My son has ridden in a golf cart with our parks director, climbed in fire trucks with the fire chief and had candy delivered for him to my office by the police chief.
He's walked in parades with the Mayor's team (once even forcing me to carry him on July 4th as he was throwing a tantrum). When we play with his toy fire truck, ambulance or garbage truck we talk about the importance of services for those who live in our community.
We moved into our house in Downtown Lansing about seven months before my son was born. Granted an 1870 Victorian on a corner downtown with very little yard may seem like a strange choice for a young family, but to us it was intentional and critical.
Our child needed to learn that it's important to be in your community. It's important to live close to work and school. Who needs a yard when there's a park around the corner?
As a result my son loves to walk. We walk downtown. We walked to school for four years until we just changed schools. Now we are forced to drive to school, and it is crushing my soul (and the drive is only 3 miles total from our house to school to city hall).
My son shakes his fist at speeding motorists and yells "Slow down in my neighborhood!" He watches city council so he can see Mommy on TV. My goal this summer is to bike to all 77 playgrounds in the City. He's entirely on board with this goal (mostly because he gets to chill in the bike trailer while I do all the work).
I answer all the questions he asks about my work, and like all four year olds he's got a lot of them. The other day he was home sick, and I had a conference call on speaker.
A little while later he asked, "Mommy what are bonds?" I laughed and then realized he's taking it all in – every time he hears me talk about work. He's a little city loving sponge, and I have a responsibility to share the knowledge.
I grabbed onto this special teaching moment.
I told him bonds were special ways cities pay for important things like roads and sewers. Bonds let cities build big things and then pay the money back gradually.
His response? "Ew sewers. That's where poop goes!" He is a four-year-old boy after all.