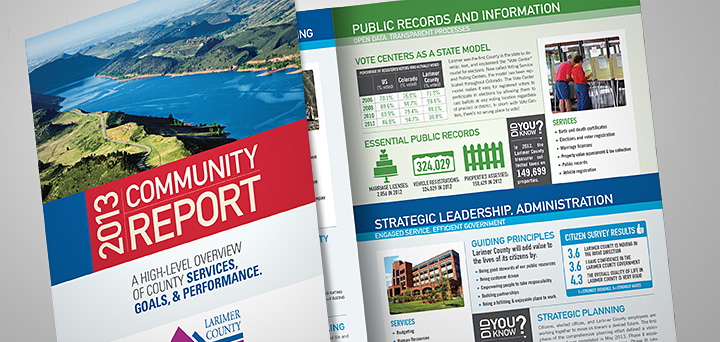 By Kim Newcomer, Slate Communications, LinkedIn and Twitter
It's that time of year. The euphoria of the holidays has worn off. Snow has turned from magical into a huge pain in the butt. And we've all broken our New Year's resolutions. It can mean only one thing: it's annual report season.
Yes, the tried and true tradition of sharing data and performance metrics lives on, but these days annual reports are – or at least they should be – very different than they used to be.
Do I Have To?
In short, yes. Yes, you have to compile an annual report that you'll share with your residents, your staff and your elected officials. And I'll even tell you why:
Storytelling

– Nothing supports your story better than concrete examples of projects, successes and challenges
Great Things Happened –

It's easy to focus on the negative, help re-focus the community on the positive accomplishments that have happened in the past year.
Increase Credibility

– Talking about the good and the bad things that happened over the course of a year helps establish your organization as credible and demonstrates that you're proactively addressing areas that need improvement.
Start a Conversation –

Annual reports provide the perfect foundation for community conversations related to hot issues. Armed with facts and data, residents are equipped to provide informed feedback, not just opinion.
It Matters

– Residents deserve to know how their tax money is spent. They deserve to understand the true cost of government. We are accountable to those we serve and an annual report supports transparency.
More than a Paperweight
For many, an annual reports starts as a 200-page beast. Sure, the massive amount of text is occasionally broken up by a pie chart or table. But, in the end, your community still ends up with a 200-page sleeping pill.
The key to a successful annual report is to determine what information is important enough to share and then figure out the best way to share it.
Anatomy of an Annual Report
Content is still your first priority. Sharing important information is the whole reason your going throughout all this trouble in the first place. Engaging reports often include the highlights from a variety of categories including:
Accomplishments and Challenges – Sharing both the good and the bad (or as your 3rd grade teacher would say, "Has the potential, but needs improvement") demonstrates transparency and honesty.
Pertinent data and performance metrics – Don't share data just because you have it. Share the data that means something.
Stories of accomplishments or highlights from major projects – people relate to real stories about real events.
High-level budget information – because that's what accountability is all about. Show your community how you are spending their money.
Three Questions for Determining the Right Format
Once you have your content established, there are multiple formats to choose from. So the question is, what format is the right fit for the community:
Would they prefer a traditional report using that paper stuff?
Are they more tech-savvy?
Does your public have a short attention span (most likely)?
There's something to be said for the sensation of holding a quality-printed, 3-panel report like this one. The information is brief and concise, the infographics pull the reader in, and the paper quality shows the community that reporting to them is important to your city organization. For example: Larimer Community Report
Save a Tree…Or Not
Sometimes paper is more difficult to distribute or feels wasteful. If the community is more tech-savvy, creating a mobile-friendly online annual may be the most effective option like this annual report. 
At the end of they day, the public was engaged, challenged and honored. They deserve a well-communicated year in review, and you deserve that pat on the back from your mayor.
Supplemental Reading