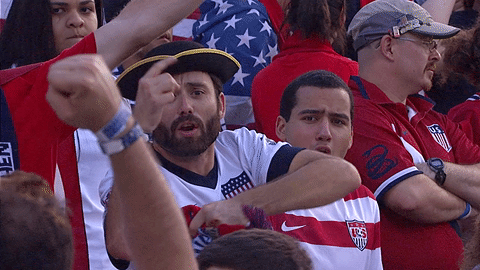 With more than one million views, 2017 was a record-setting year for the ELGL website.
You are the reason for our success. You make our content unique. You provide firsthand insight into working in local government. You are why ELGL was tabbed by State Tech magazine as one of the 30 Must-Read State and Local IT Blogs. You make ELGL the Player's Tribune for local government minus Derek Jeter, deep-pocketed funders, and full-time staff.
With that said, we're counting down the top ten most viewed articles of 2017.
---
By Jennifer Davies, City of Las Vegas, NV, Public Information Officer, LinkedIn and Twitter
"We want our own Facebook page." As a social media manager, this is one of the top comments I regularly receive from departments, commissions and elected officials. While anyone who has ran a successful page (and understands the blood, sweat and tears that go into monitoring, responding and planning content) will understand, your first reaction will often be something like this.


Just "checking the box" and having social media accounts doesn't increase your visibility if you don't have a sound plan to grow your following and build engagement with your community. Here are the factors we consider before rolling out new accounts.
---
By David Clyne, City of Independence, OR City Manager
Shortly before my arrival, the police department had experienced the shock of having lost one of its own in the line of duty. Needless to say, in such a small department (under 15 sworn personnel), not a person was untouched by the tragedy. It was a department in desperate need of professional intervention. Unfortunately, the Chief may have needed help the most but refused to seek it nor provide it for others.
The Chief disengaged from normal operations and undertook very destructive personal behavior. In the vacuum created, the two sergeants became the de factor leaders of the department. With very different management styles, the department ultimately fractured into followers of each.
---
By Alyssa Wolverton, LinkedIn
I don't know if I am allowed to honestly answer the question "is local government inviting to young professionals?" It would help my odds at getting a job in local government if I wrote about the great times I had working in government and how local government can attract millennials. I mean, what do I have to gain from telling people about my real experience? The story where my boss cried to me because she told me I was too optimistic, or I'd be so bored at my desk sometimes I would cry? Is it worth explaining how it felt like my work didn't matter or how didn't get honest feedback?
Good news! I am a Texan with a bit of experience and a lot of candor. I don't have any preoccupation with telling you that local government is not inviting to young professionals. However, like any good public administrator, I will offer a solution to the problem, and I will argue it is vital for young people to choose to work in government. (Also, I don't represent the opinion of an entire population or generation or region, so keep that in mind.)
As I've racked my brain trying to understand why local government didn't leave me with pride for serving the public, I realized it was about expectations. I have certain expectations for a work force, and the work force has a certain expectation with me, and I don't think they lined up.
What I wanted was similar to what anyone wants: decent pay, good location, and the chance to learn. I wanted the best out of my experiences. I wanted to be challenged and changed. I wanted to be exposed to what I like and don't like. I wanted to meet people who would encourage me and become professional colleagues, friends, and mentors. Most importantly, I wanted to find a place where I can shine and use my talents.
---
By Amber Mathiesen, City of Mt. Angel, Oregon City Manager
Gone are the days where the Clerk simply took notes, filed papers in a drawer, and reminded people of important dates while scheduling meetings and making coffee.
While the Municipal Clerk is the oldest of public servants in local government along with the tax collector and the position is rich in history, it serves an even more complex role today.  The Clerk's office is critical to a community, and is a hub of activity.
Depending on the size of the community the Clerk serves in multiple roles.  Generally the Clerk's office is responsible for the compilation of the agenda, legal notices, public records request processes, and local elections.  Clerks are also responsible for recording and circulating all city council actions, resolutions, ordinances, and minutes.
In larger agencies the Clerk's office may be a department with its own staff, or part of a larger department.  In smaller communities the Clerk may also serve as the Manager, alas without the title that is really deserved for the job at hand.
---
By Lori Sassoon, Deputy City Manager, City of Rancho Cucamonga, CA
The #1 reason women don't get the job is because they didn't apply for it.
Books like Lean In and others have cited the studies showing that qualified women are less likely to apply for a given position, while less qualified men will apply. A 2014 study published in Harvard Business Review showed that the reason is not lack of confidence on the part of women; instead, women take "minimum qualifications" literally, and assume they couldn't compete if they are missing something on that list.  Hiring processes tend to be more flexible in reality, and so women are self-selecting out of hiring processes unnecessarily.
Truthfully, I'm not terribly interested in the deep psychological and sociological reasons why women don't apply for the next job. I'm more concerned about how we can fix this problem and convince more women to put themselves in the applicant pool. I do more than my fair share of encouraging, prodding, and yes, nagging colleagues to apply, but they almost always resist with one or more of these rationalizations.
---
By Rebecca Woodbury, City of San Rafael, CA
There's also something we can do that's really, really easy. Stop using the word 'Citizen.' Just use different words. Like resident, or community, or people.
Last year, Jamie Lee wrote a great article about this. She says we should be more inclusive and I agree. Plus, this is really, really easy to do. We just have to use different words.
In 2013, Seattle banned the use of the word in official City communications and were ridiculed by right-wing media outlets. They probably got death threats from the same people that sent them to me after I wrote an ordinance regulating second-hand smoke that protects people living in multi-family housing.
Here's the thing: this is really easy to do. All we have to do is use different words. It's not a big deal. Just say residents, or community, or people. It's a really simple thing we can do to be more inclusive. The other things I listed – they are a little bit harder. We need to do them, too.
---
If you're a sports fan, especially a baseball fan, you've probably seen the movie Moneyball with Brad Pitt.
It's the true-to-life story of the Oakland A's and how manager Billy Beane, with a small budget to pay salaries, uses the expertise of his assistant's math and statistics to figure out that players who get on base can make a big determination of whether a team will win or lose.  They go on to win their first playoff series in years and made the playoffs for four consecutive years on their low budget.  It's a great movie. I highly recommend it.
Cities are a lot like a sports team, and what we do is similar to what Billy had to do.  He had salary money and used it to get players for a value, who could get on base.  As City Managers, we help set the direction of our cities with our planners and councils, and as we build out, we have a finite amount of land along with our finite ability to maintain and replace (ideally) the infrastructure we accept.
We use up land in our respective city limits/extraterritorial jurisdictions, and accept infrastructure dedicated from developers in order to create tax base from the value of private investments made. Not all development is fiscally productive.  Urbanization, or more accurately, sub-urbanization, is not necessarily prosperity.
---
By Dan Bolin and Julie Tappendorf, Ancel Glink
ELGL members are no strangers to social media. (#CityHallSelfie day is August 15, 2017!) However, last week was the first time the U.S. Supreme Court confirmed that social media is "speech" under the First Amendment. (Packingham v. North Carolina). As a result, local government officials and employees should make sure their social media use and policies comply with First Amendment principles.
---
By Matt Horn, LinkedIn, Podcast, and Twitter
So here's a little deeper challenge–when one of my favorite stories is based on a real-life character. I spent some time tossing and turning over whether Coach Boone qualified for this series. At the end of the day, I'm the head coach here, and what I say goes. You got a problem with that? You can hit the showers.
So, we know from experience that sports characters, particularly leaders–quarterbacks, coaches, and the like–end up in all sorts of businesses once their time on the field has passed. My famed Washington Redskins have produced commercial pitchmen, car dealers, and even members of Congress. But how would even the most seasoned of quarterbacks, or in this case, a championship coach, fare in the world of public administration? Let's take a closer look.
For the uninitiated, Coach Herman Boone (the real and the Hollywood-embellished) led the first racially integrated high school football team in the Washington, D.C. region to a Virginia state championship. Along the way, he battled lots of forces we experience in public management–internal strife among his team, a community divided over cultural differences, and an impatient cadre of leadership, ready to change course at the first sign of adversity. Coach Boone ultimately navigated these rough waters, but not without having to learn a few things along the way. In the end, he became a better leader for it. Good enough to be a City Manager?
---
By Sarah Hazel, City of Charlotte, NC
Last weekend, I had a rocking time at a wedding in Wichita, Kansas, and I when I wasn't cupid shuffling the night away, I explored the Air Capital of the World for the first time. My impression? Wichita has got it going on. And like one wise town manager, Doug Barrick once said, "Vacations are glorified research trips anyway right?" Yup! So, through the eyes of a visitor, a local government nerd, and lover of cities, I give you 5 reasons why I heart Wichita and I think you might just heart Wichita too.